More on Hybrid Hard Drives
In our quest to find the fabled prototype hybrid hard drive, we have discovered that there are currently no physical, working, hybrid hard drives being publicly shown by either Microsoft or Samsung. Pry as we might, we couldn't get anyone to reveal anything concrete about the progress of a real drive.
For now, we have to be satisfied with the demonstration we mentioned yesterday. To go into a little more detail on the test platform, Samsung has built a PC to emulate a hybrid hard drive. The demo had a laptop setup with an IDE cable running out of the chassis to the emulation PC. This PC had a PCI card with the IDE interface for the laptop and another PCI card with 128MB of nand flash onboard. Basically, the PC was able to manage sending/receiving information to/from the laptop via either the NVRAM or the "disk" itself. A light would come on when the system needed to move off of the NVRAM.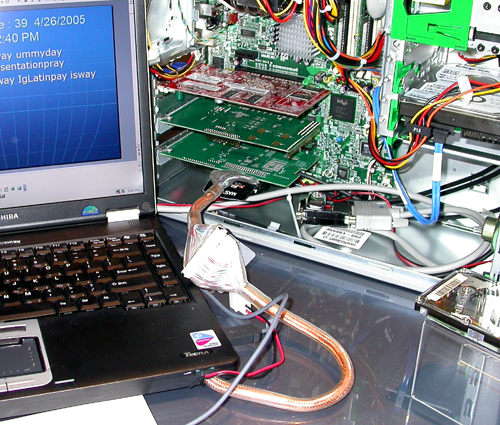 With the demo being run, a constant stream of data was being generated and sent to the disk. This resulted in 18 seconds worth of hard drive activity every 15 minutes or so. Of course, if anything needs to be read that's not already cached in main memory by Longhorn, the system will then immediately spin up the drive and flush the NVRAM to disk.
We are still very interested in collecting the opinions of various hard drive makers on this technology. We do expect plenty of interest the hybrid hard drive, but we would like to find out if any of the manufacturers see this technology not only as a mobile solution (where the power saving features are of most interest) but also in desktop drives where the major benefit would be in accelerating boot times.
Our thoughts are that this could be a good universal solution as long as non-volatile solid state storage transfer speeds exceed that of average magnetic media. We are also still a little wary of the MTBF figures Microsoft is proposing. It is our hope that spinning up and down the platters more frequently, while saving wear on the heads, won't lower the reliability of the spindle.