Hot Test Results
In the following tables we can see that the 1STPlayer Steampunk 750W delivers relatively good power quality. The maximum voltage ripple on the 12V line is 30 mV, an unimpressive figure nowadays, but just 25% of the ATX design guide's recommended 120 mV limit. The regulation of the 12V line is exceptional as well, at 0.8% across the entire nominal load range. 1STPlayer paid less attention to the minor 3.3V/5V lines, the output quality of which is significantly worse. The ripple on the 3.3V/5V lines reaches 16mV/22mV respectively with a recommended maximum at 50 mV, and the regulation is at nearly 2.5% for both lines. These figures are definitely acceptable but not on par with the exceptional performance of the primary 12V line.
Main Output
Load (Watts)
151,84 W
378,67 W
564,9 W
752,23 W
Load (Percent)
20,25%
50,49%
75,32%
100,3%
Amperes
Volts
Amperes
Volts
Amperes
Volts
Amperes
Volts
3.3 V
1,37
3,39
3,44
3,37
5,16
3,32
6,87
3,31
5 V
1,37
5,18
3,44
5,16
5,16
5,1
6,87
5,06
12 V
11,55
12,13
28,87
12,1
43,31
12,04
57,75
12,03
Line
Regulation
(20% to 100% load)
Voltage Ripple (mV)
20% Load
50% Load
75% Load
100% Load
CL1
12V
CL2
3.3V + 5V
3.3V
2,4%
6
8
14
16
16
20
5V
2,4%
14
16
18
22
16
20
12V
0,8%
12
18
24
30
34
26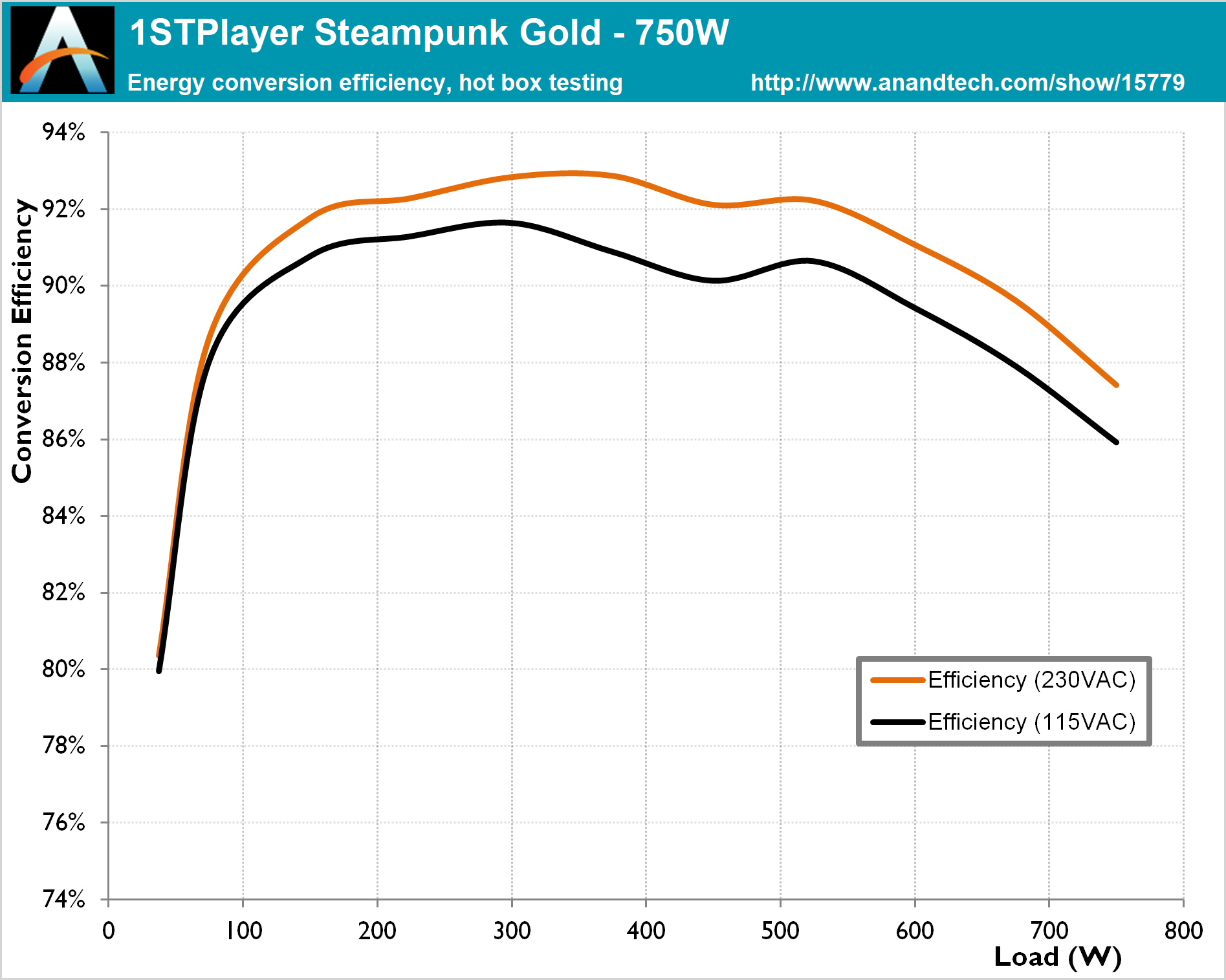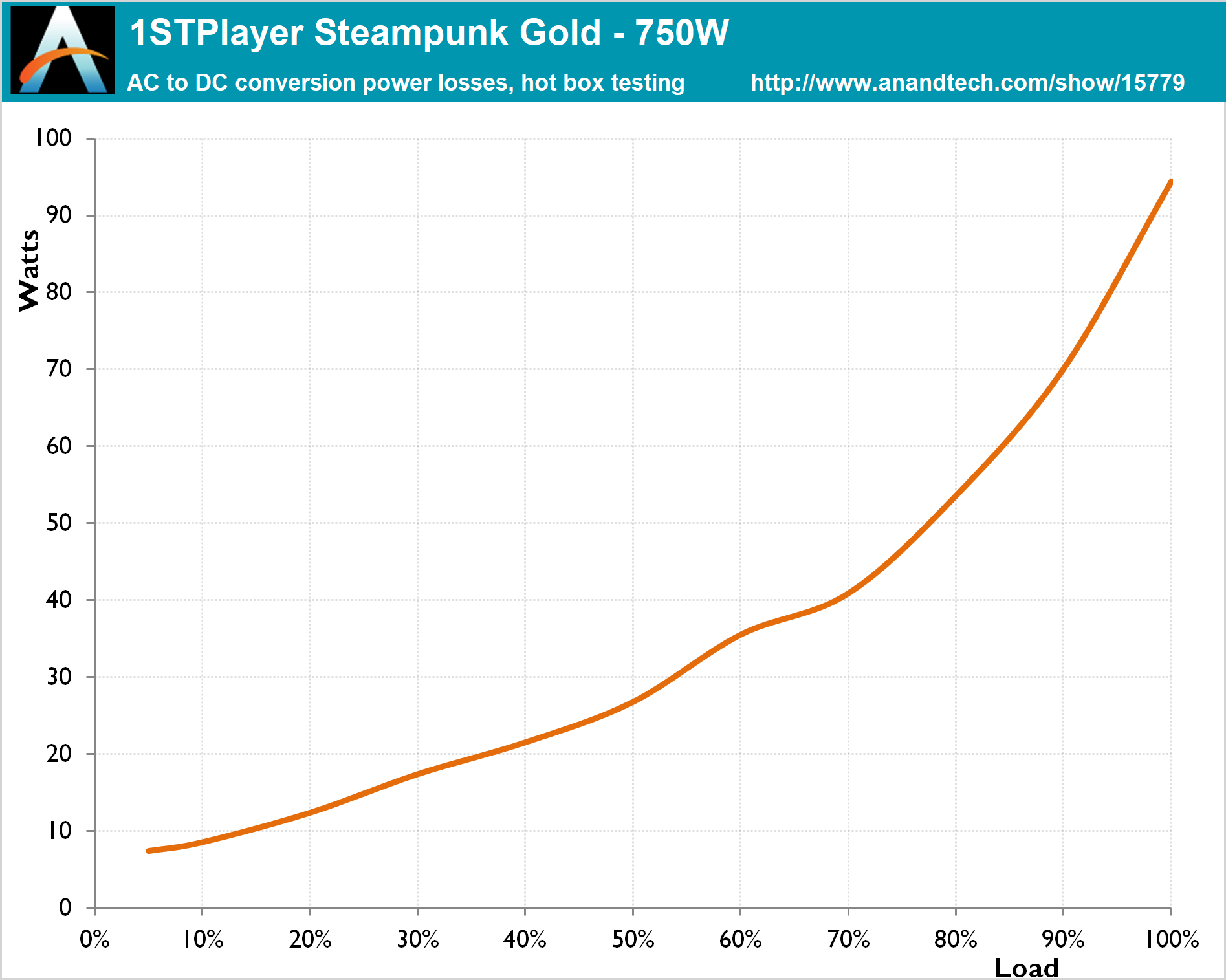 Operation in high ambient temperatures greatly affects the performance of the Steampunk Gold 750W PSU, especially at higher loads. The average nominal load range (20%-100%) efficiency drops by 1.2% regardless of the input voltage, going down to an average of 91.4% (230 VAC) / 89.9% (115 VAC). There is little change at lower loads but at loads greater than 80% the efficiency drops sharply, suggesting that the components of the PSU are getting stressed under these conditions. Thermal stress would be our first guess but the internal temperatures of the PSU actually are low, therefore we suspect that certain components are reaching their design limit.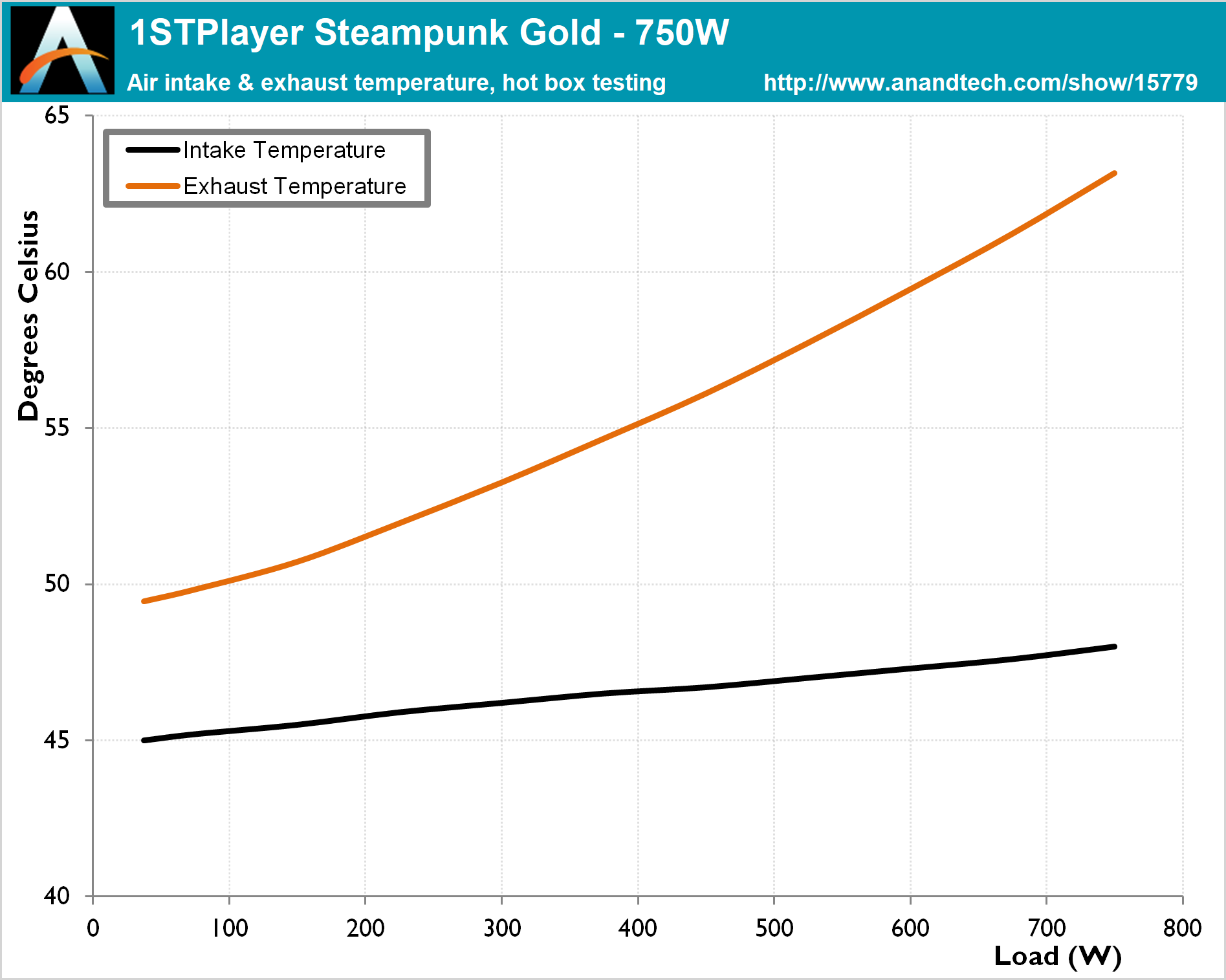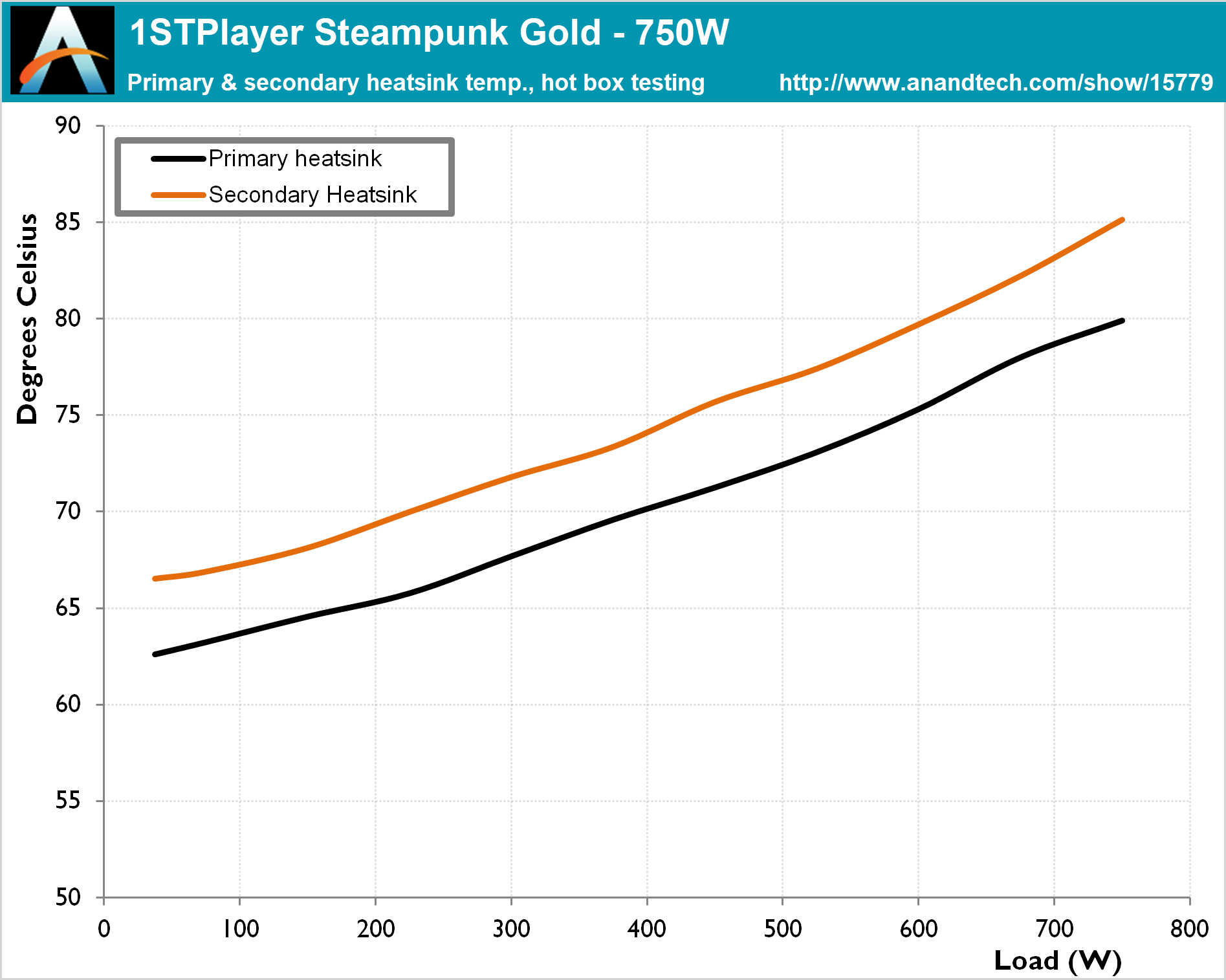 As mentioned above, the internal temperatures of the 1STPlayer Steampunk 750W PSU are relatively low for a unit operating inside our hotbox. The thermal controller is aggressively increasing the speed of the fan under these operating conditions, trying to maintain as low as temperatures as possible, sacrificing silence in order to ensure reliability. With such a powerful fan, the cooling headroom is vast, but the noise levels become unbearable for typical users at loads higher than 200 Watts. The cooling fan's speed seems to peak when the unit is at maximum load, where the sound pressure level nearly reaches 59 dB(A).