Dual Core Intel Solutions
Intel's dual core demonstrations came in two forms; the first being a demonstration of Itanium 2 during the Day 1 Keynote. Day 2's Keynote demonstrated a first look at a 65nm mobile processor, dubbed Yonah.
We got an extremely detailed analysis of the Montecito core from the introduction keynote. Below you can see the general layout of the core.
Things we do know about Montecito are listed below:
Codename: Montecito
Process: 90
Operating Wattage: 100W
Clock Speed: 1.7GHz
Two cores, Four threads - First Itanium processor with HyperThreading
Although Montecito had quite a bit of promise around it, it only exists in A-0 (Alpha) silicon. Intel was extremely pleased to state that Montecito boasted 1.5 to 2 increases in performance on first silicon. Obviously, average performance improvement should increase even further as programs become more threaded and as more efficient arbiter algorithms are produced. It is important to remember that performance from a dual core processor can never exceed 2x (and even getting a specially optimized benchmark to see full 2x improvement is very impressive), so it looks like Intel is on a very solid track.
The Day 2 Keynote, which revealed the "Yonah", was Intel's introduction to "Personal Parrallel Computing" - a term introduced during the Day 1 Keynote. Applications like realtime facial recognition require on average 50 gigaflops with today's software. These enormous requirements are not out of reach of near-future processors, claims Intel. We were then introduced to Yonah, a 65nm dual core successor to Dothan.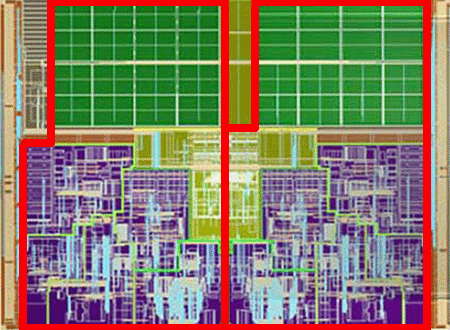 We outlined both cores in red, but many of the elements found on Montecito are clearly visible in Yonah as well. The topmost portion of the the image is the L2 cache and the arbiter unit is placed in the center. The Yonah cache (green) and Dothan cache (black) do not look proportionate. It may be the case that Yonah processor and the Dothan core utilize the same amount of cache.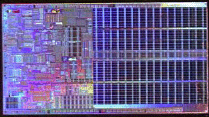 Although difficult to tell from the quality images we have of Dothan's core, Yonah and Dothan do not appear to share many qualities with each other. This may be due to the fact that Intel uses an automated layout process that is trained to minimize hotspots and efficiently route signals. This may have just been the result of their optimizations, but it may also reflect alterations or enhancements Intel has made to the Dothan core. Things we do know do know about Yonah are listed below:
Codename: Yonah
Process: 65nm
Operating Wattage: 50W
Clock Speed: Unknown
Launch Q3'05
Don't forget, a few weeks ago we touched upon Smithfield; Intel's dual core desktop processor. As we mentioned in our Day 1 coverage, expect to see shipments of Smithfield, Yonah and other dual core processors pan out in this fashion:
Multi-Core Processor Shipping Expectations

| | | |
| --- | --- | --- |
| | 2004 | 2006 |
| Desktop | 55% HyperThreading | 40% Dual-Core |
| Servers | 100% HyperThreading | 85% Dual/Multi-Core |
| Mobile | | 70% Dual Core |
And just how is Intel producing chips with higher clocks and lower wattages, and then sticking additional cores on them? Many of the answers lie in our earlier IDF 65nm coverage. For the most part, moving from the 130nm to 90nm process seems to result in the largest changes. Variants of Enhanced Speed Step are also showing up on all processors in the Intel arena as well.