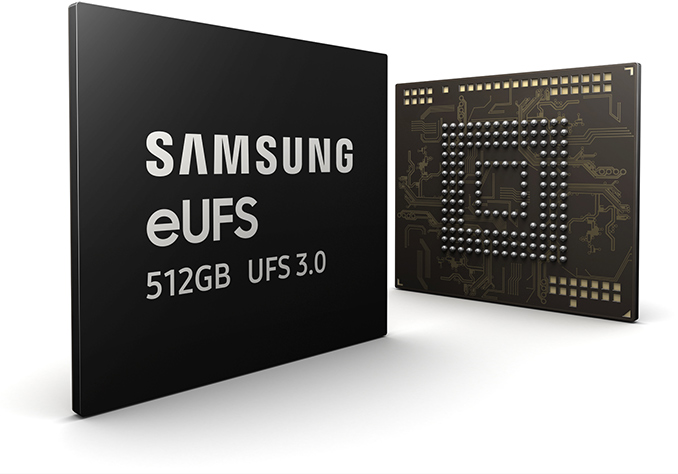 Samsung this week said that it has begun mass production of its UFS 3.0 chips. The company's initial lineup of UFS 3.0 products includes embedded drives featuring a 128 GB and a 512 GB capacity. The company plans to introduce 256 GB and 1 TB versions of its UFS 3.0 devices sometimes in the second half of this year, and we have already seen that the 512 GB edition will appear in the Samsung Galaxy Fold. Perhaps it is a shame that the chip is only just entering mass production, and missed the window for the Samsung Galaxy S10 family.
Samsung's UFS 3.0 storage drives use the company's 5th generation 96-layer V-NAND memory as well as a proprietary controller supporting a UFS 3.0 HS Gear 4 two-lane interface. The 512 GB version uses eight 64 GB 96L V-NAND devices, whereas the 128 GB flavor uses two of them.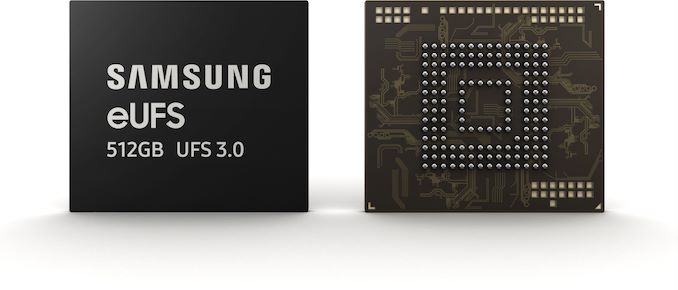 When it comes to performance, Samsung says that its 512 GB UFS 3.0 embedded flash drive features a sequential read speed of up to 2100 MB/s, a sequential write speed up to 410 MB/s, and 68,000/63,000 read/write IOPS. When compared to SATA SSDs, the 512 GB UFS 3.0 device offers four times higher sequential reads, but is slightly slower as far as write and random performance numbers are concerned.
Samsung's UFS 3.0 Storage ICs
128 GB
256 GB
512 GB
1 TB
SKUs
?
?
?
?
NAND Type
96-Layer TLC V-NAND
Controller
Developed in-house
Interface
UFS 3.0
two full-duplex HS-Gear3 lanes
11.6 GT/s per lane
up to 2900 MB/s
Sequential Read Speed
?
?
up to 2100 MB/s
?
Sequential Write Speed
?
?
Up to 410 MB/s
?
Operating Temperatures
?
Health Status Monitor
?
Data Retention
?
Thermal Sensor
?
Voltage
Memory
?
Interface
1.2 V for VCCQ, 1.8 V for VCCQ2
Package
Type
FBGA-153 (?)
Width
11.5 mm (?)
Length
13 mm (?)
Height
1 mm (?)
Availability
February 2019
2H 2019
February 2019
2H 2019
Samsung says that its 128 GB and 512 GB UFS 3.0 embedded drives that launch today are aimed at mobile devices. The company's own Galaxy S10 smartphones seem to use UFS 2.1 drives, whereas it looks like UFS 3.0 will debut in the Galaxy Fold.
Related Reading
Source: Samsung