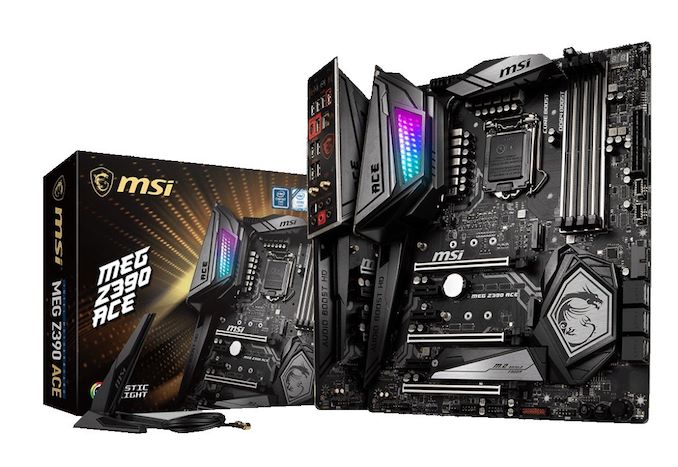 The MSI Z390 ACE sits below the MSI Z390 Godlike in the company's product stack and has plenty to shout about including a trio of M.2 slots, a well built power delivery, and as many USB 3.1 Gen 2 ports as you could ever need.
AnandTech 9th Gen CPU and Z390 Motherboard Coverage
The MSI MEG Z390 ACE Overview
The MSI Z390 ACE motherboard is aimed at gamers who are looking for premium features to create the foundations for a high-powered gaming system. In this case, MEG stands for 'MSI Enthusiast Gaming', which makes the first MSI redundant, and ACE doesn't stand for anything here, but MSI likes to make their brand names in ALL CAPS just like the GODLIKE so they pop out of the page when people scroll through the product list at Amazon or Newegg. Someone at MSI has put the marketing and naming into 'OVERDRIVE' (please don't make an all-caps motherboard called overdrive, please).
This model comes from MSI's premium product line, the Enthusiast Gaming range, and commands the weighty MSRP of $290. For that amount of money, MSI has to offer something special. The MSI Z390 ACE's core feature set includes four RAM slots with support for DDR4-4500 memory, three M.2 slots, six SATA ports, upgraded audio, a gaming focused 'Killer' network port, and the latest Intel Wi-Fi connectivity. On the design front, the Z390 ACE has a matte black PCB with a set of contrasting gunmetal grey heatsinks and a matching rear panel cover. The rear panel cover features an MSI Mystic Light Infinity panel which has a variety of customizable colors and effects which can be controlled by the MSI Mystic Light RGB software.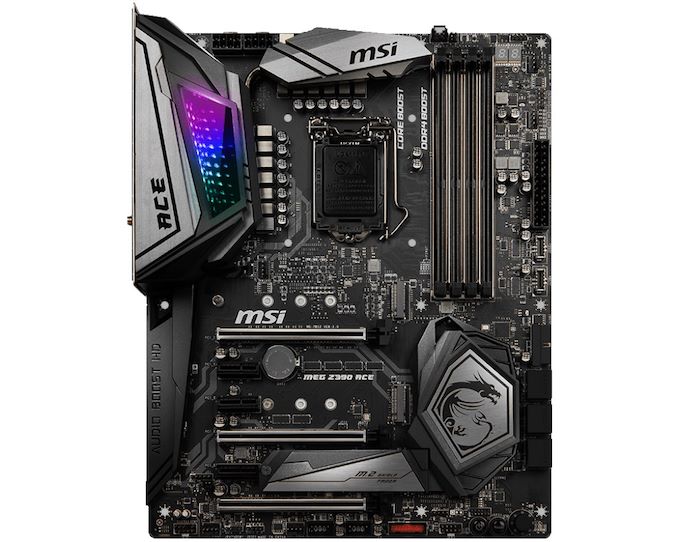 A quick glance at the specifications shows that the MSI Z390 ACE is a sub-set of the halo top-end MEG Z390 Godlike and is reflected in both the size and the in the price differences. The MSI Z390 ACE makes use of a Realtek ALC1220 HD audio codec and in keeping things consistent with a gaming flavor, MSI has also opted to use a Killer based E2500 Gigabit gaming LAN controller. In addition to this is the inclusion of an Intel 9560 802.11ac MU-MIMO Wave2 capable adapter which affords users both Wi-Fi and Bluetooth 5.0 connectivity.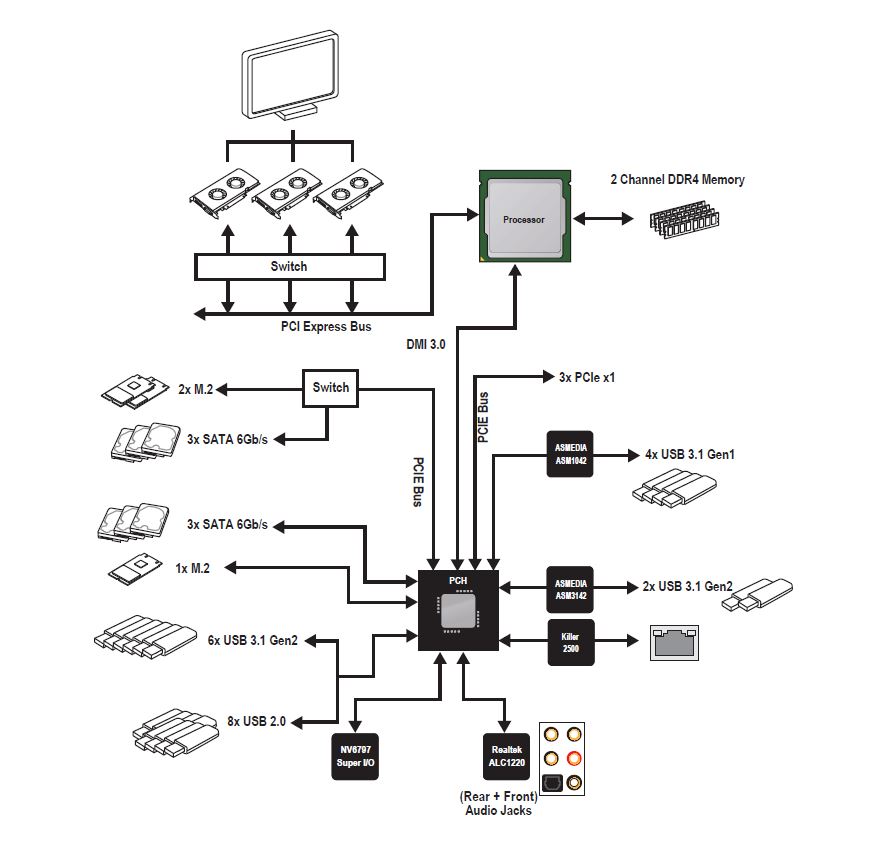 Block diagram of the MSI Z390 ACE motherboard
On the technical front, MSI is advertising the Z390 ACE to contain a 13-phase power delivery. The heatsink attached itself has plenty of weight to it. The VCore/CPU section is running twelve ON Semiconductor high-side and low-side MOSFETs. This is controlled by an International Rectifier IR35201 PWM controller which is an 8-channel controller operating at 6+2. Each of the VCore phases features six individual doublers meaning the Z390 ACE is running a 6-phase design on the VCore. Providing power to the CPU is two 8-pin 12 V ATX power inputs while a standard 24-pin 12 V ATX input is there for to power the rest of the motherboards components.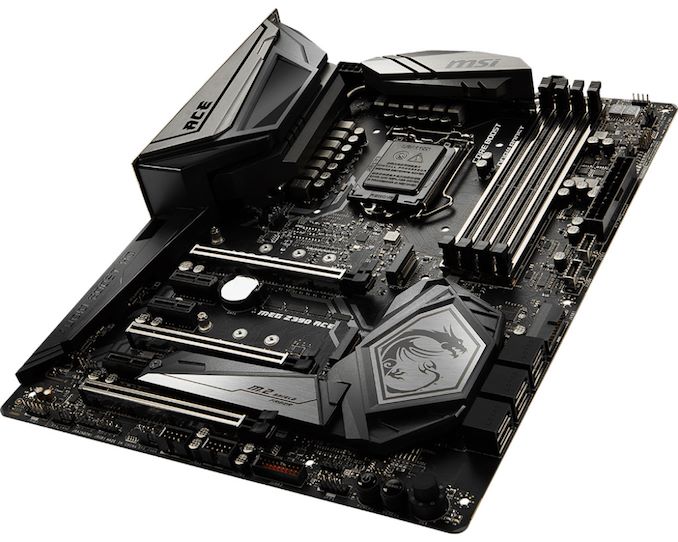 With a total of three full-length PCIe 3.0 slots present, it is possible to run three-way CrossFire multi-graphics card setups on the Z390 ACE, but due to bandwidth limitations, a maximum of two NVIDIA cards in SLI can be accommodated. At the bottom right-hand of the PCB is an overclockers toolkit too. Cooling support is provided by seven 4-pin fan headers. USB 3.1 Gen2 ports are found on the rear panel, both Type-A and Type-C.
Looking at the performance of the MSI MEG Z390 ACE, nothing stands out as exemplary, although the most notable positives came in our 7-Zip encoding test and currently sits at the top of this benchmark. Another positive result came in our 3D Particle Movement and in POV-Ray, with comparable performance to other Z390 chipset boards on other tests. For system related tests such as POST time, the Z390 ACE sits middle of the road with a respectable time of just over 19 seconds; this was improved upon with controllers turned off in the BIOS by around 1 and a half seconds. Performance in other system-specific tests such as DPC Latency also sat middle of the road. The only real negative in our testing was in power consumption, which we explain in the review.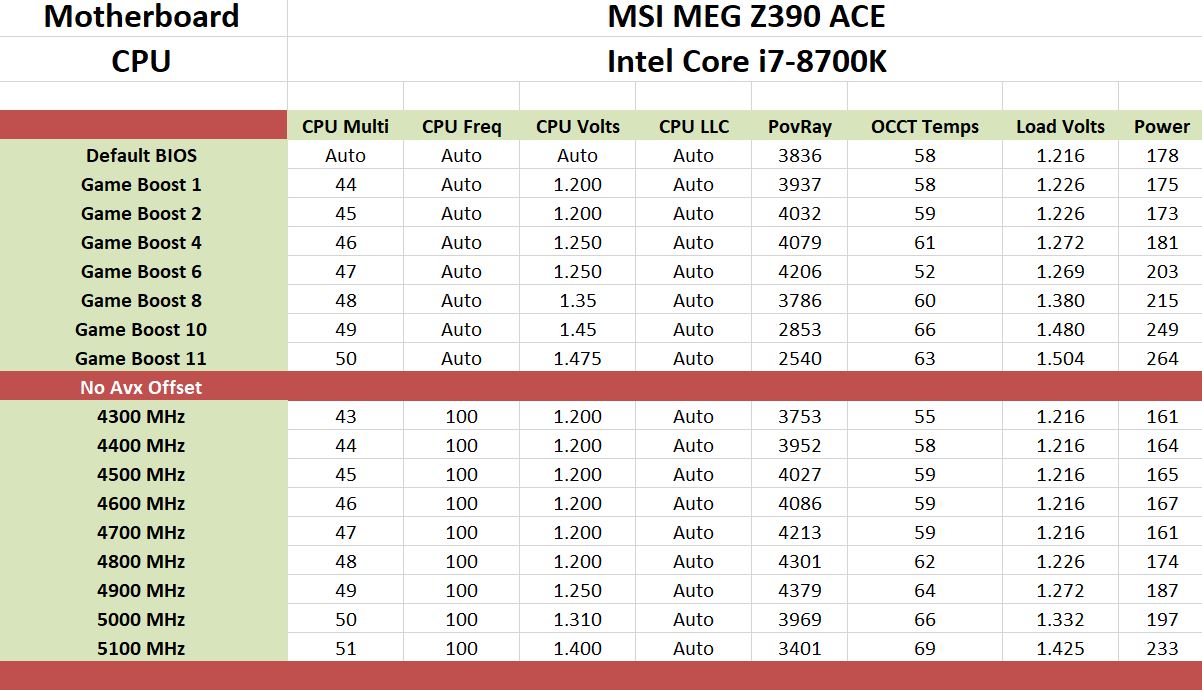 On the overclocking side of things, the MSI Z390 ACE performed well with manual overclocking, but ludicrous towards the upper end of the Game Boost profiles. As shown manually, we hit 5.0 GHz in our testing. There is plenty of headroom available for users looking to push their 8th and 9th generation processors beyond 5.0 GHz on this board, but the biggest factor in achieving this is keeping core temperatures as low as possible. Users with a 9900K might see better performance with the default solder-based thermal interface material.
The MSI Z390 ACE is one of two enthusiast specific MEG Z390 models which are aimed at the more premium end of the market. The other model in question is the MSI MEG Z390 Golike ($600) which sits right at the top of MSI's Z390 product stack for a sizable price. The Z390 ACE bridges the gap between the Z390 Godlike and the MPG Z390 Gaming Pro Carbon AC ($230) with a solid set of features. With a recommended retail price of $290, and the combination of specifications and aesthetics, MSI looks to woo users across multiple market areas.
Pages In This Review
Overview [this page]
Visual Inspection: Analysis of the Board Components
BIOS and Software: Looking that the non-hardware portion
Board Features and Test Bed: The full specification list, and how we test
System Performance: Component testing, such as power, boot times, and DPC Latency
CPU Performance
Gaming Performance
Conclusion