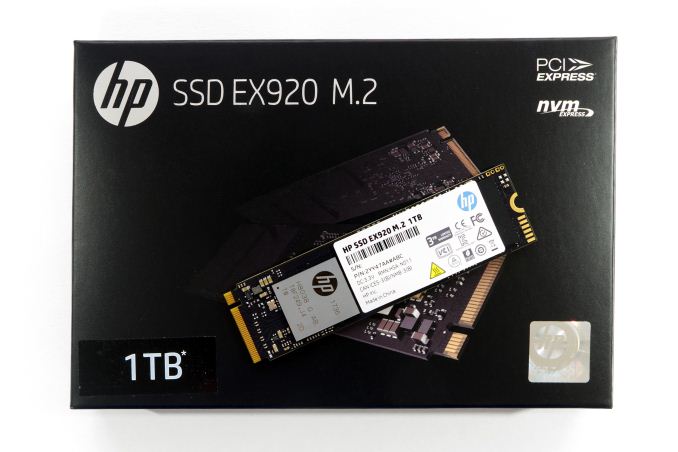 Historically, HP has not been a big player in the consumer storage market. Recently however, the HP brand has been used for several SSDs based on reference designs for Silicon Motion's SSD controllers.
Last year, the HP S700 and S700 Pro were relatively uninteresting low-end SATA SSDs in a very crowded market. This year, we have a pair of HP SSDs featuring Silicon Motion's second-generation NVMe SSD controllers and the latest Intel/Micron 64-layer 3D TLC NAND. Silicon Motion has made huge improvements to their NVMe controller design and produced a whole family of controllers. The HP EX920 uses the high-end SM2262 controller, while the HP EX900 uses the entry-level SM2263XT.
Our first hands-on experience with the SM2262 controller was at Flash Memory Summit 2017 last August, where Silicon Motion gave us the opportunity to play with early engineering samples. Between the time constraints of benchmarking during a trade show and the firmware bugs that existed at the time, we weren't able to get a good picture of the SM2262's performance, but it was clear that there was at least some truth to the very bold performance claims Silicon Motion was making - claims we viewed with skepticism given how disappointing their SM2260 first-generation NVMe controller was in drives like the Intel 600p.
The first SM2262 drive to come to market was the Intel 760p, which we liked at the time of its release, but we didn't get to test it in high enough capacities to really stress the SM2262 controller. The allure of the 760p was diminished when the price shot up shortly after release, but that made room for drives like the HP EX920.
HP EX920 Specifications
Capacity
256 GB
512 GB
1 TB
Controller
Silicon Motion SM2262
NAND Flash
Intel/Micron 64L 3D TLC
Form-Factor, Interface
double-sided M.2 2280 PCIe 3 x4 NVMe 1.3
Sequential Read
3200 MB/s
3200 MB/s
3200 MB/s
Sequential Write
1200 MB/s
1600 MB/s
1800 MB/s
Random Read
180k IOPS
340k IOPS
350k IOPS
Random Write
250k IOPS
260k IOPS
250k IOPS
Power Consumption
Active
4.29 W
5.61 W
6.23 W
Idle
0.73 W
0.73 W
0.73 W
Warranty
5 years
Write Endurance
160 TB
320 TB
650 TB
Price
$108.89 (43¢/GB)
$175.99 (34¢/GB)
$289.99 (28¢/GB)
The HP EX920 is currently the flagship of HP's SSD brand, but it is not entirely positioned like a premium NVMe SSD. The performance specs certainly place it in that market segment, but the pricing puts it below competitors like Samsung's 970 series or the Western Digital WD Black. HP initially released the EX920 with a three year warranty and 0.8 drive writes per day endurance rating (providing the same TBW as a typical five-year/0.5 DWPD SSD), but has since extended the warranty to a full five years and updated the drive's packaging.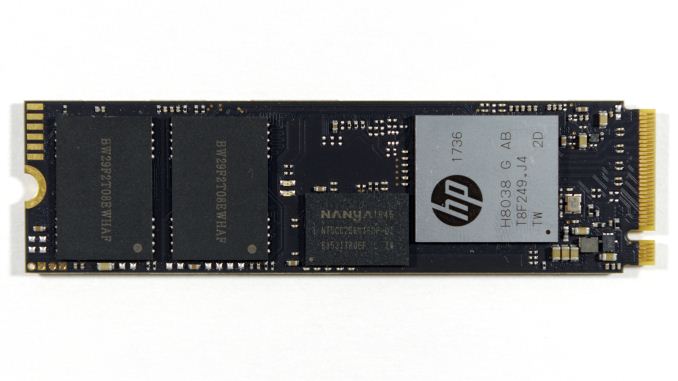 Our 1TB HP EX920 sample is a double-sided M.2 card with two NAND packages and one DRAM package on each side. There are some passive power regulation components on the back side, so even the lower capacities that don't need to populate the back with memory still need a few millimeters of clearance that not all laptops offer. The controller chip bears HP's logo, but underneath is the standard SM2262 controller. Silicon Motion is using the same plated copper heatspreader that the SM2260 controller featured, and the EX920 doesn't add any other form of heatsink or heatspreader.
The SM2262 controller uses a dual-core ARM CPU, but that's actually one of the least important parts of the controller design. Silicon Motion has put a lot of effort into improving their LDPC error correction engine to support higher data rates. The SM2260 already used an 8-channel NAND interface and a PCIe 3 x4 host interface, but it couldn't come close to saturating the PCIe link, especially when paired with the relatively slow first-generation Intel/Micron 3D TLC NAND.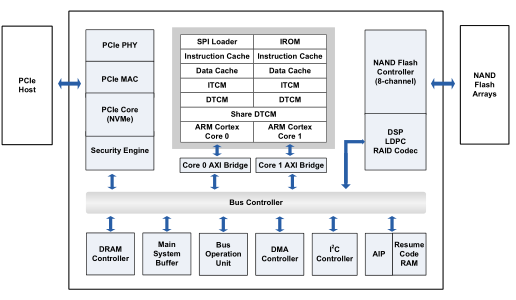 The Competition
There are now several SM2262-based SSDs on the market. In addition to the Intel 760p, the HP EX920 also faces competition from the ADATA XPG SX8200 and the related XPG GAMMIX S11 (the SX8200, but with a heatsink). Several of the usual suspects also now have high-end NVMe drives with 3D TLC NAND: Samsung's 970 EVO, Western Digital's WD Black and SanDisk Extreme Pro, Plextor's M9Pe family.
High-end options are a little slim at the moment from brands that usually combine Toshiba NAND and Phison controllers: the low-end Phison E8 controller has been shipping for months, but the high-end Phison E12 controller is still in the sampling phase. Like Silicon Motion, Phison's first-generation E7 NVMe controller wasn't really able to compete in the high end when it was new, and without 3D NAND support the Phison E7 is completely obsolete. Toshiba's own XG5 OEM SSD also still hasn't seen a retail release to replace the Toshiba OCZ RD400, and at this point it looks like their next retail NVMe SSD will probably be based on the successor to the XG5.
AnandTech 2018 Consumer SSD Testbed
CPU
Intel Xeon E3 1240 v5
Motherboard
ASRock Fatal1ty E3V5 Performance Gaming/OC
Chipset
Intel C232
Memory
4x 8GB G.SKILL Ripjaws DDR4-2400 CL15
Graphics
AMD Radeon HD 5450, 1920x1200@60Hz
Software
Windows 10 x64, version 1709
Linux kernel version 4.14, fio version 3.6
Spectre/Meltdown microcode and OS patches current as of May 2018