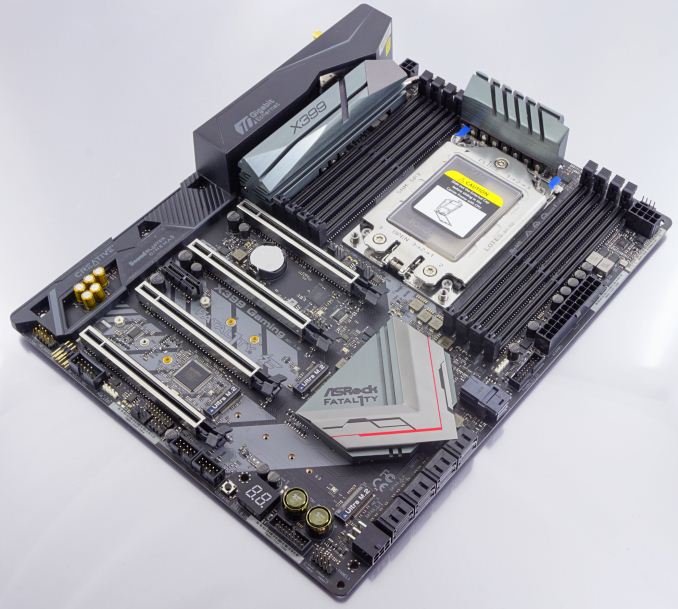 There are only very few motherboards currently available for Ryzen Threadripper processors. ASRock is the company with most AMD X399 motherboards and they only have three available. Still, ASRock took a more daring approach with their designs and also released the one and only mATX motherboard for Ryzen Threadripper. In this review we will be having a look at their currently best AMD X399 motherboard, the Fatal1ty X399 Professional Gaming.
The ASRock X399 Professional Gaming, as the name suggests, is a motherboard that is being marketed towards advanced gamers. Although the Ryzen Threadripper (currently) is not an appealing processor for casual gaming, when a gamer also wants to be concurrently downloading, chatting, and transcoding a video in the background while streaming a game online, the many cores of the Threadripper start making sense. The X399 Professional Gaming is ASRock's most featured-packed motherboard, with a very impressive list of specifications. However, with a price tag of $440, the X399 Professional Gaming also is one of the most expensive Ryzen Threadripper motherboards available. We will be seeing if that cost is justified in this review.
AnandTech's AMD Ryzen Threadripper and X399 Motherboard Coverage
ASRock Fatal1ty X399 Professional Gaming Overview
The ASRock X399 Professional Gaming is a motherboard that has been designed to entice advanced gamers. Even the nickname of the former well-known former esports player, Johnathan "Fatal1ty" Wendel, appears along with the motherboard's name to help with the marketing of the motherboard. However, after having a closer look at the motherboard and its specifications, it feels as if the X399 Professional Gaming is having an identity crisis, which isn't necessary a bad thing.
The design of the X399 Professional Gaming is not in any way extravagant, as one would expect from a top-tier motherboard that is almost exclusively targeting gamers. On the contrary, the aesthetic design is subtle, yet elegant, focused on simple geometric shapes. Onboard RGB lighting is present but is limited around the chipset's heatsink, with headers for additional LED strips. We also spotted very high-quality components, such as the Nichicon solid-state capacitors that account for every single capacitor on this motherboard.
In terms of connectivity, the ASRock X399 Professional Gaming supports up to three M.2 PCIe ×4 drives, one U.2 PCIe ×4 drive, and eight SATA drives. Each of the M.2 sockets have four PCIe lanes with no sharing between them and/or with other devices, except for one of the M.2 slots to be switched with the U.2 port. Using the U.2 connector will disable one of the M.2 ports entirely. It is not possible for two devices to be installed with shared lanes.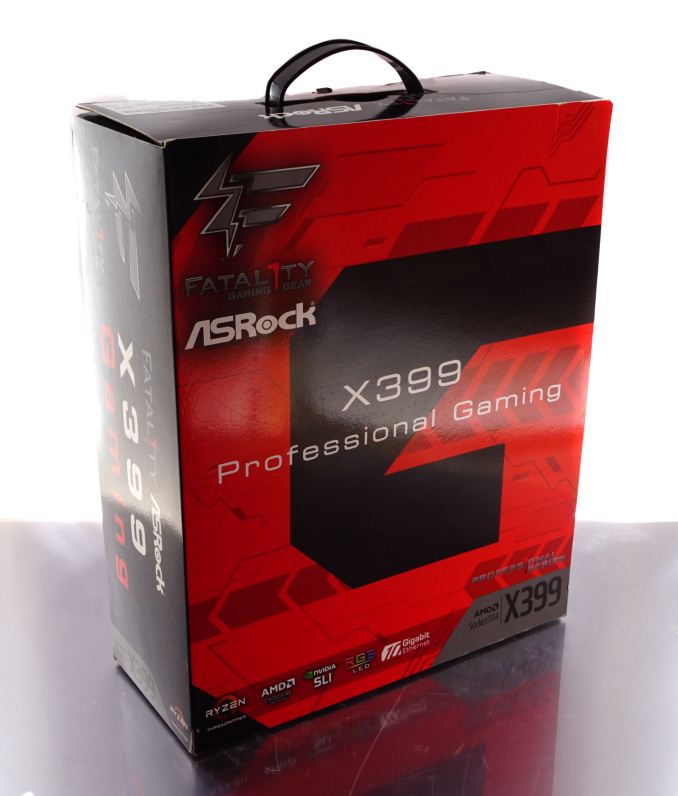 A look at the rear panel of the motherboard reveals that the ASRock X399 Professional Gaming has three network interface controllers (NICs), plus the Wi-Fi 802.11ac/Bluetooth 4.2 module. Two of the NICs are typical gigabit chips from Intel (211AT) but the third is an Aquantia 10GBASE-T chip, the AQC107. This level of network connectivity is needless for a gaming motherboard and none of the used chipsets are designed exclusively for gaming, it should be noted. The use of three NICs is one of this motherboard's unique features but, on the other hand, this approach does not make much sense for a gaming motherboard. A gaming-specific NIC such as a Killer E2500 would make the motherboard more appealing to gamers, whereas the more expensive Aquantia 10G chip primarily serves other users.
The second feature that stands out is the 11-phase (8+3) power design with a fully digital PWM controller and separated CPU connectors. We will examine the circuitry in more detail in the following pages of this review. The sound chipset is provided by Realtek and is the ALC1220. It supports the Sound Blaster Cinema 3 software and ASRock is using Nichicon's golden audio-specific capacitors to drive the physically isolated audio channels. The motherboard also has a USB 3.1 Gen 2 controller that provides one Type-A and one Type-C port.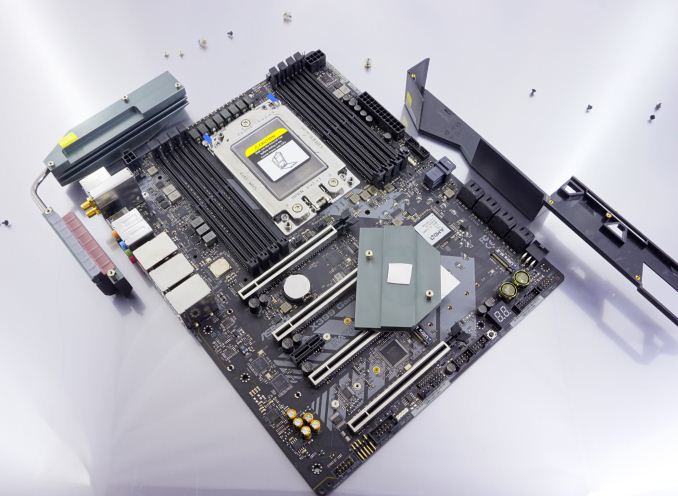 We are unsure why ASRock decided to focus their marketing efforts on just gamers with this motherboard. Overall, it feels as if the designer was initially trying to create a reliable and fully-featured motherboard that would be an appealing product for practically every advanced user, not just gamers.