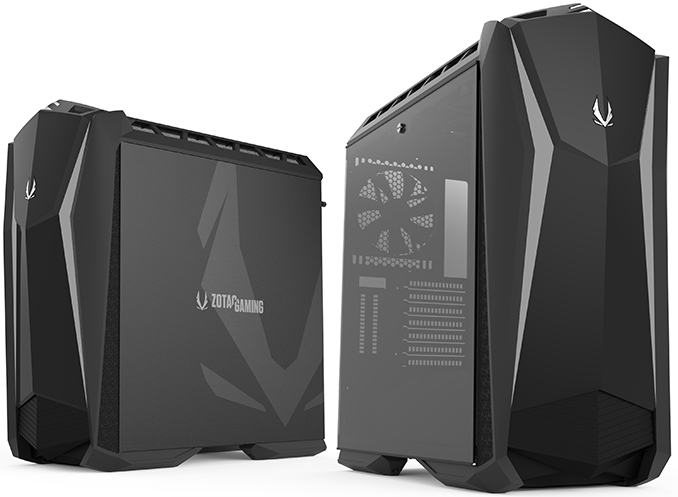 ZOTAC on Thursday announced plans to demonstrate an expanded range of its pre-built MEK systems at Computex next month. The new MEK Ultra PCs will address users who demand maximum performance and expandability, whereas the MEK Mini computers are aimed at clients who prefer compact machines.
In a bid to address customers who would like to purchase a factory-built PC with an upgrade path, ZOTAC introduced its MEK tower systems last year. The computers were based on Intel's quad-core Kaby Lake processors and the B250 PCH, they were incompatible with the six-core Coffee Lake chips and therefore offered a rather limited upgrade path as far as the CPUs are concerned. Meanwhile, the experiment was probably considered a success and this year the company will be expanding the MEK lineup with higher performance MEK Ultra as well as miniature MEK Mini systems.
ZOTAC MEK Ultra: Big, Upgradeable, Overclockable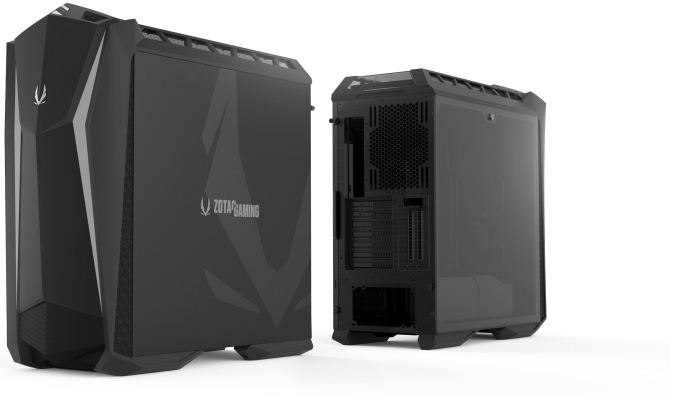 The ZOTAC MEK Ultra PC will be a classical tower based on an ATX motherboard and featuring all the perks that modern desktops have to offer: a tempered glass window, multiple fans, vertical installation of graphics card, RGB lighting, multiple bays for HDDs/SSDs, and so on. ZOTAC does not disclose specs of the MEK Ultra systems, but it is logical to guess that usage of ATX motherboards gives a lot of flexibility. Therefore, expect CPUs with more than four cores (unlocked and overclockable, of course), ultra-premium graphics cards, high-end storage options, loads of memory, advanced cooling, multiple ports, etc.
ZOTAC MEK Mini: Small, Custom, Stylish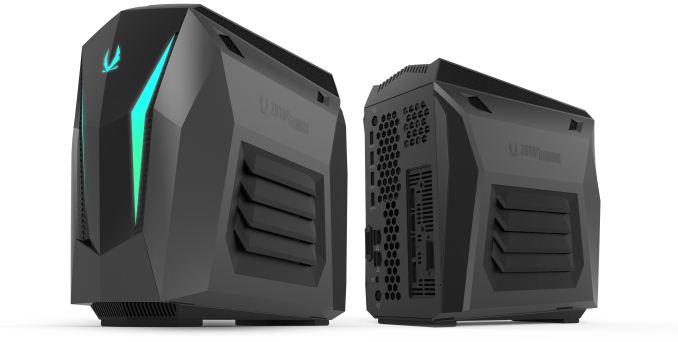 The MEK Mini system will share a different ideology than the MEK Ultra. This PC will use a custom motherboard, a custom external PSU, a custom CPU cooling system and so on. Based on the look of the MEK Mini PC, they will be more flexible and upgradeable than the ZBOX MAGNUS PCs from ZOTAC, yet their exact configurations and capabilities remain to be seen.
The MEK Mini will be compatible with off-the-shelf graphics adapters (the most advanced version will be equipped with a ZOTAC GeForce GTX 1080 Mini video card), SSDs/HDDs (some configs will use Intel Optane Memory 32 GB drive for caching), but it is unclear whether it will be easy/possible to upgrade the processor. It is highly likely that ZOTAC will use Intel's six-core CPUs for the MEK Mini, but it is unclear whether the system will support CPU overclocking. The only thing ZOTAC says is that the MEK Mini will house processor and graphics adapter in different compartments for more efficient cooling. Meanwhile, when it comes to I/O capabilities, the MEK Mini will support two GbE ports, 802.11ac Wi-Fi, multiple USB 3.0 Type-A ports and so on. It is noteworthy that the MEK Mini uses the Killer Wireless AC 1550 and the Killer Ethernet E2500 network controllers to ensure minimal latency during gaming.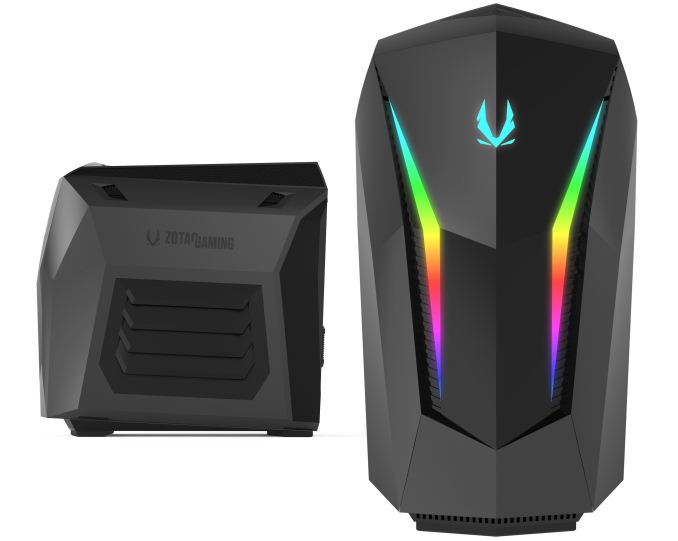 ZOTAC will disclose more information about its upcoming MEK Ultra and MEK Mini PCs at Computex, so make sure to check out our coverage of the show next week.
Want to keep up to date with all of our Computex 2018 Coverage?

Laptops

Hardware

Chips
Follow AnandTech's breaking news here!
Related Reading: