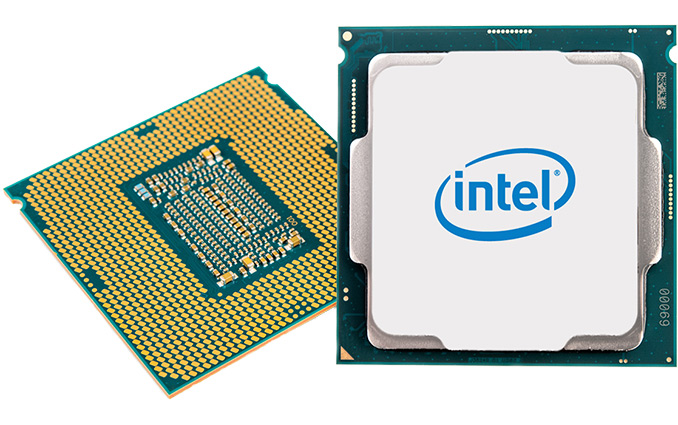 Intel has published model numbers of its upcoming Xeon E processors based on the Coffee Lake-S core. The new chips will be used in entry-level servers and workstations and will be formally introduced in the coming weeks. In addition, Intel announced plans to use a yet another test and assembly line to build its Coffee Lake chips.
It is not a secret that Intel has been planning to rebrand its entry-level Xeon processors from Xeon E3 to Xeon E with the Coffee Lake family. Now, in a document sent to customers, Intel confirmed the plan. The new CPUs will feature up to six cores, they will be compatible with motherboards based on the Intel C246 PCH, and their main differences from Intel's consumer 8th Gen Core processors will be support for ECC, remote maintenance (Intel AMT), different frequencies, and TDP levels.
Based on the Intel publication, the Xeon E-2000 lineup of products will include at least 10 models with seven of them featuring iGPUs (they feature the G suffix in their model number).
Intel's Upcoming Xeon E-2000 CPUs
Model Number
Product Code
S-Spec
Vertical Segment
Xeon E-2124
CM8068403654414
SR3WQ
Server
Xeon E-2124G
CM8068403654114
SR3WL
Workstation
Xeon E-2126G
CM8068403380219
SR3WU
Workstation
Xeon E-2134
CM8068403654319
SR3WP
Server
Xeon E-2136
CM8068403654318
SR3WW
Server
Xeon E-2144G
CM8068403654220
SR3WM
Workstation
Xeon E-2146G
CM8068403380116
SR3WT
Workstation
Xeon E-2174G
CM8068403654221
SR3WN
Workstation
Xeon E-2176G
CM8068403380018
SR3WS
Workstation
Xeon E-2186G
CM8068403379918
SR3WR
Workstation
In a document sent to clients, Intel announced plans to use the third manufacturing facility to test and assembly its 8th Gen Core, Pentium Gold and Xeon products. The production site is located in Vietnam and will be used to build both boxed and tray versions of Intel's Coffee Lake processors. As a part of the announcement, Intel had to disclose exact model numbers of CPUs that will be tested, assembled, and packaged in Vietnam and therefore had to disclose model numbers of the upcoming products. The document to customers indicates that the first batches of processors listed will ship on June 25, 2018.
These CPUs are expected to be formally announced in the next few weeks. When asked, Intel stated that they do not comment on rumor or speculation... despite the fact that this was from an official Intel document.
Related Reading
Source: Intel