Cold Test Results
For the testing of PSUs, we are using high precision electronic loads with a maximum power draw of 2700 Watts, a Rigol DS5042M 40 MHz oscilloscope, an Extech 380803 power analyzer, two high precision UNI-T UT-325 digital thermometers, an Extech HD600 SPL meter, a self-designed hotbox and various other bits and parts. For a thorough explanation of our testing methodology and more details on our equipment, please refer to our How We Test PSUs - 2014 Pipeline post.
Meanwhile, by request, we're also including 115 VAC results with this PSU review, for our readers in North America and other 115 VAC regions. Modern power supplies work on both systems, however the nature of switching means that they are slightly more efficient with higher voltage inputs. So this lets us show where their efficiency stands on a 115 VAC system.
The BitFenix Formula Gold 650W meets the 80Plus Gold certification standards when powered from either a 230 VAC or 115 VAC source. With an input voltage of 230 VAC, the peak efficiency is 92.2% at 50% load, while the average nominal load (20%-100%) average efficiency is 90.9%. The conversion efficiency drops when the unit is powered by an 115V/60Hz source, peaking at 90.4% at 50% load and delivering an average efficiency of 89% across the nominal load range. However, the efficiency drop is not uniform. At low loads the difference is insignificant but it widens as we load increases, up to a maximum of 2.6% at maximum load.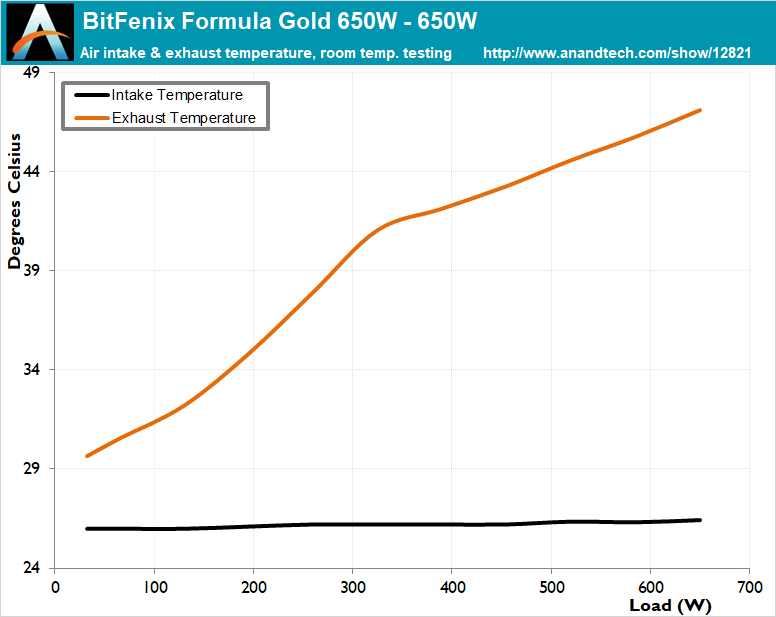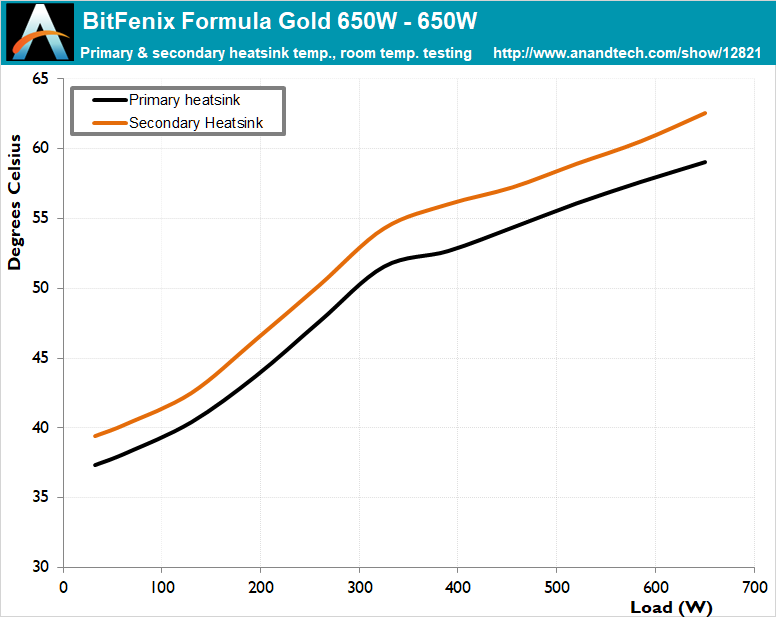 BitFenix kept things simple and did not implement a semi-fanless thermal control scheme but the thermal control parameters are very well programmed. The fan is staying indiscernibly quiet with a load up to about 400 Watts, providing adequate cooling with very low noise levels. As the load increases beyond 400 Watts, the fan's speed slope increases, decreasing the rate at which the internal temperature rises. The maximum noise level coming from the Formula Gold 650W unit at room temperature is 40.6 dB(A) at maximum load, meaning that is clearly audible but most users would not find that uncomfortable in an office/gaming environment.