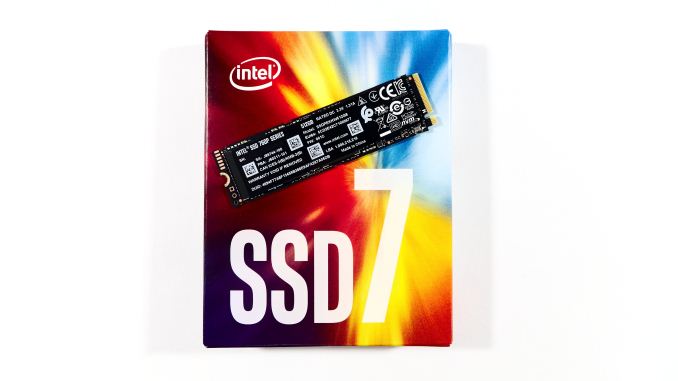 Today Intel is launching a new NVMe SSD for consumers. The Intel SSD 760p is a M.2 SSD featuring Intel's 64-layer 3D TLC NAND flash and a new Silicon Motion controller, and it will compete as an entry-level NVMe SSD.
Based on the model number, the Intel SSD 760p would appear to be successor to the Intel SSD 750. However, the 750 was a top of the line premium SSD for its time, and Intel's Optane products are now covering that market segment. The 760p is a mainstream consumer product with accessible pricing that is slightly lower than the Intel SSD 600p, which has been one of the cheapest NVMe drives on the market. The 600p was Intel's first consumer SSD with 3D NAND and their first M.2 NVMe SSD, and it was also one of the first NVMe SSDs that wasn't even trying to compete at the high end. The 760p promises far better performance than the 600p, but not enough to catch up to today's high-end SSDs.
The Intel SSD 760p is a continuation of Intel's close collaboration with Silicon Motion for consumer SSD controllers. As with the 600p, the 760p features an Intel-customized version of Silicon Motion's reference design and firmware. Where the 600p was based on the SM2260 controller, the 760p is the first drive to market based on the SM2262 controller, the mid-range option from Silicon Motion's second generation of NVMe controllers. Silicon Motion has previewed these controllers last year with far higher performance than the SM2260 could deliver, and the Intel 760p is following through on those promises.

The flash memory used in the Intel SSD 760p is the same 256Gb 64L 3D TLC NAND found in the Intel 545s SATA SSD, and is similar to Micron's 64L 3D TLC as found in the Crucial MX500. Other NAND flash manufacturers have also moved to 64L 3D NAND: Western Digital/SanDisk are using theirs in the WD Blue 3D NAND aka SanDisk Ultra 3D, Toshiba's is found in the TR200 budget SATA SSD, and Samsung's 64L 3D NAND is used in the new 860 PRO and 860 EVO. Intel/Micron 3D NAND is still unique for using a floating gate memory cell structure where their competitors switched to a charge trap cell as part of the transition from planar to 3D NAND.
This year, we will see most manufacturers switch from 256Gb 64L TLC parts to 512Gb 64L TLC, but the Intel 760p still uses the smaller die, which enables higher performance for low-capacity drives.
Intel SSD 760p Specifications
Capacity
128 GB
256 GB
512 GB
1 TB
2 TB
Form Factor
M.2 2280 single-sided
M.2 2280 double-sided
Controller
Intel-customized Silicon Motion SM2262
NAND
Intel 256Gb 64-layer 3D TLC
Sequential Read
1640 MB/s
3210 MB/s
3230 MB/s
TBA
TBA
Sequential Write
650 MB/s
1315 MB/s
1625 MB/s
TBA
TBA
4KB Random Read
105k IOPS
205k IOPS
340k IOPS
TBA
TBA
4KB Random Write
160k IOPS
265k IOPS
275k IOPS
TBA
TBA
Idle Power
25 mW
TBA
TBA
Endurance
72 TBW
144 TBW
288 TBW
576 TBW
1152 TBW
Warranty
5 years
Price
$72.99 (57¢/GB)
$108.99 (43¢/GB)
$198.99 (39¢/GB)
TBA (Q1 '18)
TBA (Q1 '18)
Today's launch includes 128GB, 256GB and 512GB capacities of the Intel 760p, with the 1TB and 2TB models coming later this quarter. All the major performance specifications are much faster than the 600p, and most of them also beat the obsolete Intel SSD 750. The write endurance is rated the same as for the 600p at 72 TB of writes per 128GB of drive capacity, equivalent to about 0.3 drive writes per day, a typical figure for consumer SSDs.
Performance specifications for the 1TB and 2TB models have not been released, but they will probably not be much faster than the 512GB model. The 128GB and 256GB models are clearly held back some by their limited capacity, but the 512GB's performance specs are close to Silicon Motion's projections for what the SM2262 controller would be capable of.
Intel's pricing for the 760p is competitive, with initial MSRPs at or slightly below current street prices for the Intel 600p and most other low-end NVMe drives. The 760p will not hold the 600p's distinction as the cheapest NVMe drive on the market, because a wave of new low-end NVMe drives is arriving. These drives feature cheaper controllers specifically designed for low-end NVMe SSDs, cutting costs by using a PCIe x2 connection instead of x4, or by omitting DRAM in favor of using the NVMe Host Memory Buffer feature. Those drives will enable NVMe SSDs to further encroach on the pricing territory of SATA SSDs, but they may not be able to match the Intel 760p on performance.
As with Intel's other recent consumer SSDs, there will also be variants for the business and embedded markets. Those models will be branded as the Intel SSD Pro 7600p and the Intel SSD E 6100p.
For this review, the Intel SSD 760p will be compared against:
Absent from this review are members of the upcoming class of NVMe SSDs with controllers designed for the low-end NVMe segment. We have a Silicon Motion SM2263XT engineering sample on hand that is our first drive using the NVMe Host Memory Buffer feature and thus requires more testing than usual. The MyDigitalSSD SBX—the first drive using the Phison E8 controller—just arrived and will get its turn on the testbed next month.
Today's review of the Samsung 860 PRO included synthetic benchmarks conducted with a slightly updated test protocol using fio version 3 for more precise timing measurements. There wasn't time to re-test the necessary NVMe drives for this review, so these results were measured with the older 2017 test scripts using fio version 2.21. Re-testing of our full catalog of SSDs is in progress using the updated scripts and our new Quarch XLC Programmable Power Module for more precise power measurements.
Additionally, both of today's reviews were conducted with systems that have not yet been patched in any way for the Meltdown and Spectre vulnerabilities. A separate testbed has been running tests to measure the impact of various mitigation strategies for those vulnerabilities.
AnandTech 2017 SSD Testbed
CPU
Intel Xeon E3 1240 v5
Motherboard
ASRock Fatal1ty E3V5 Performance Gaming/OC
Chipset
Intel C232
Memory
4x 8GB G.SKILL Ripjaws DDR4-2400 CL15
Graphics
AMD Radeon HD 5450, 1920x1200@60Hz
Software
Windows 10 x64, version 1703
Linux kernel version 4.12, fio version 2.21