BIOS
The X299M Gaming Pro Carbon AC uses MSI's Click BIOS 5 version of their UEFI (version 1.40). In this case, the interface uses their black and red theme (other boards will have different schemes depending on their segment). When booting into the BIOS we are presented with an EZ-Mode version of the BIOS displaying high-level system information such as CPU and memory speed, motherboard and CPU temperatures, and installed memory amount and speed among other things. There is plenty of information to have a good idea of the system status.
In EZ-Mode we are able to change a few options. We can enable Game Boost for one button overclocking, as well as the XMP profile from the RAM. Boot order is also able to be edited by simply dragging the icons around in the boot priority list. Users are also able to access M-Flash to update your bios, access to Favorites, as well as the Hardware Monitor to check on temperatures and voltages.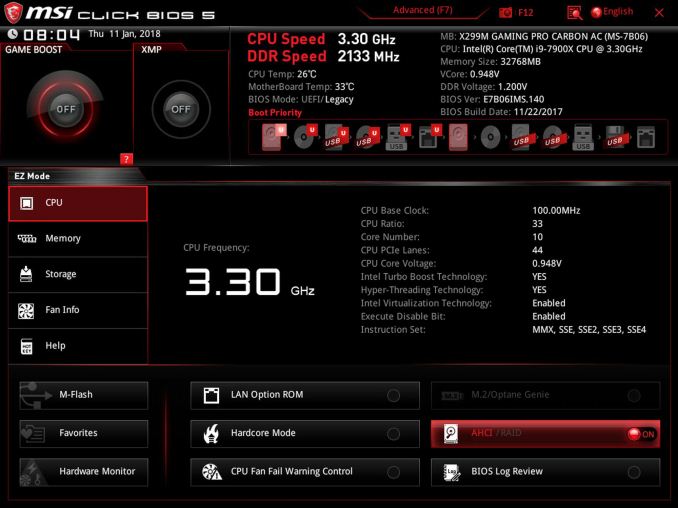 Pressing F7 brings the user out of EZ-Mode and into the main menu. Here the BIOS gives us the same information and options on top but then gives multiple sections below for changing system settings. The settings section will give access to change subsystem settings - for example: PCIe modes, VROC configuration (Intel NVMe RAID), Integrated Peripherals, USB configuration, Power Management, Windows OS configuration, and more including changing SATA modes and enabling/disabling USB ports. Basically, most system settings which do not have to do with overclocking will be found in the aptly named Settings section and it sub-headings.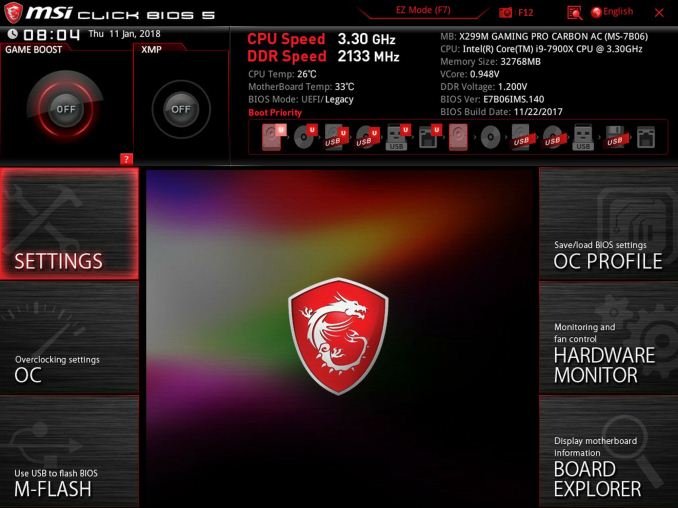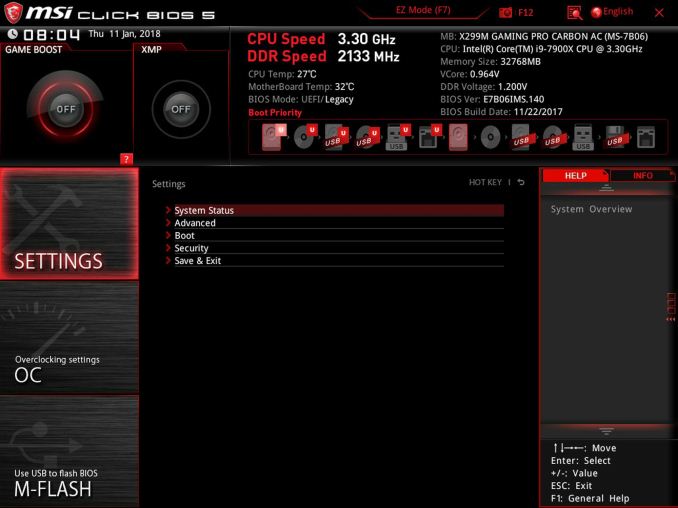 The OC section is where all the options for overclocking will be found, such as CPU Multiplier, Vcore, DRAM Voltage, DRAM Timing settings, and FIVR voltage. The OC section has two modes, Normal and Expert, with the expert section adding a few more finer-grained options. Most users will be fine in Normal mode, as even voltage control for all relevant sub-systems can all be found on the first page. Like I have done with past MSI reviews. All overclocking that was completed for the review was done in normal mode since we do not use per core adjustments or need to do anything with the memory outside of enabling XMP.
Below are the screenshots a bit deeper into the OC section. We see what 'expert' looks like as well as DRAM timings (there are around 4-5 pages of these - see the gallery at the end of this section for all), and other CPU power features.
Next is the OC Profile section. Here we are able to save our BIOS profiles internally and to USB, as well as load any profiles from the internal storage or USB.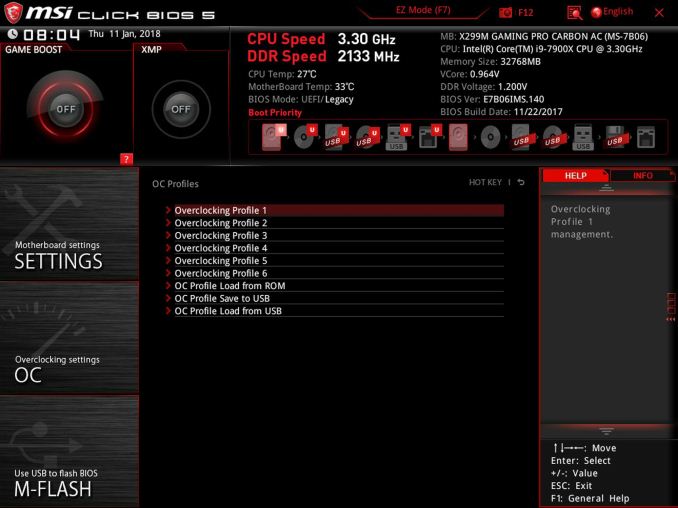 The Hardware Monitor section displays system information such as temperatures and voltages as well as where users will be able to set fan speeds or custom curves. This can also be accomplished through the Command Center software as well.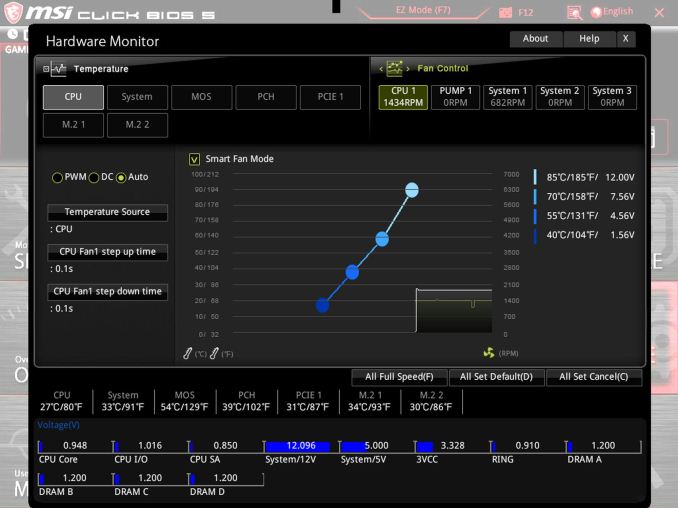 The Board Explorer is a cool graphical way to show what is installed in the system by hovering over the location. This even shows the VRM in yellow running a bit warm... more on that later.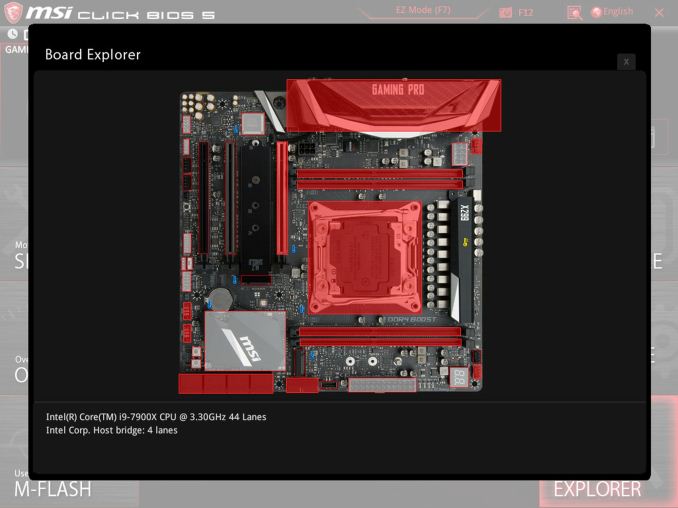 Software
We start our brief software journey with the driver disk that is included with the motherboard. Pop this disk in an optical drive (do you still have one?) and the options below pop up. The idea is that the disk should have all the drivers needed to get started. After a reboot, the Live Update 6 software showed a couple of pieces that were out of date from the disk and also successfully updated them.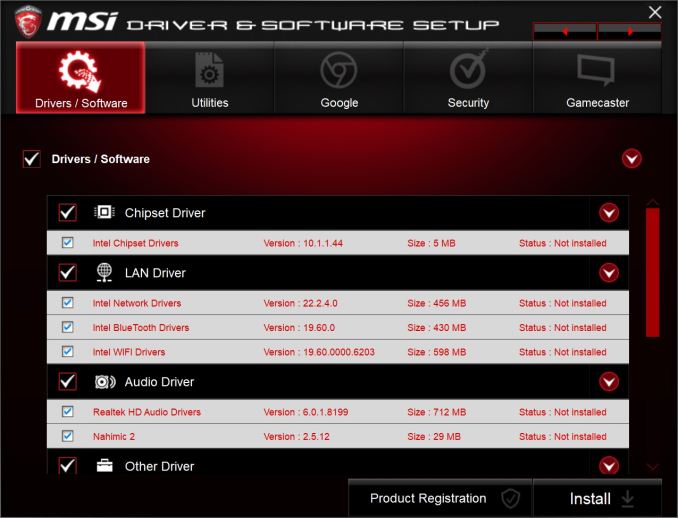 MSI's Command Center software is a one-stop shop to change a whole lot of items on the PC from fan control to DRAM, and even enabling Game Boost or overclocking can all be done.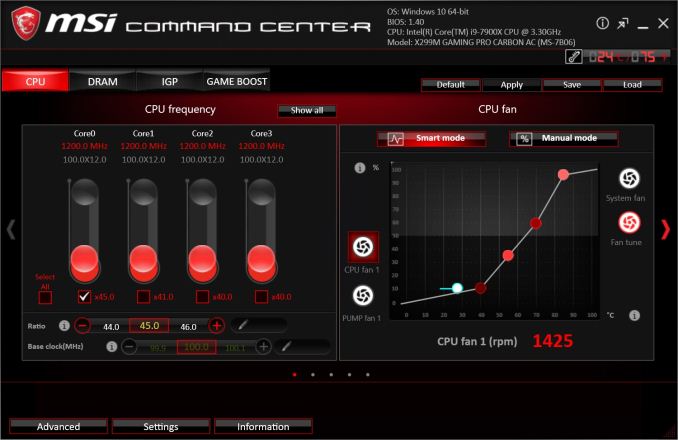 MSI also Gaming LAN Manager for network control, which has the ability to prioritize traffic for Gaming, Media Streaming, File Sharing, as well as being able to customize it for different apps.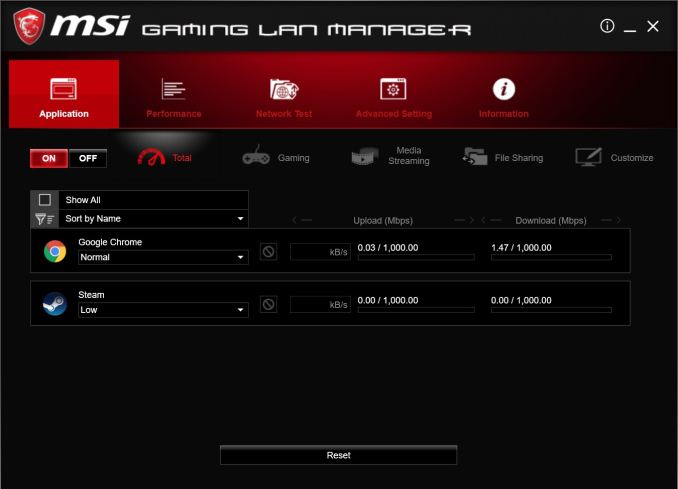 MSI utilizes the Realtek ALC1220 codec which comes with its own Realtek software. MSI was able to skin it and have it fit more into their black and red theme, and as a result it looks a lot better than the 'unskinned' versions other brands use. There are an assortment of options to change here including presets for specific listening environments, as well as an equalizer, among other options.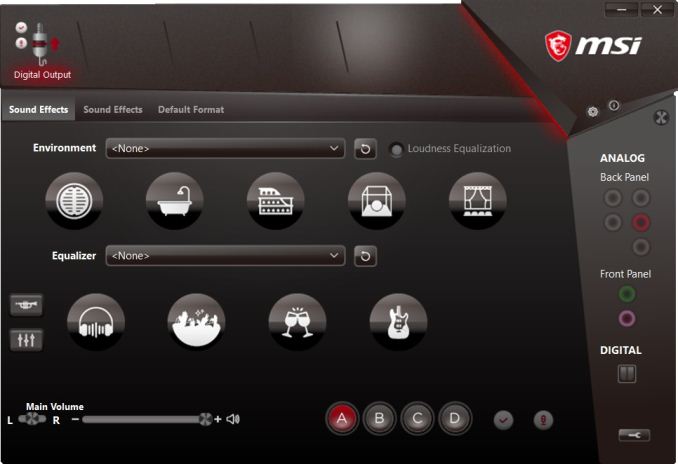 MSI also bundles the Nahimic software with the X299M Gaming Pro Carbon AC. This software package, initially brought on as an EQ manager skin that didn't allow EQ changes, has been updated in recent months to allow for more complex interactions for shaping the sound, adjusting surround sound settings, as well including sound tracking software which gives an OSD of where sounds are coming from (for games where sound location is critical).