Hot Test Results
We can see in the following tables that the electrical performance of the Corsair TX550M is very good for a mid-range PSU. Corsair definitely improved Great Wall's designs vastly since our last encounter with them, increasing the efficiency and power quality of the platform. Although it does not impress, the maximum ripple of 36 mV on the 12V line under maximum load is a good power quality figure and satisfactory considering the price range of the PSU.
Main Output
Load (Watts)
111.24 W
277.4 W
413.29 W
549.67 W
Load (Percent)
20.22%
50.44%
75.14%
99.94%
Amperes
Volts
Amperes
Volts
Amperes
Volts
Amperes
Volts
3.3 V
2.26
3.34
5.66
3.33
8.49
3.31
11.32
3.3
5 V
1.81
5.08
4.53
5.07
6.79
5.02
9.06
5
12 V
7.79
12.13
19.47
12.1
29.21
12.02
38.95
11.99
The TX550M appears to be a little sensitive to heavy cross-loading, with the maximum ripple on the 12V line jumping to 52 mV, but that still is a good performance figure under a highly unlikely usage scenario. The voltage regulation on every voltage line is between 1.2% and 1.4%, which is very good by today's standards.
Line
Regulation
(20% to 100% load)
Voltage Ripple (mV)
20% Load
50% Load
75% Load
100% Load
CL1
12V
CL2
3.3V + 5V
3.3V
1.4%
16
16
18
22
16
20
5V
1.5%
20
20
22
24
18
24
12V
1.2%
22
26
30
36
52
34
High ambient temperatures have a measurable, but not excessive or unexpected, impact on the electrical performance of the Corsair TX550M.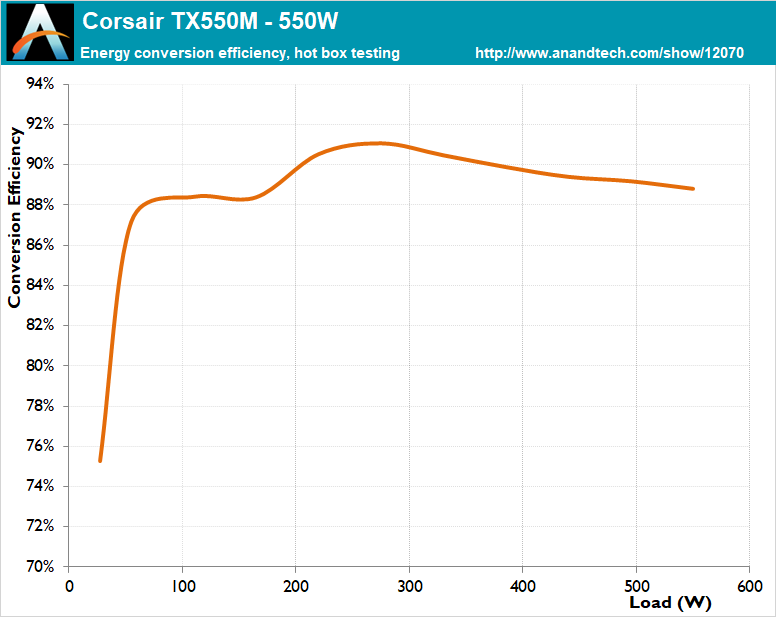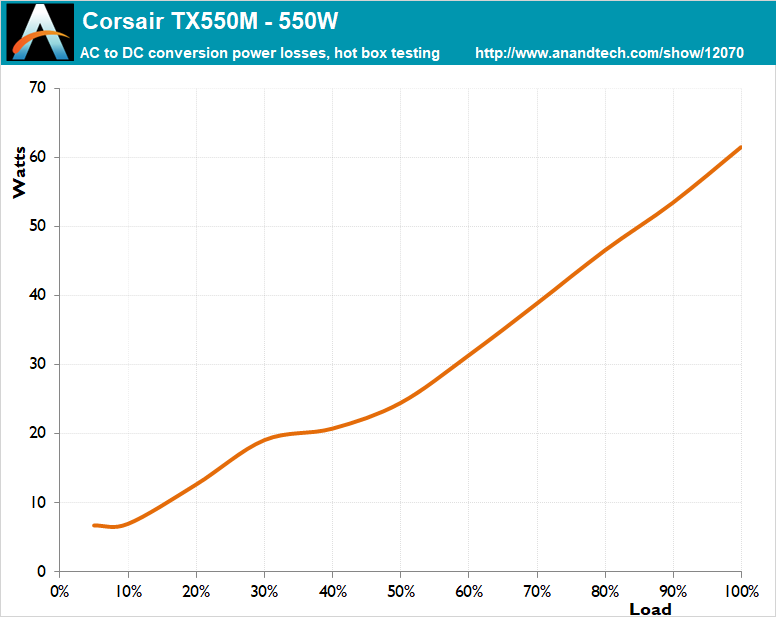 The average nominal load range (20%-100%) efficiency drops by 0.7%, down to an average of 89.6%, when in a warm environment. This drop is evenly distributed across the load range, suggesting that there are no component quality or thermal stress issues. Note that the TX550M still is significantly more efficient when handling loads greater than 250 Watts.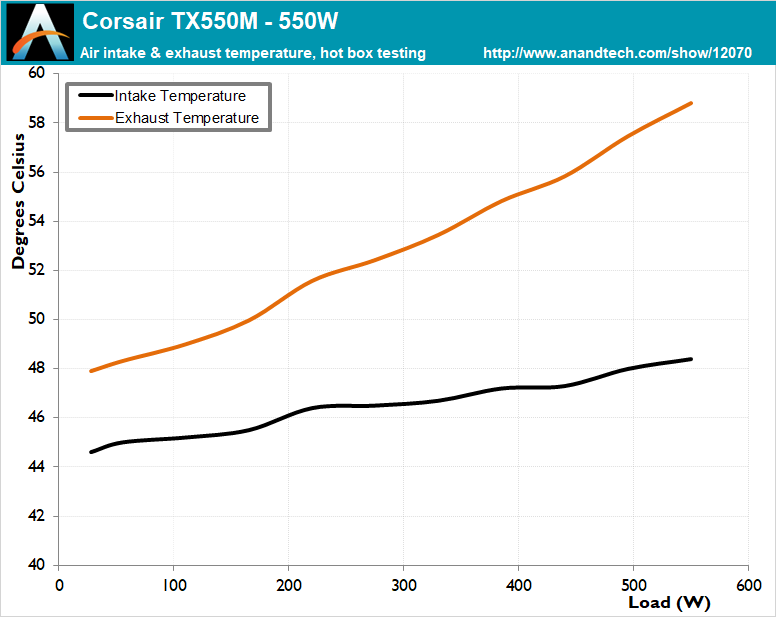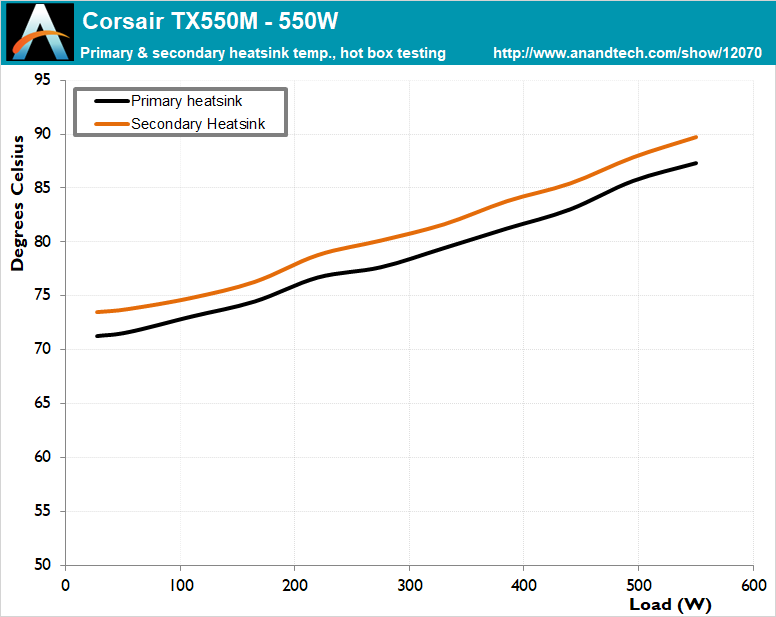 The thermal control of the Corsair TX550M is simplistic, setting the speed of the fan mainly according to the internal temperature of the unit. Inside our hotbox, the high internal temperatures of the PSU force the fan to almost instantly reach an audible, yet typically comfortable noise level. From that point onwards, the speed of the fan is increasing almost linearly along with the load but, surprisingly, it does not ever reach painfully high noise levels. It will surely be loud at maximum load under such conditions, but we usually expect much higher noise levels from PSUs around this price range. Considering the very high ambient temperature, the internal temperature of the TX550M is good, although there definitely is room for improvement.