NEC Mitsubishi
NEC-Mitsubishi is one of the most conservative players in the LCD sector. Fortunately, they had quite a bit to show off this year on the show floor (coincidently, they were also the only LCD player actually on the floor). Undoubtedly, the NEC 1760NX was one of the more successful 17" LCDs of 2002 with the AUO 16ms panel. NEC's MultiSync 2080UX is now one of the company's more popular units, particularly since it is one of the most cost-effective 20" LCDs available and is capable of 1600x1200.
Unfortunately, there were no samples on the floor, but NEC is improving on the 2080UX in the same way Dell improved on the 2000FP by incorporating the LG Philips LCD LM201U04 panel. The new 2080UX+ will be capable of 16ms response times and the Super-IPS display mode.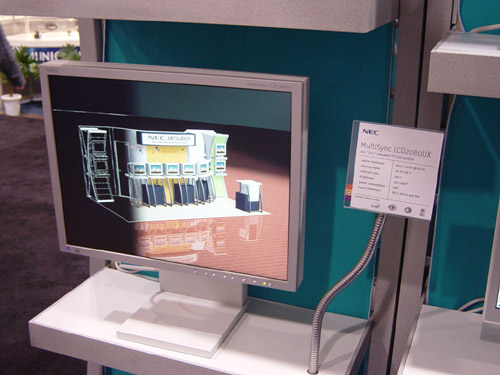 Click to enlarge.
Also announced at the show was the 2180UX, which uses a different panel than the 2080UX in order to squeeze in that extra 0.9" of display. Unfortunately, this display does not run on 16ms technology, but is capable of 1600x1200 natively. Unfortunately, since there are not a lot of folks making 21" LCDs, this monitor will probably be somewhat cost prohibitive. Don't forget to check out our Samsung 213T analysis later this week.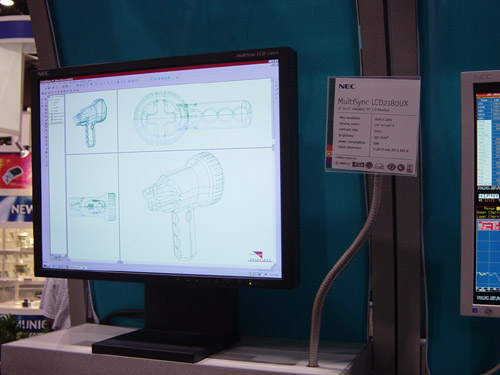 Click to enlarge.
After Sony pulls the Trinitron product line next year, NEC-Mitsubishi will be one of the last companies that still produces CRT monitors. We were under the impression that NEC-Mitsubishi still has quite a strong market for the CRT with gamers and graphics designers. On the show floor, we got the opportunity to see the newer Diamond Pro 2070 SB, which incorporates a new technology to enhance color reproduction. The image on the left is the traditional 2070 22" CRT, and the one on the right is the new enhanced color model. The difference is quite noticeable.

Click to enlarge.