Liebermann
Even though Liebermann only has a few selling products, they have generated quite the stir over the last few months. From fraud conspiracies to copyright problems, Liebermann spent the better part of the last 3 months just fighting off critics. Even we were a little miffed at how Liebermann was able to get products released to print magazines for review, since the demo units they displayed at the OCZ hospitality suite were clearly not finished. Regardless, the sample 4x19" Grand Canyon cinematic display was working at the booth, and we just happened to have a camera with us. Voila: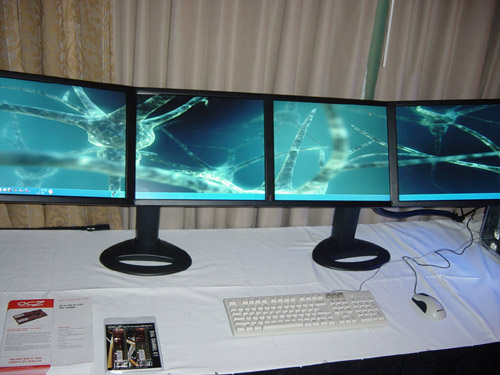 Click to enlarge.
The
website
doesn't describe it, but signal processing comes in the form of four independent interfaces, one for each display. Unfortunately, there is not an independent signal processor on the displays to produce the 6400x1200 25X VGA over a sole interface. The particular display that we saw appears to be a 4x19" configuration, which is probably only capable of 5120x1024 anyway. Graphics were supposed to be supplied by Matrox G450's, although an alternative configuration was used for our demonstration due to technical failure.
Edit:
Lisa Ciesniewski from Liebermann has informed me that the video card suite for the Grand Canyon displays is actually a Radeon 9800 XT AGP and a Radeon 9200 PCI.
In case you were wondering why we happened to bump into Liebermann at OCZ suite, it's simply because OCZ will be supplying memory for the systems. Here is an unglamorous quick shot of the demo'd workstation.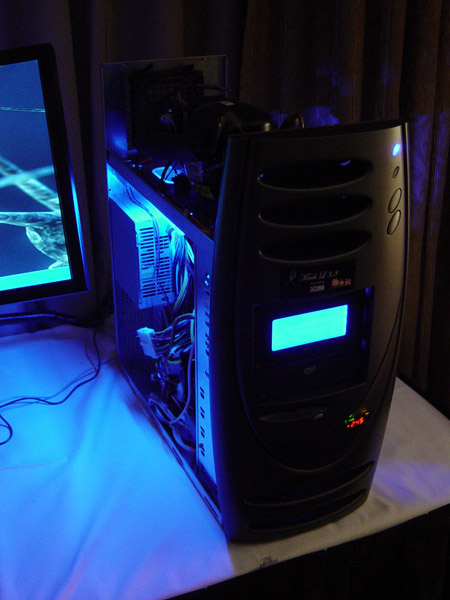 Click to enlarge.