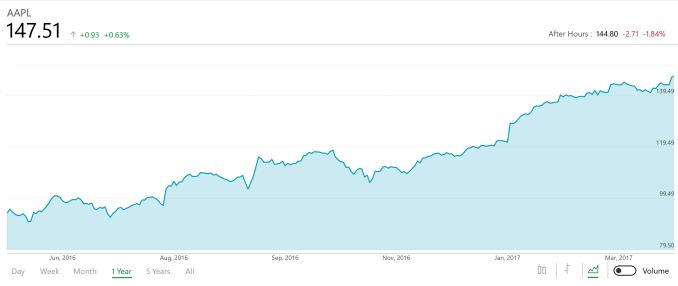 This afternoon, Apple announced their earnings for the second quarter of their 2017 fiscal year. Revenue was up 5% year-over-year to $52.896 billion. Operating income for the quarter was up 6.6% to $14.097 billion, and net income was up just under 5% to $11.029 billion. This resulted in diluted earnings per share of $2.10.
Apple is also announcing they are expanding their capital return program, and the board has increased the capital return to shareholders another $50 billion, making the total program worth $300 billion in dividends and share repurchases by the time it wraps up in March 2019.
Apple Q2 2017 Financial Results (GAAP)
Q2'2017
Q1'2017
Q2'2016
Revenue (in Billions USD)
$52.896
$78.351
$50.557
Gross Margin (in Billions USD)
$20.591
$30.176
$19.921
Operating Income (in Billions USD)
$14.097
$23.359
$13.987
Net Income (in Billions USD)
$11.029
$17.891
$10.516
Margins
38.9%
38.5%
39.4%
Earnings per Share (in USD)
$2.10
$3.36
$1.90
iPhone is still far and away the biggest part of Apple, but sales for this quarter were relatively flat compared to the same period a year ago. For the quarter, Apple sold 50.763 million iPhones, down 1% from a year ago, but with higher average selling prices, revenue was up 1% to $33.249 billion for the quarter. Of course, last quarter was the iPhone refresh, and they sold 78.29 million iPhones last quarter, so the business isn't exactly doing poorly, but iPhone is the device that has transformed Apple, so we'll have to see how sales go over this calendar year.
Mac sales were strong though, considering the PC market. Mac had an increase in device sales of 4%, to 4.199 million units. With a new Mac Pro refresh, this is perhaps not as strong as expected, but revenue for the unit was up 14% to $5.844 billion, so they are making more per Mac sale.
Services seem to be the next big growth area for Apple, and with an install base of iPhones as high as it is, this is arguably a good way to capitalize on that base. Apple's services segment, which includes revenue for digital content, AppleCare Apple Pay, licensing, and other services, had revenue growth of 18% to $7.041 billion. The difference with services compared to iPhone sales is that there isn't the massive swing quarter to quarter either, with services only dropping 2% from Q1, compared to iPhone which dropped 39% from the holiday quarter.
The iPad continues its drop, and nothing Apple has done yet seems to have had any impact on this trend. iPad was down 12% in revenue year-over-year to $3.889 billion, and of course that's still a huge amount of revenue, but when it has to compete against the iPhone it seems poorer than it is. In terms of device sales, Apple sold 8.922 million iPads this quarter, down 13% from a year ago where they sold 10.251 million.
Apple Q2 2017 Device Sales (thousands)
Q2'2017
Q1'2017
Q2'2016
Seq Change
Year/Year Change
iPhone
50,763
78,290
51,983
-35%
-1%
iPad
8,922
13,081
10,251
-32%
-13%
Mac
4,199
5,374
4,034
-22%
+4%
Other products, which is where Apple puts Apple TV, Apple Watch, Beats, iPod, and accessories, actually had a solid quarter, with revenue up 31% to $2.873 billion. Apple never breaks down the individual parts of this though, which is understandable, but unfortunate.
Apple is forecasting revenue for Q3 to be between $43.5 and $45.5 billion, with a gross margin of 38% plus or minus 0.5%.
Source: Apple Investor Relations