Powering the Chuwi LapBook 14.1: Intel Apollo Lake
Intel's Atom processor is their low-cost offering, with a smaller die size than Intel's Core series, allowing them to sell them for less money, but keep their margins up. Atom has had a bit of a roller coaster of a ride over the last several years. When it launched in 2008, it was an in-order design, offering low power, but also low performance. It was originally on the 5-year cadence that Intel was still doing with their main CPUs as well, which really made the original Atom long in the tooth, despite several process changes along the way.
Eventually Intel saw the threat of ARM processors, and tried to speed up the cadence of Atom so that it could be used in thin and light tablets, as well as smartphones. We saw some brief success with Atom, partially due to a strategy of contra-revenue, and partially because Windows RT was a failure, but with Intel never gaining a foothold in smartphones and basically only available in Windows tablets, Intel made the decision to cancel the Broxton tablet platform completely. This was a bit of a shock, and I'm sure it caught a lot of their partners a bit flat footed, since they had devices being sold with Cherry Trail that would never get an update.
But this didn't impact the low-end PC market, because Intel was moving forward with their PC platform, which they dubbed Apollo Lake. The new 14 nm successor to Airmont, named Goldmont, was going to live on, albeit in less devices. Much of the confusion about the death of Atom has to do with just how many products it was in.
Comparison of Intel's Atom SoC Platforms
Node
Release Year
Smartphone
Tablet
Netbook
Notebook
Saltwell
32 nm
2011
Medfield
Clover Trail+
Clover Trail
Cedar Trail
Silvermont
22 nm
2013
Merrifield
Moorefield
Bay Trail-T
Bay Trail-M/D
Airmont
14 nm
2015
'Riverton'
Cherry Trail-T
Braswell
Goldmont
14 nm
2016
Broxton
(cancelled)
Willow Trail
(cancelled)
Apollo Lake
So, the low-end PC market was still going to go ahead, with Intel focusing on its strengths, despite the decrease in the PC market, rather than push a new Atom against the latest ARM products in tablets and phones. While this retrenching by Intel likely seemed like a good idea for them at the time, Microsoft's announcement that Windows 10 will support ARM processors with x86 support, surely did not make them happy. Intel is likely to get the ARM competition against Atom they never wanted, but we'll have to wait and see how the Qualcomm Snapdragon 835 compares later this year.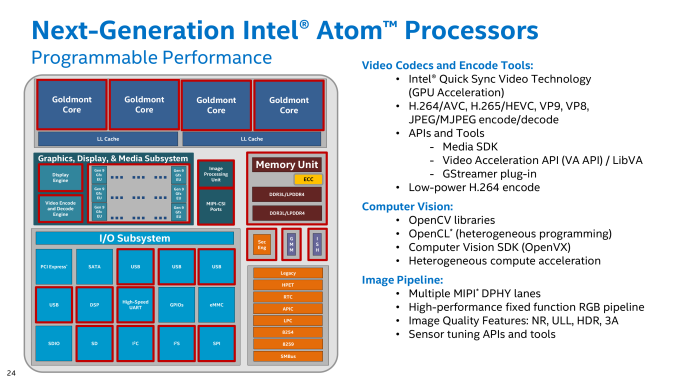 That brings up back to the present, which is the Chuwi Lapbook 14.1, which run on the Intel Celeron N3450, and despite the name Celeron, this is most certainly an Apollo Lake platform featuring the Intel Atom Goldmont core. Apollo Lake was first publicly announced at IDF in 2016, and it offers some nice advancements over the Braswell PC platform it replaces. The main change should help performance, with Goldmont cores replacing Airmont cores, but also with Gen 9 graphics replacing Gen 8 in Braswell.
Apollo Lake Mobile Lineup
Pentium N4200
Celeron N3450
Celeron N3350
Pentium N3700 (Braswell)
Cores
4
4
2
4
Threads
4
4
2
4
Base CPU Freq.
1.1 GHz
1.1 GHz
1.1 GHz
1.6 GHz
Turbo CPU Freq.
2.5 GHz
2.2 GHz
2.4 GHz
2.4 GHz
CPU Architecture
Goldmont
Goldmont
Goldmont
Airmont
iGPU
HD 505 (Gen 9)
HD 500 (Gen 9)
HD 500 (Gen 9)
HD 405 (Gen 8)
EUs
18
12
12
16
Turbo iGPU Freq.
750 MHz
700 MHz
650 MHz
700 MHz
TDP
6W
6W
6W
6W
Max Memory
8GB
8GB
8GB
8GB
PCIe 2.0 Lanes
6
6
6
4
Modern Standby (S0ix)
Yes
Yes
Yes
No
Price
$161
$107
$107
$161
Much of the changes with Goldmont were about improving the out-of-order execution compared to Silvermont, with a wider decoder, better branch prediction, and a larger out-of-order execution window. Goldmont can perform one load and one store per cycle, and it can execute up to three simple integer ALU operations per cycle. There's new instruction support for hashing with SHA1 and SHA256, and there's new support for the RDSEED instruction. The graphics are also improved, with Gen 9 offering better performance than Gen 8, as well as features like Quick Sync for H.265, and low-power H.264 encode.
Overall, Intel's previous marketing materials have outlined what kind of performance gains to expect:
Apollo Lake Mobile Performance: Pentium N4200 vs. Pentium N3710
CPU Performance
+30%
GPU Performance
+45%
With a lower bill of materials, higher performance, and lower power consumption, Apollo Lake is certainly a nice step forward. It remains to be seen just how competitive it will be, and Atom is still a significant step down in performance from Core, even at similar TDP numbers. It remains to be seen if Apollo Lake will be competitive with ARM offerings, and we should have a nice ability to test that later this year.