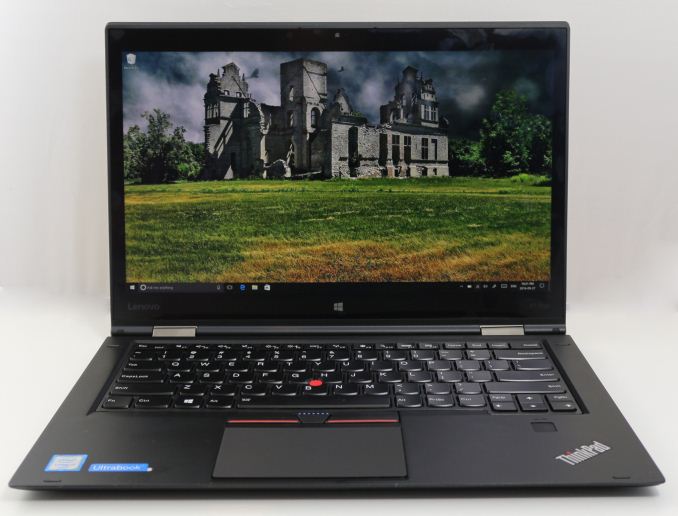 Earlier this year at CES, Lenovo took the wraps off their latest lineup of premium business class notebooks, and they revamped the X1 lineup completely. Originally the X1 was just the X1 Carbon notebook, but Lenovo has decided to expand the X1 series to include the aforementioned X1 Carbon, along with the X1 Yoga and X1 Tablet. So the ThinkPad Yoga is now the ThinkPad X1 Yoga, and as such it keeps the same thin and light design of the X1 Carbon.
The Lenovo ThinkPad X1 Yoga Review
Thin and light is the key here, and the X1 Yoga doesn't disappoint. The X1 Yoga is only 16.8 mm (0.66") thick, and weighs 1270 grams (2.8 lbs). While not the thinnest and lightest notebook around, don't forget that the X1 Yoga also features a 360° hinge, allowing it to be used exclusively with touch with several modes, including tablet, stand, and tent, just like the other Yoga devices they sell. Lenovo also pointed out that the X1 Yoga is thinner and lighter than the original X1 Carbon even, despite including touch and the convertible hinges.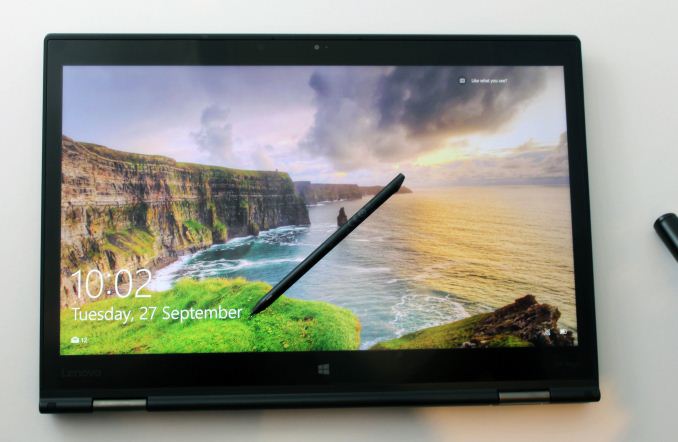 Lenovo is offering plenty of choices here to outfit the X1 Yoga, with the baseline offering of an Intel Core i5-6200U and 8 GB of LPDDR3-1866. You can upgrade to the i5-6300U, i7-6500U, and i7-6600U, with RAM offerings up to 16 GB. On storage Lenovo has gone all NVMe, with choices from 128 GB to 512 GB. On the display side, the 14-inch panel can be either a 1920x1080 IPS, 2560x1440 IPS, or a 2560x1440 OLED model.
Lenovo ThinkPad X1 Yoga
As Tested: Core i7-6500U, 8GB, 512GB, 2560x1440 LCD
CPU
Intel Core i5-6200U
Dual-Core with Hyperthreading
2.3-2.8 GHz, 3MB Cache, 15W TDP

Intel Core i5-6300U
Dual-Core with Hyperthreading
2.4-3.0 GHz, 3MB Cache, 15W TDP

Intel Core i7-6500U
Dual-Core with Hyperthreading
2.5-3.1 GHz, 4MB Cache, 15W TDP

Intel Core i7-6600U
Dual-Core with Hyperthreading
2.6-3.4 GHz, 4MB Cache, 15W TDP
GPU
Intel HD 520
300-1050MHz, 24 EUs
Memory
8GB to 16GB LPDDR3-1866 Dual-channel
Display
14-inch 1920x1080 IPS
Optional 2560x1440 IPS
Optional 2560x1440 OLED
Storage
128GB to 1TB SSD, PCIe and SATA
I/O
OneLink+
USB 3.0 Type-A x 3
Headset jack
720p Webcam
Mini DisplayPort
microSD
Dimensions
333 x 229 x 16.8 mm
13.11 x 9.01 x 0.66 inches
Weight
1.27 kg / 2.8 lbs
Battery
52 Wh, 65 W AC Adapter
Keyboard
Spill-Resistant with TrackPoint
Wireless
Intel Dual Band Wireless-AC8260
2x2:2 with Bluetooth 4.1
Price
Starting at $1400, as tested $1871.10
Lenovo also offers plenty of connectivity on the X1 Yoga, including three USB 3.0 ports, HDMI, DisplayPort, and a OneLink connector for its docking stations. There are no USB Type-C ports, but the X1 Yoga does have MicroSD support for additional storage, and LTE-A as an option for those that want to be as untethered as possible. Wireless is supplied via the Intel 8260 wireless card, and as a business focused device it can be had with vPro as well.
They also include a stylus built into the laptop which will charge while docked. It's not as big or as comfortable as the one included with something like the Surface Book, but the fact that it is docked will more than make up for that for a lot of people, because that means it's always available, and less likely to get misplaced.
Lenovo has gone with a 52 Wh battery for this laptop, meaning it is over the 50 Wh baseline for Ultrabooks. That's pretty good considering the inclusion of a stylus, and the thin nature of this device.