DAS Benchmarks
The primary purpose of the My Passport Wireless Pro device is to act as a storage extension for mobile devices. Connecting the device to a 'Home Network' SSID also exposes up to three folders as CIFS shares, Storage, SD and USB. The availability of the last two are dependent on the presence of a SD card and/or USB drive. Data can be transferred between a PC and the device via these CIFS shares. That said, the My Passport Wireless Pro also doubles up as a high-speed portable hard drive (with support for WD's custom utilities such as WD Backup). The internal disk is pre-formatted in exFAT in order to be compatible with multiple operating systems. Transfer of large-sized media collections / libraries and periodic computer backups are best done through the USB 3.0 interface and not via Wi-Fi. In order to evaluate this aspect of the My Passport Wireless Pro, we utilized the testbed outlined in the table below to test the DAS performance. The USB 3.1 Gen 2 port enabled by the Intel Alpine Ridge ontroller was used to benchmark the unit..
AnandTech DAS Testbed Configuration
Motherboard
GIGABYTE Z170X-UD5 TH ATX
CPU
Intel Core i5-6600K
Memory
G.Skill Ripjaws 4 F4-2133C15-8GRR
32 GB ( 4x 8GB)
DDR4-2133 @ 15-15-15-35
OS Drive
Samsung SM951 MZVPV256 NVMe 256 GB
SATA Devices
Corsair Neutron XT SSD 480 GB
Intel SSD 730 Series 480 GB
Add-on Card
None
Chassis
Cooler Master HAF XB EVO
PSU
Cooler Master V750 750 W
OS
Windows 10 Pro x64
Thanks to Cooler Master, GIGABYTE, G.Skill and Intel for the build components
Our testing methodology for DAS units takes into consideration the usual use-case for such devices. The most common usage scenario is transfer of large amounts of photos and videos to and from the unit. The other usage scenario is importing files directly off the DAS into a multimedia editing program such as Adobe Photoshop. Prior to taking a look at the real-life benchmarks, we first check what ATTO and CrystalDiskMark have to report for the My Passport Wireless Pro. We see steady numbers around 110 MBps for sequential transfers, correlating well with WD's performance claims.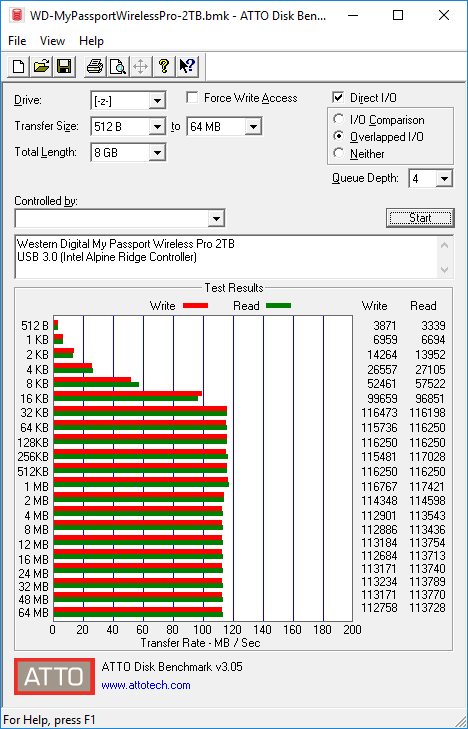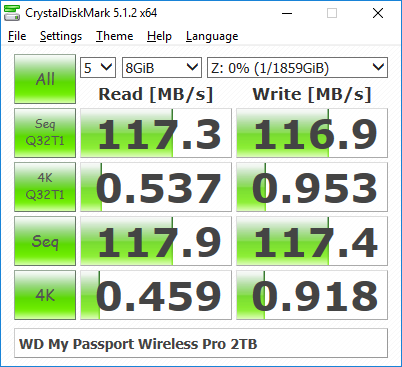 In order to tackle the first real-life use-case, we created three test folders with the following characteristics:
Photos: 15.6 GB collection of 4320 photos (RAW as well as JPEGs) in 61 sub-folders
Videos: 16.1 GB collection of 244 videos (MP4 as well as MOVs) in 6 sub-folders
BR: 10.7 GB Blu-ray folder structure of the IDT Benchmark Blu-ray (the same that we use in our robocopy tests for NAS systems)
Western Digital My Passport Wireless Pro 2TB robocopy Benchmarks (MBps)
Write Bandwidth
Read Bandwidth
Photos
62.36
97.66
Videos
100.06
101.98
Blu-ray Folder
99.75
104.13
For the second use-case, we take advantage of PC Mark 8's storage bench. The storage workload involves games as well as multimedia editing applications. The command line version allows us to cherry-pick storage traces to run on a target drive. We chose the following traces.
Adobe Photoshop (Light)
Adobe Photoshop (Heavy)
Adobe After Effects
Adobe Illustrator
Usually, PC Mark 8 reports time to complete the trace, but the detailed log report has the read and write bandwidth figures which we present in our performance graphs. Note that the bandwidth number reported in the results don't involve idle time compression.
Western Digital My Passport Wireless Pro 2TB PCMark8 Storage Benchmarks (MBps)
Write Bandwidth
Read Bandwidth
Adobe Photoshop (Light)
157.68
2.45
Adobe Photoshop (Heavy)
124.21
3.46
Adobe After Effects
79.19
2.59
Adobe Illustrator
97.34
2.50
The robocopy benchmarks were instrumented for performance consistency purposes. Instantaneous transfer rates and drive temperature were recorded.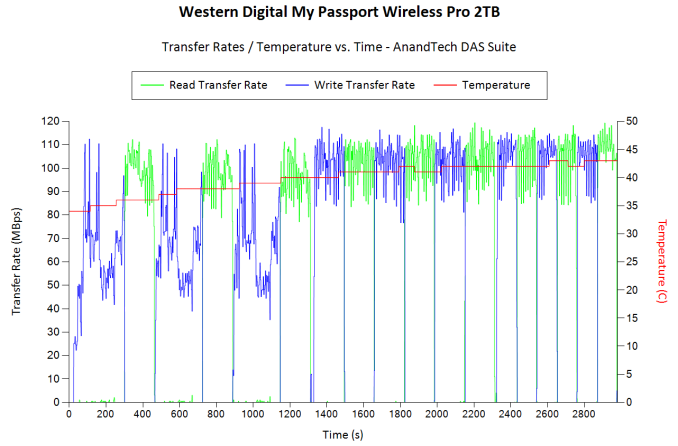 The drive doesn't go beyond 45C even after ore than 250GB of continuous transfers. There is no thermal throttling or overheating in the system under heavy loading conditions.