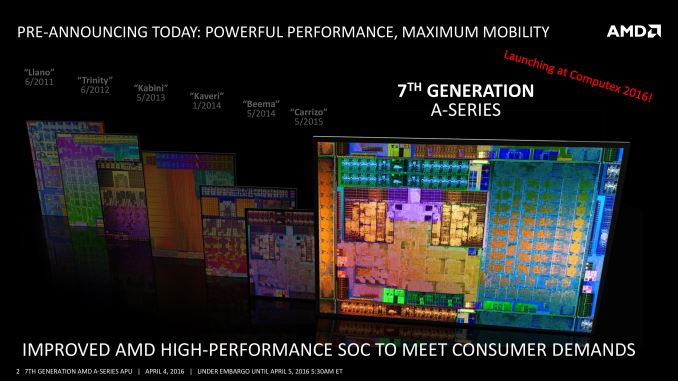 For anyone tracking AMD's family of Accelerated Processing Units (APUs), the last generation Carrizo was launched back in the middle of 2015. This was based on the fourth iteration of the Bulldozer module design (the cores are codenamed Excavator), focused entirely on notebooks at a 15-35W power window. Today marks the pre-announcement of the 2016 line, Bristol Ridge, for notebooks.
The main difference between Bristol Ridge and Carrizo is the implementation of a DDR4 memory controller, along with minor microarchitecture manufacturing tweaks. We've already seen Carrizo/Excavator under DDR4 in the embedded space, and AMD is claiming that this latest generation of Bristol Ridge offers up to at 50% CPU improvement over Kaveri, launched in 2014, and Bristol Ridge is some 10% over Carrizo due to the new memory support.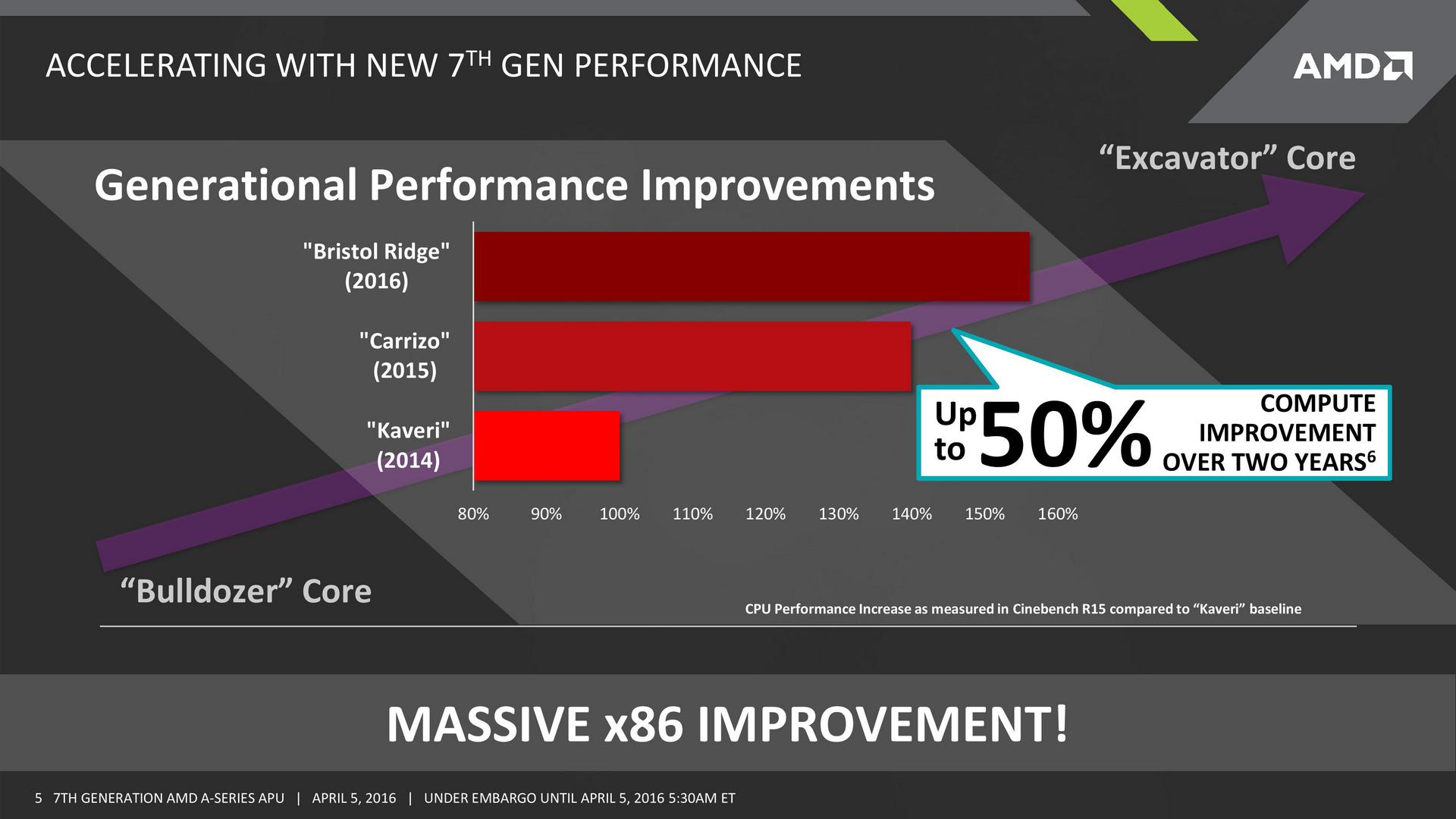 Despite AMD quoting a 50% gain in Cinebench compared to Kaveri, AMD's strengths in the notebook line are partly due to the integrated graphics, which historically gets a boost from faster memory. Although this depends on the underlying design by the OEM, as we detailed in our Carrizo OEM overview that pointed the finger at base single channel memory designs being the norm at retail, rather than dual channel.
Today is a pre-announcement, which means that details are very thin. The reason this is not a full launch lies in one of AMD's OEM partners, HP, announcing a new notebook at GTC this week based on AMD's Bristol Ridge designs. HP is AMD's biggest partner in notebooks, and is launching the HP Envy x360 15-inch variant using a Bristol Ridge part under the AMD FX naming scheme.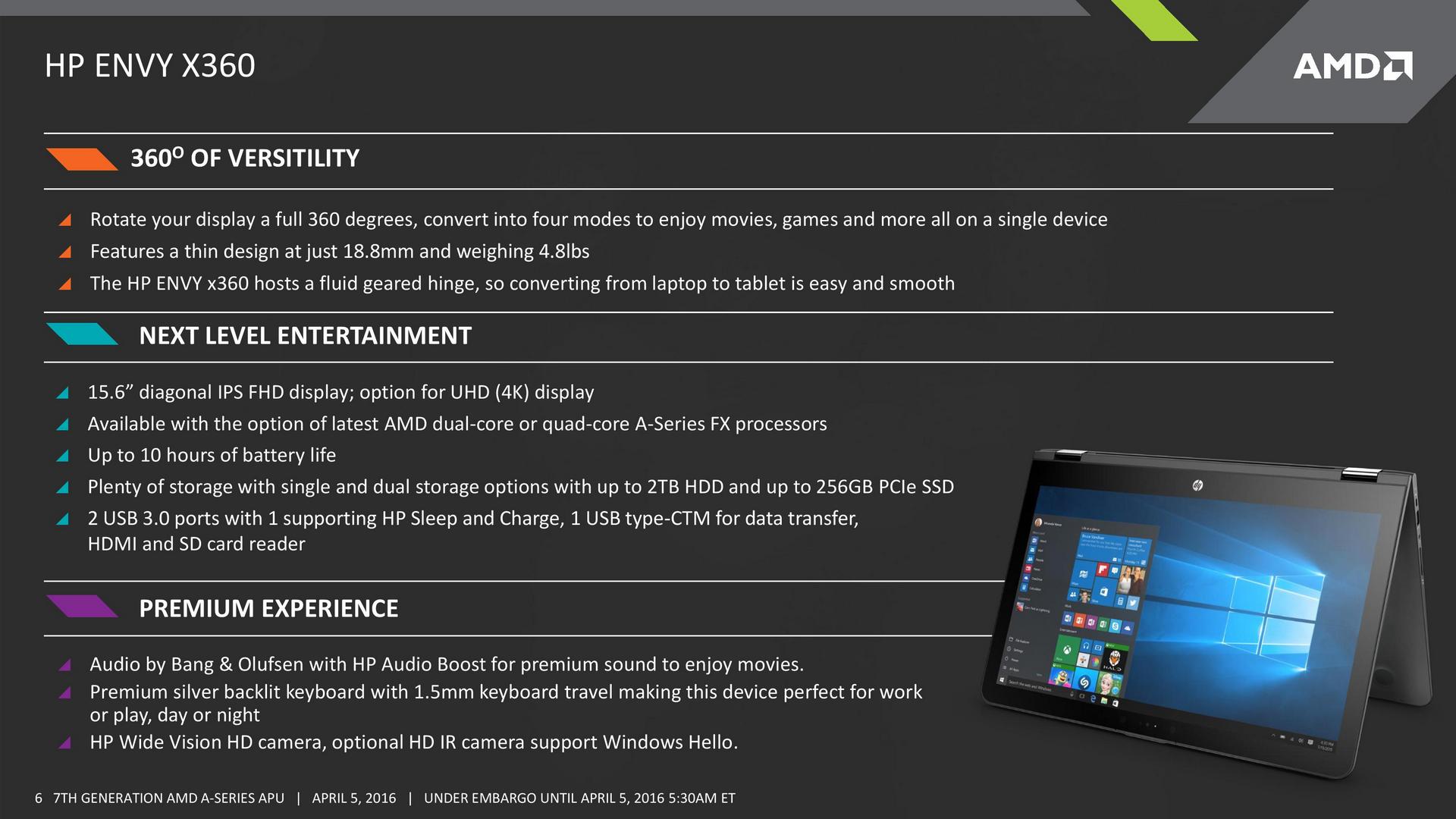 We'll go deeper into the Envy x360 announcements in a separate news post. But this pre-announcement means that AMD are happy to talk about high level details such as 3DMark performance compared to Carrizo and Intel, FreeSync sypport, Dual Graphics, DirectX 12 and so on, but we will have to wait until Computex 2016 when we'll get the full breakdown of the APU advancements, SKU names, clock speeds and where these APUs will be implemented.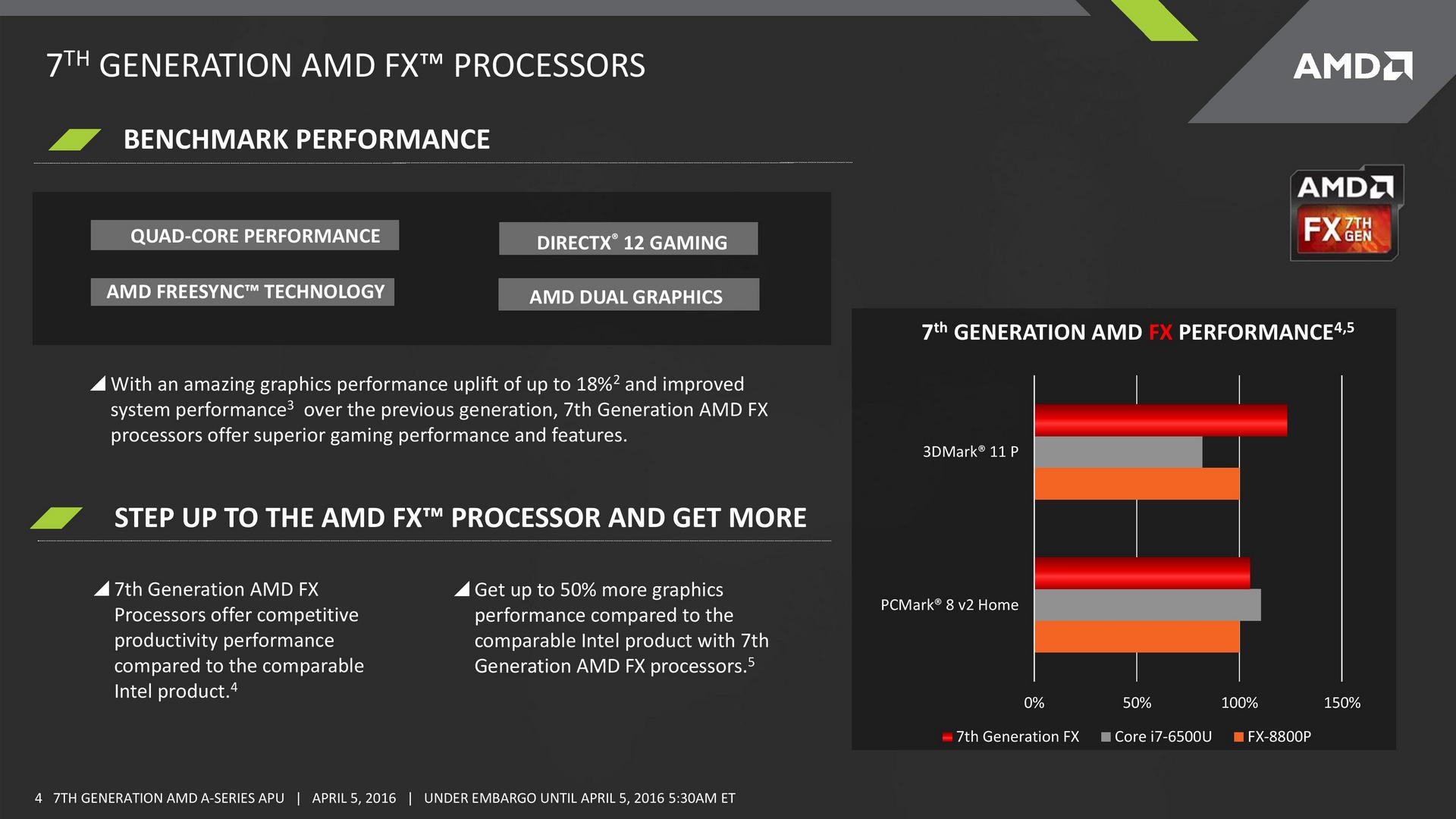 As mentioned in previous news posts, AMD on the desktop has confirmed that Bristol Ridge and the upcoming Summit Ridge APUs featuring a brand new microarchitecture design will share a platform. We could extrapolate (as others have done so) to suggest that this notebook platform will also be the one supporting Summit Ridge on notebooks when it is released, however AMD has not officially confirmed this for this pre-announcement. We will have to wait for Computex for more details.
Further Reading:
AMD Launches Excavator APUs for Embedded with DDR4 Support
Who Controls the User Experience? AMD's Carrizo Thoroughly Tested
AMD Launches Carrizo: The Laptop Leap of Efficiency and Architecture Updates