Display Analysis
With each year we've seen the displays on smartphones get better and better. It really wasn't that long ago that we saw the first 720p panels on flagship smartphones, and now we're at the point where a $200 mid range phone can ship with a 1080p IPS display. In the case of the Honor 5X it's a 5.5" 1920x1080 IPS LCD panel. Like most phones, the LCD is optically bonded to the cover glass.
Something I'm definitely going to have to keep an eye on going forward is whether or not these mid range phones with IPS displays actually have a native 8-bit per channel color depth. Because of modern Android's relative lack of gradients I haven't bothered doing so, as you don't really see any issues cropping up. However, the Honor 5X has many gradients, especially in the areas where translucency is used in the UI, and it's fairly obvious that there's color banding occurring.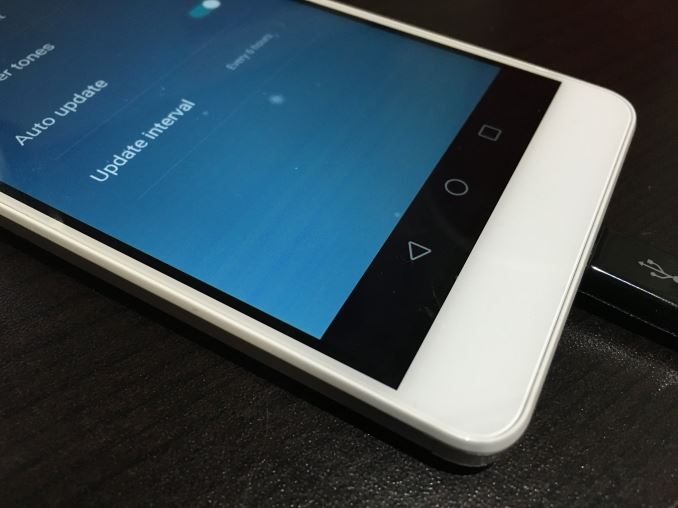 It's difficult to capture this in a photo, but I think the above photo is able to demonstrate the effect fairly well. I suspect that many of these mid range phones are using IPS displays with 6-bit color and frame rate control to simulate a greater color depth, and there simply aren't enough discrete color levels to properly render the gradients. It's not a deal breaker or anything, but it definitely takes away from the aesthetic quality of translucency, and it's something I'll be looking for more closely going forward.
A display can be measured in several ways beyond simply comparing resolution and pixel density, and to examine the Honor 5X's display in a comprehensive manner I've sent it through our standard smartphone display workflow. As always, measurements are performed with an X-Rite i1Pro 2 spectrophotometer, with the exception of contrast measurements which are done with an i1Display Pro colorimeter. All data is collected and managed using SpectraCal's CalMAN 5 software.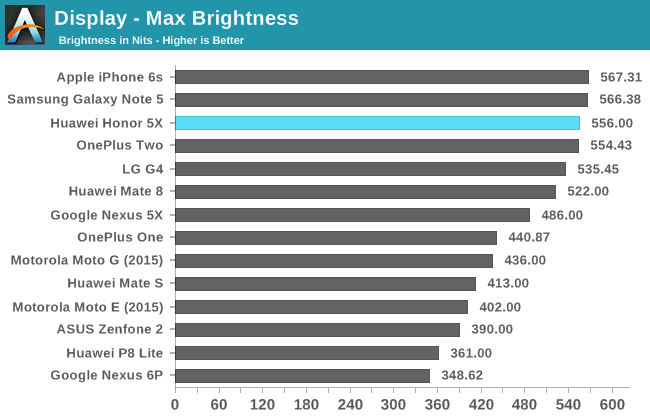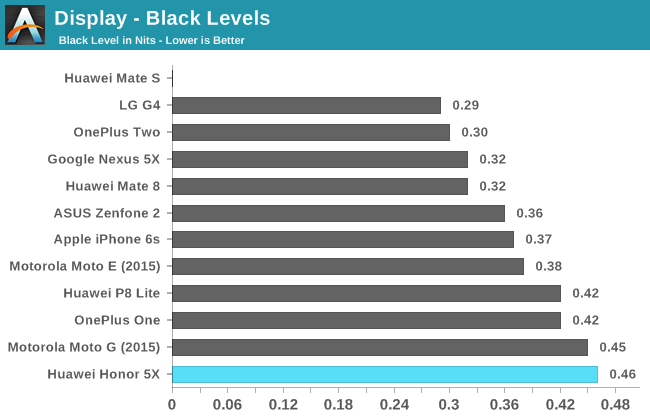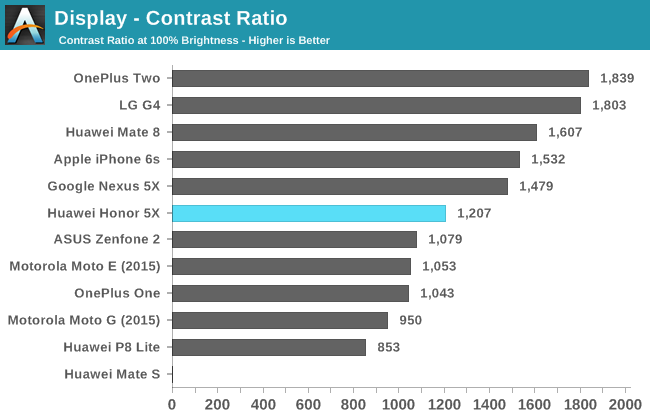 I was honestly quite surprised by the Honor 5X's high peak brightness. 556 nits places it among the best flagship phones, and the black level at max brightness leads to a static contrast ratio of 1207:1, which I've confirmed is not the result of any backlight trickery. Low contrast has definitely been an issue with other mid range and low end smartphones, and I'm happy to say that the Honor 5X doesn't disappoint. The only caveat is that Huawei is still employing their brightness reduction when you use Google Chrome, and the drop is pretty massive as well. It's not even done in a subtle manner either, as the brightness just plummets when you open the browser. I think users should have the option to make the brightness vs. battery life tradeoff, even if that means sacrificing quite a bit of the latter for a brighter screen, and I hope this auto reduction eventually disappears from Huawei's phones.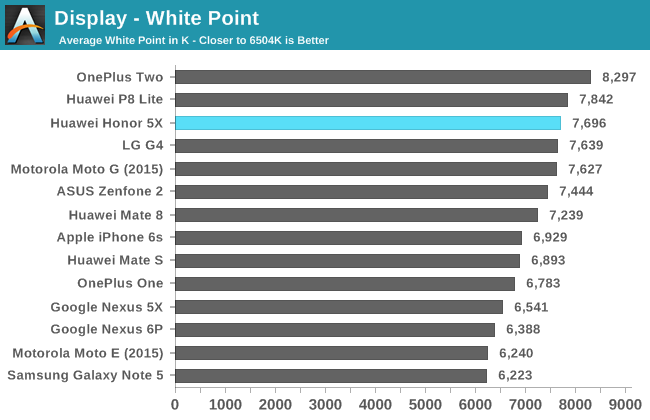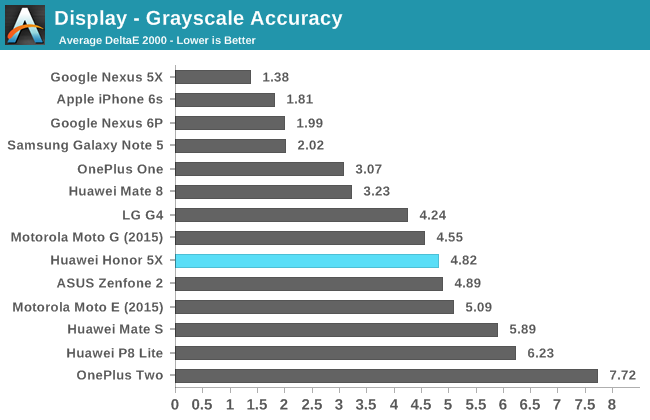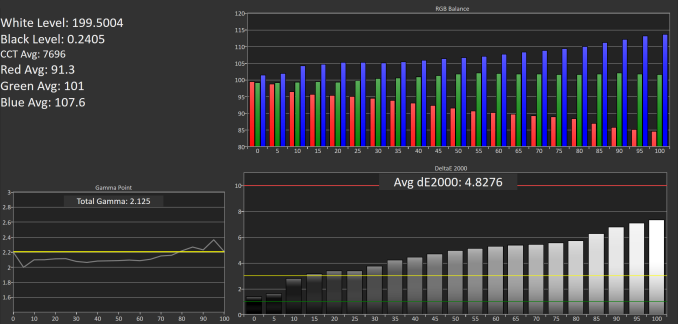 Greyscale accuracy on the Honor 5X isn't horrible by any means, but it's not very accurate either. The DeltaE value is in the same range as other mid range smartphones like the Moto E, Moto G, and Zenfone 2. Calibration hasn't really trickled down from high end smartphones yet, except in the strange case of some Microsoft Lumia smartphones. In this case, the display exhibits a noticeable blue shift which reduces accuracy.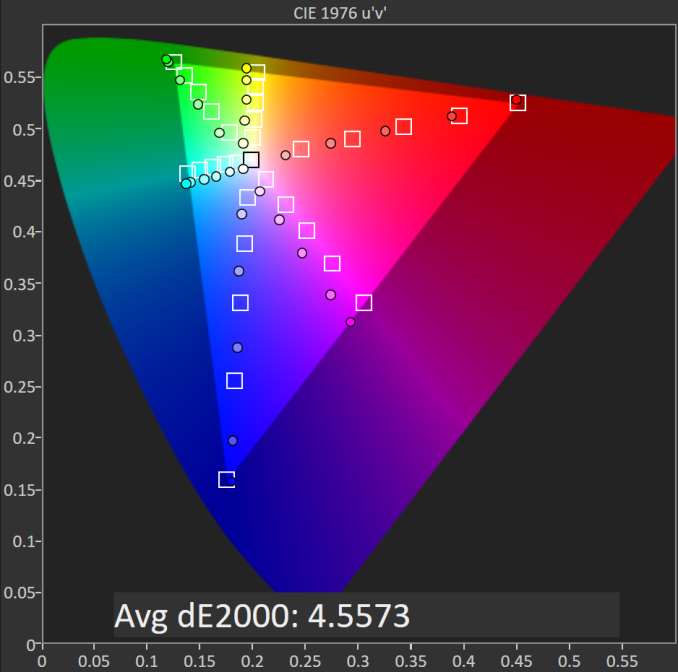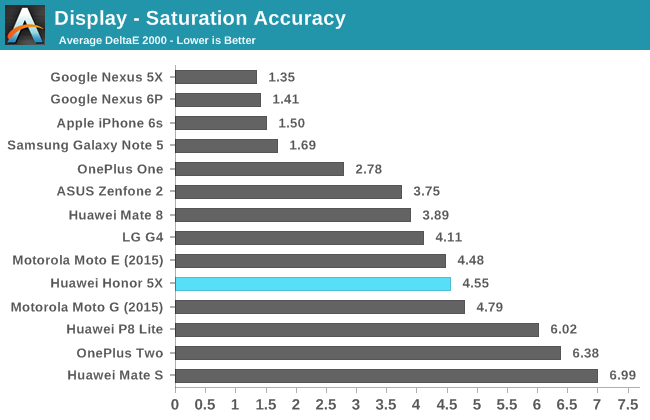 Saturation accuracy is similar to greyscale accuracy on the Honor 5X, and for the same reason too. As you can see, all colors are pulled toward blue to some degree which causes them to render differently than they should. Again, this error is in line with other mid range phones, so it's not like Huawei is behind the competition here, but they're not exactly raising the bar either.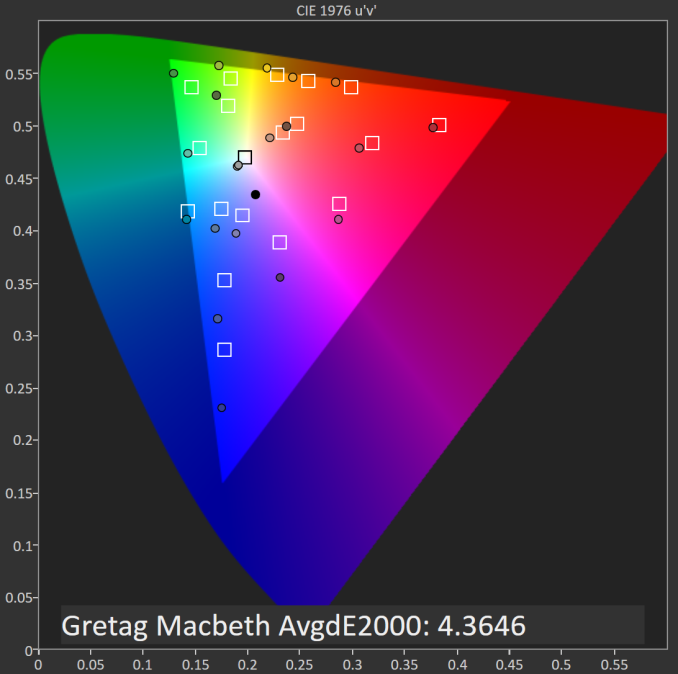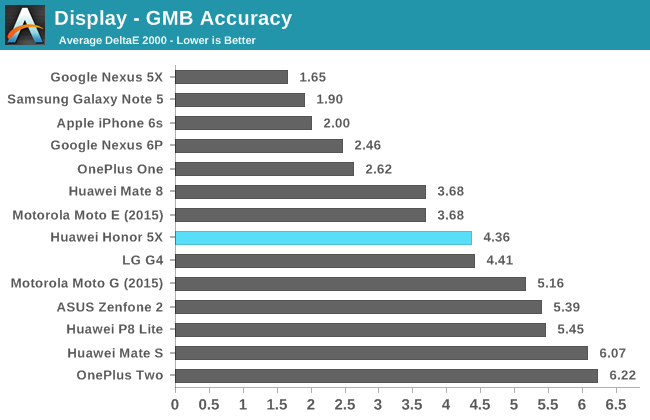 Accuracy in the Gretag-MacBeth ColorChecker is also similar to saturation and greyscale accuracy, which isn't surprising when one considers how the test actually includes greyscale values and the fact that color mixtures require both greyscale shades and saturations to be accurate in order to render correctly.
In the end, the Honor 5X's display is above average relative to its price. It's a 1080p panel with a very high brightness and good black levels as well. Color accuracy isn't any better than the competition, but the competition is also mostly made up of 1280x720 panels that are 100 nits dimmer at full brightness, so it's fair to say that Huawei has done a good job with the Honor 5X's display given their constraints. I think the sort of user who buys the Honor 5X probably won't be bothered by the color inaccuracy anyway, although I do still hope to see higher accuracy trickle down from the flagships to the mid range market within the next year as it becomes more difficult to differentiate on hardware and price.