System Performance Cont'd
Continuing on with our more game-like benchmarks, tests like 3DMark and GFXBench are supposed to replicate gaming workloads to help determine relative performance in most common 3D games. In the case of the iPad Pro, the GPU is a 12 cluster variant of the PowerVR Series7XT GPU architecture. This is double the number of clusters relative to the A9's GPU, which should prove to be quite impressive judging by the GPU performance that we saw in the iPhone 6s.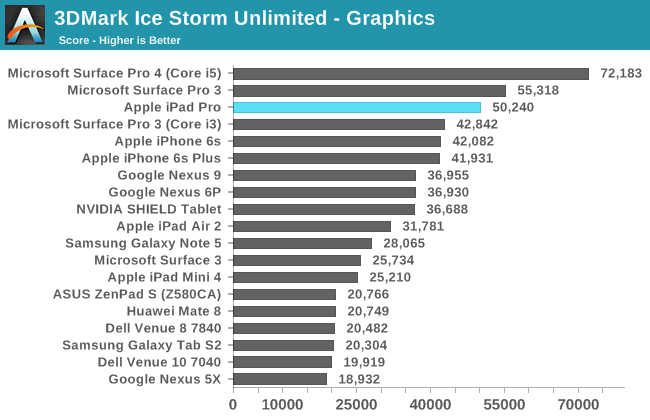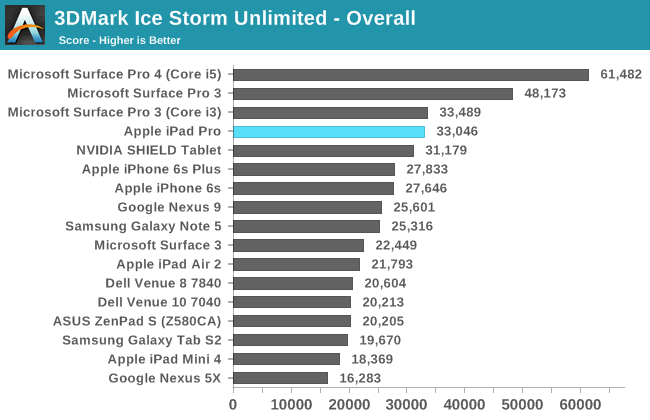 The iPad Pro manages to maintain superiority in 3DMark, but we're really starting to see the limitations of this test. The physics test generates non-sequential data structures with memory dependencies, which can penalize devices with lower core count and clock speed, but the workload is able to be spread across multiple cores to exploit TLP, which benefits devices with more real cores, or virtual ones (hyperthreading). We also see that the graphics test isn't really scaling well at this point as it's just too light to take advantage of the full potential of the A9X GPU. This likely also explains why the iPad Pro isn't closer to the Surface Pro 4 in performance on this benchmark, given what we know about A9X's GPU.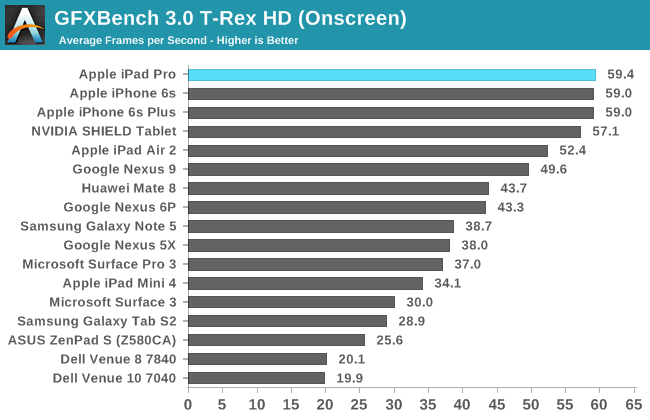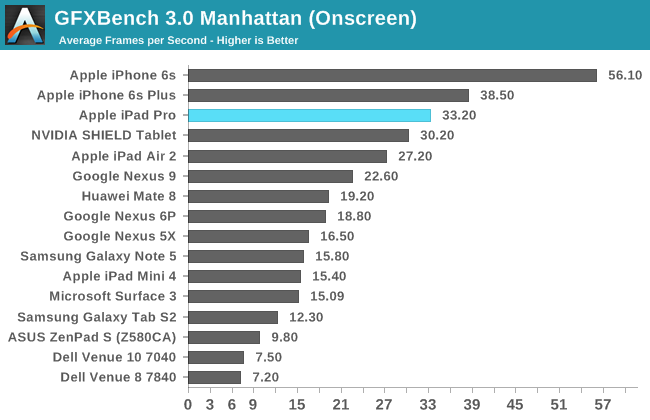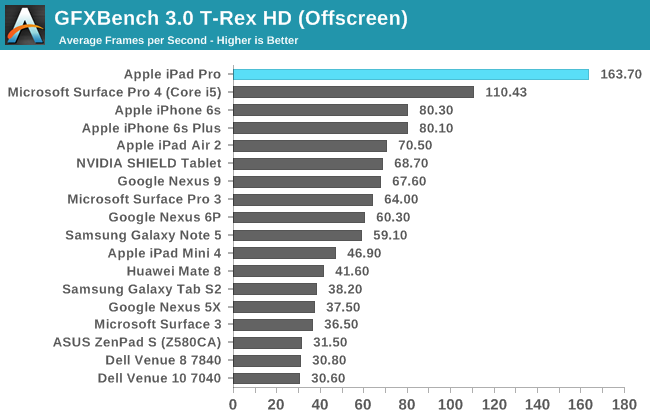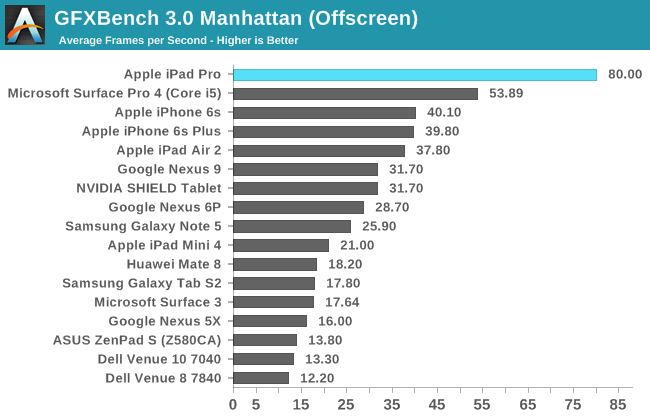 In GFXBench we can see the major benefits that really come with the larger GPU. It's pretty obvious here that clock speeds are basically identical when comparing the A9 GPU and A9X GPU as the scaling is almost perfectly double. In this benchmark the iPad Pro quite handily beats the Surface Pro 4, but it's important to keep in mind that the Surface Pro 4 is running a higher level of precision and that the iPad Pro is running OpenGL ES rather than OpenGL in this test, so it isn't strictly apples-to-apples (nor is such a thing truly possible at this time). Overall though the GPU of the iPad Pro is incredibly impressive, and I doubt that anyone will really have issues with gaming performance on this device.
NAND Performance
At this point it's pretty well understood that storage performance can often be a gating factor in performance. Although caching is an amazingly effective method of hiding memory latency, for the first hit it's mandatory to miss the cache unless you've managed to prefetch the data in question. The other issue where storage performance becomes obvious are cases where it's necessary to commit data to storage first. Some cases where this is going to be obvious is app installation or iCloud restores, especially when network performance is at the point where installation can actually be gated by writing to disk rather than downloading from the network.
In the case of the iPad Pro, Apple claims that they've implemented a storage controller comparable to some desktop SSDs. It turns out that this controller is a familiar one, as the storage controller identifies itself as the APPLE SSD AP0128K in the case of this review unit. It turns out that everything about this SSD is identical to what we saw in the iPhone 6s as well, down the use of Hynix for at least one of the NAND vendors and the hybrid SLC/TLC architecture discussed in previous articles. In order to test how this storage solution performs we once again use Eric Patno's StorageBench, which provides a rough analogue to AndroBench 3.6.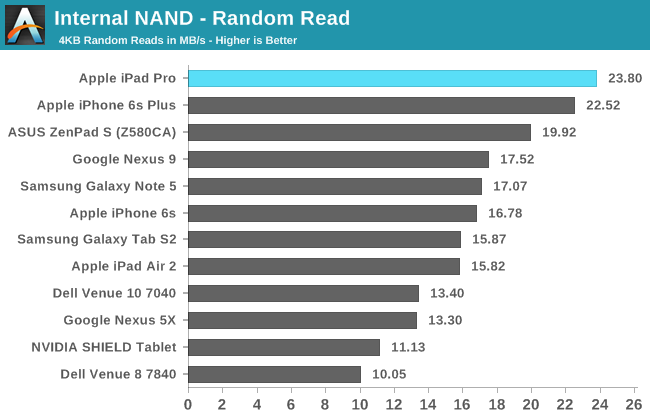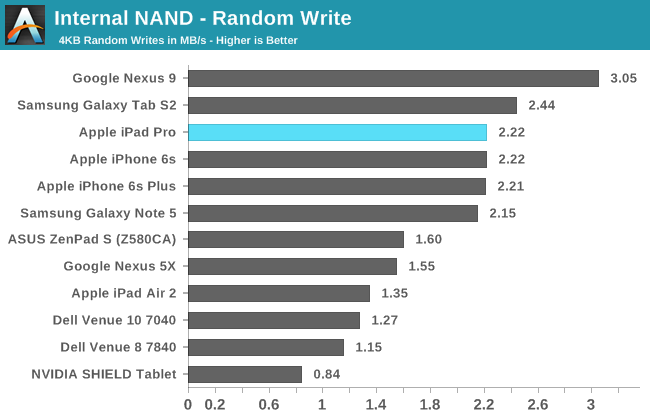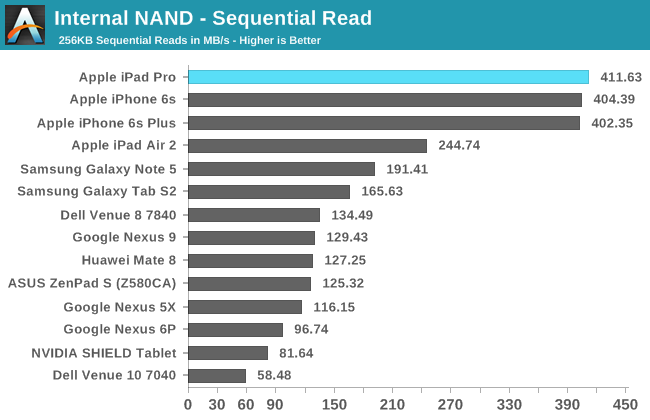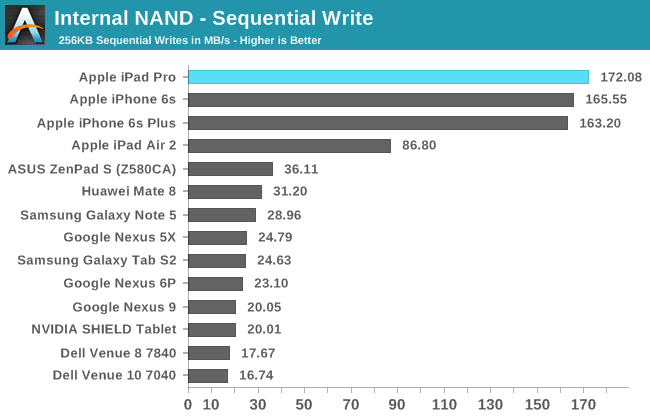 It turns out that in this test, performance is basically identical to the iPhone 6s. This isn't quite the equal of something like the Surface Pro 4's PM951 SSD, which has the advantage of more NAND dies working in parallel, but given that the iPad Pro PCB size isn't going to be anywhere near that of the Surface Pro 4 it's likely that this is a concession to gain better battery life. I definitely wonder what performance would be like relative to a Surface Pro 4 if the iPad Pro had a 512GB SKU, but given that the iPad Pro tops out at 128GB this isn't really a question with a relevant answer.