System Performance
We've already seen a lot of Broadwell Core i5 and i7 devices this year. The T450s comes with a couple of CPU options and we have the middle tier which is the Intel Core i5-5300U. This is a dual-core chip with hyperthreading, and it has a base frequency of 2.3 GHz with a Turbo of 2.9 GHz. As with most of the Ultrabook parts, it is designed in a 15 Watt envelope. Skylake has just been announced, but Ultrabooks featuring it are still not available, so Broadwell is where we are at. That's not really a bad place to be either. The T450s can be configured with up to 20 GB of memory and it has a single DIMM slot to let you upgrade the RAM. This means that 4 GB of memory is soldered onboard. The model we received has 8 GB of memory in a dual-channel configuration.
Graphics are powered by the Intel HD 5500 GPU, with a 300 MHz base frequency and 900 MHz turbo. The HD 5500 has 24 execution units arranged in three slices of 8. Storage can be either hard disk based or solid state, and the review unit has a Toshiba 256 GB SSD. This is not going to offer the insane performance of the ThinkPad X1 Carbon's PCIe Samsung drive, but any of the SSD choices are obviously the right decision unless you are really on a budget. Lenovo offers up to 1 TB of hard drive or 512 GB of SSD, but the Opal 2.0 certified option maxes out at 256 GB.
Performance Graphs
For system performance, we have run the ThinkPad T450s through our 2015 laptop workloads. The graphs include a sampling of other similar notebooks, but if you want to compare the ThinkPad T450s to any other notebook we have tested please use our Notebook Bench. As a reminder the ThinkPad T450s is not yet offered with Windows 10 from Lenovo, so these results are based on Windows 8.1
PCMark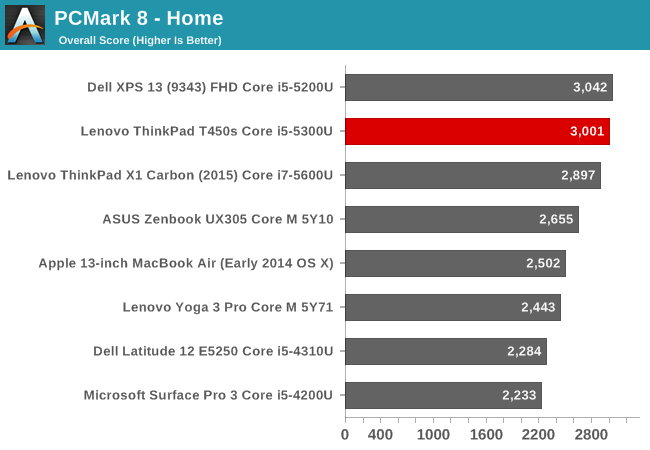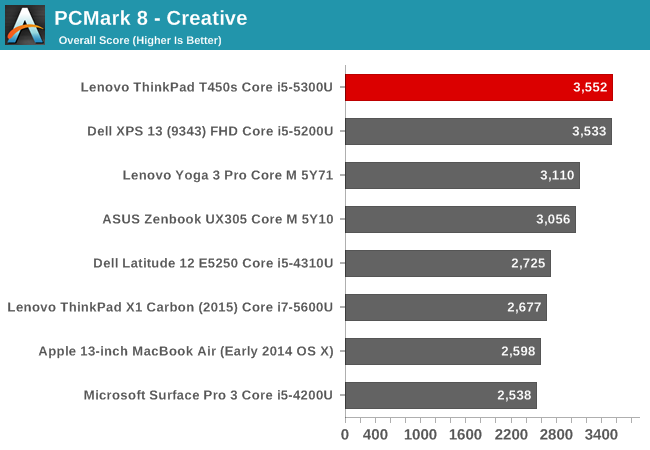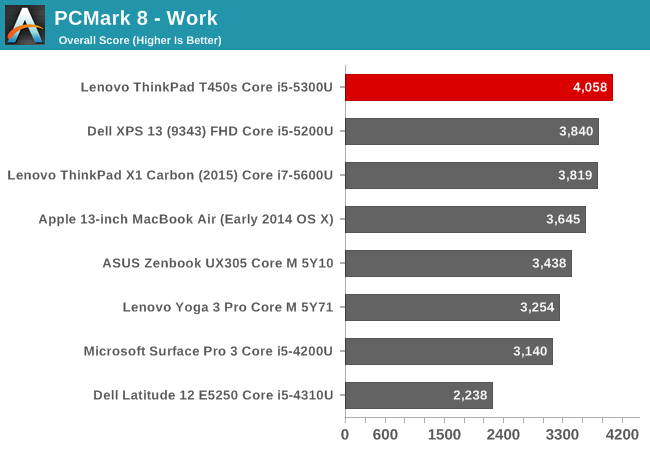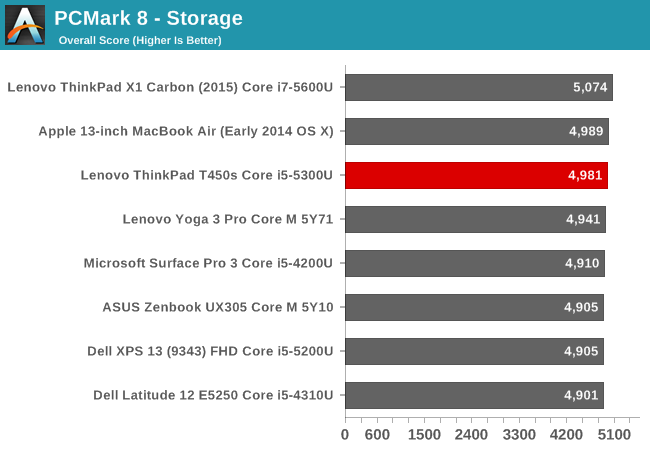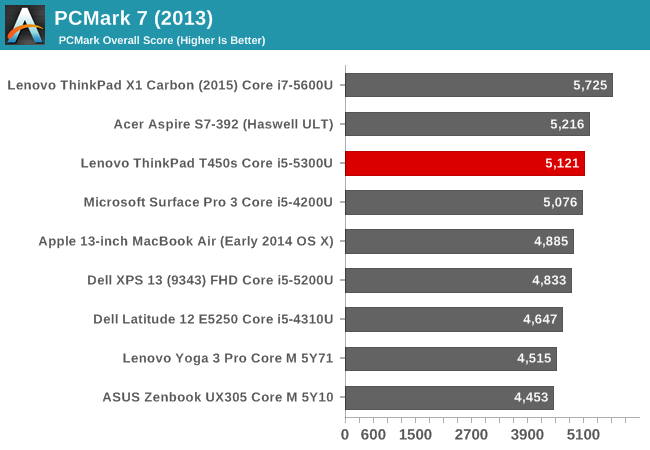 PCMark tries to replicate real world use scenarios with its various workloads. It will have sustained performance as well as burst performance requirements, and storage is also a factor in the scores. The ThinkPad T450s scores very well on these tests, outperforming other devices with Core i7 even. Since PCMark is a comprehensive test, even things like display resolution come into play so the 1920x1080 panel is a benefit to these scores since the GPU has an easier time. Storage is right in line with other SSD based devices. PCMark tends to group all SSDs pretty closely together because of the traces it uses to score the result.
CrystalDiskMark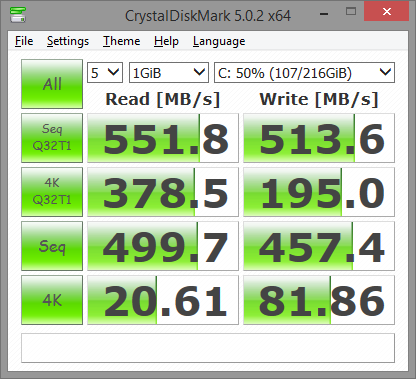 To get a better feel for the absolute performance of the drive, CrystalDiskMark was run which provides the typical maximum speeds and this will show more of a difference in maximum speeds than PCMark will. That does not discredit PCMark though since it is trying to show real world performance, and maximum transfer speeds don't come into play as often when you are doing office tasks. The T450s shows good performance, but for those that need to move very large files around, a notebook with PCIe storage is going to be a better choice. I don't think that's the target market for the T450s though the performance is adequate.
Cinebench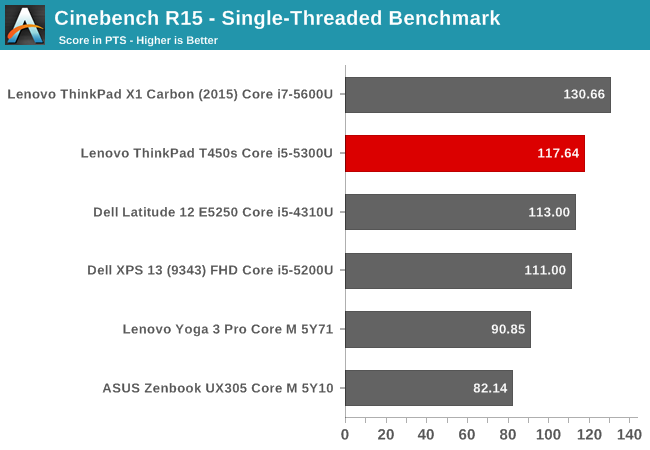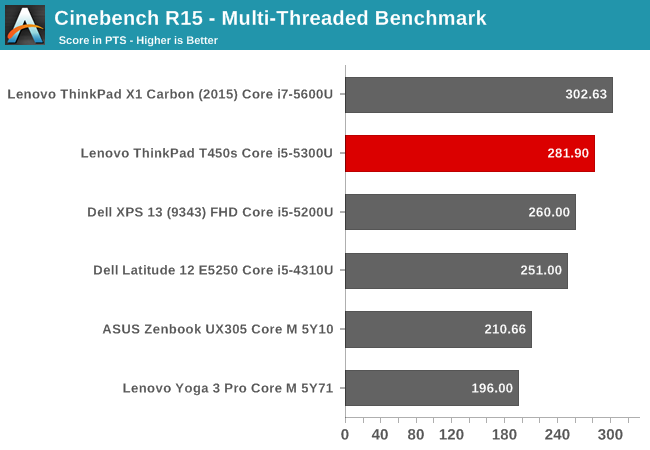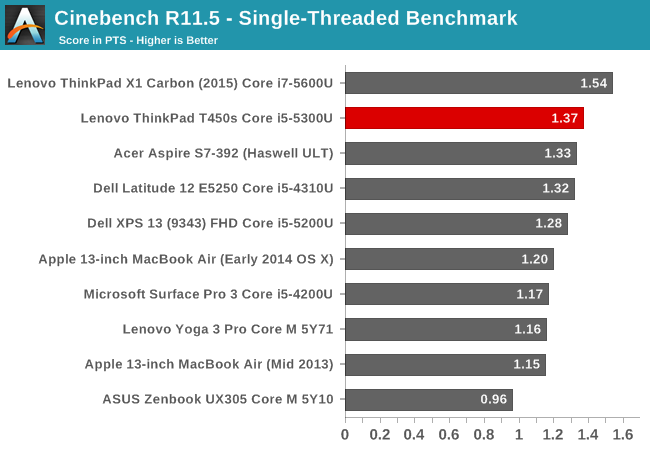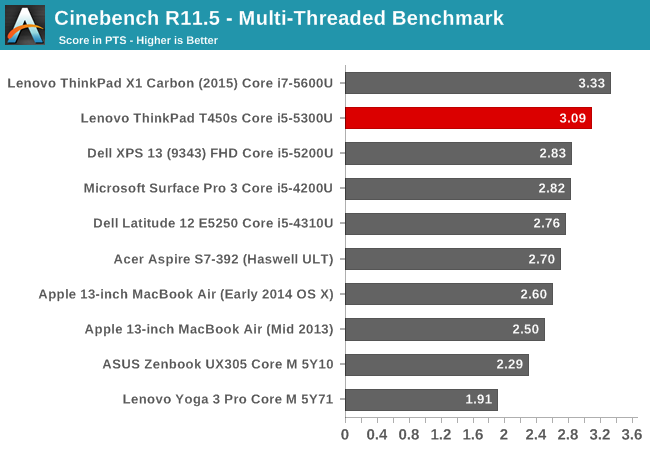 Cinebench is a mostly CPU benchmark. The Core i5-5300U is exactly where you would expect which is between the X1 Carbon with its Core i7-5600U and the Dell XPS 13's Core i5-5200U.
x264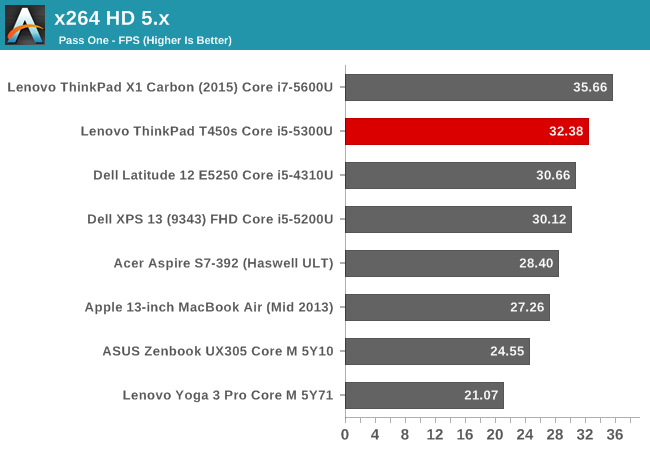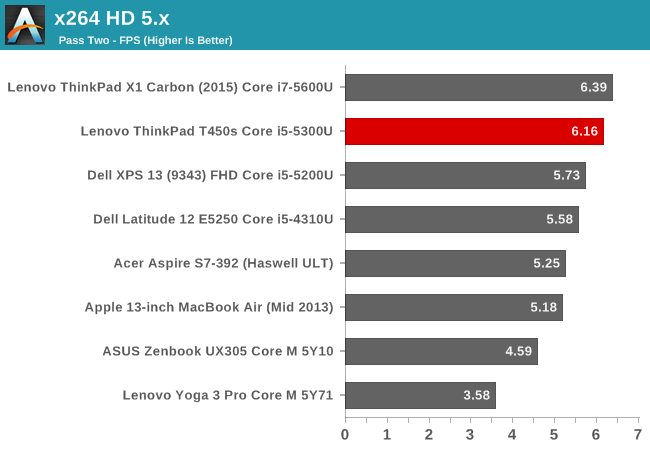 As with Cinebench, this mostly CPU based test shows the performance gain achieved with the mid-level Core i5 in this notebook.
Web Tests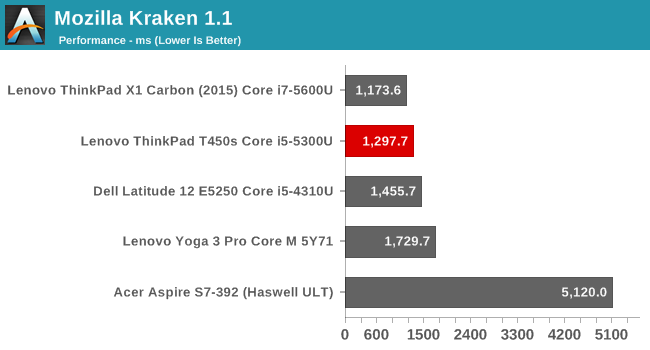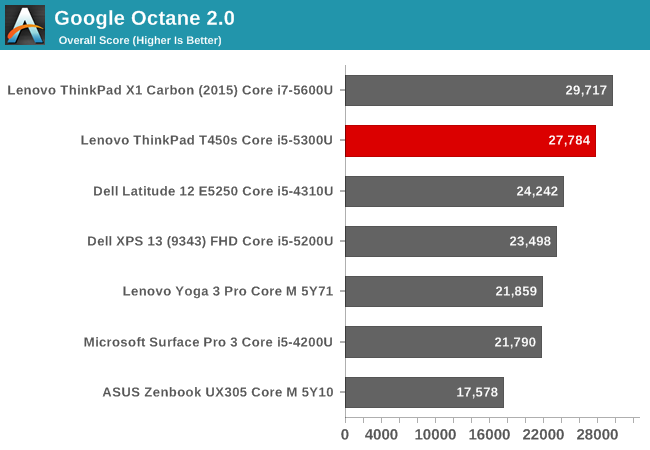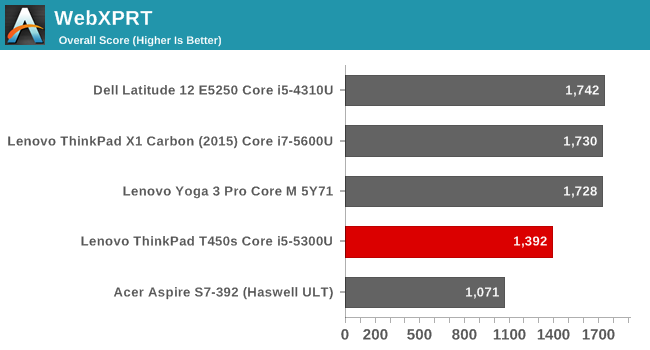 Web browsing continues to be an important metric. On this Windows 8.1 device, testing was done with the latest version of Chrome (version 45) but with Windows 10 now released, we'll be switching to Edge since its performance is now comparable. The i5-5300U once again shows it is a decent upgrade over the base i5-5200U.
Overall System Performance
There is not a lot of surprises right now in the Ultrabook space. Broadwell-U based devices have been shipping since the beginning of the year and this notebook is still only available with Windows 8.1. Overall performance is very good for this class of device and the i5-5300U is a reasonable upgrade over the base offering. For those that need better performance, there is an i7-5600U model as well which should then score this laptop similar to the X1 Carbon in the above graphs. The choice of SSD is not the fastest around, but it still offers good sequential and random speeds, it just can't compare to the latest PCIe based storage on something like the X1 Carbon.