System Performance
The P8 Lite is the first device with Qualcomm's Snapdragon 615 that we've reviewed. The Snapdragon 615 implementation in the P8 lite has two clusters with 4 Cortex A53 cores. With this bin the first cluster has a peak frequency of 1.5GHz, while the second has a peak frequency of 1.11GHz. This is slightly slower than the 1.7GHz implementation in the HTC One M8s, but it still represents a 25% improvement in clock speeds on the big cluster over Snapdragon 410. In theory since there's support for HMP the OS could schedule threads to use all 8 cores at once, but in essentially every user workload it will act as a quad core Cortex A53 CPU.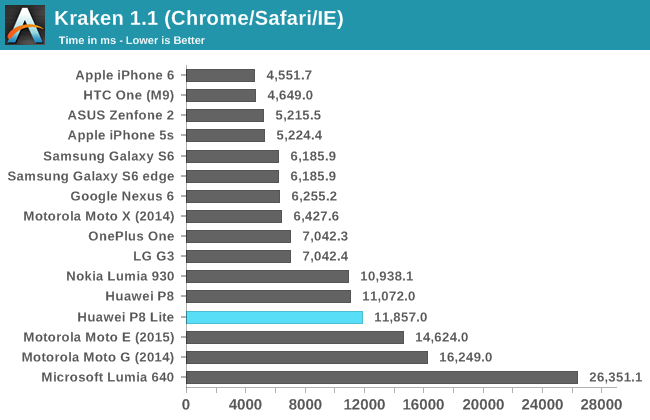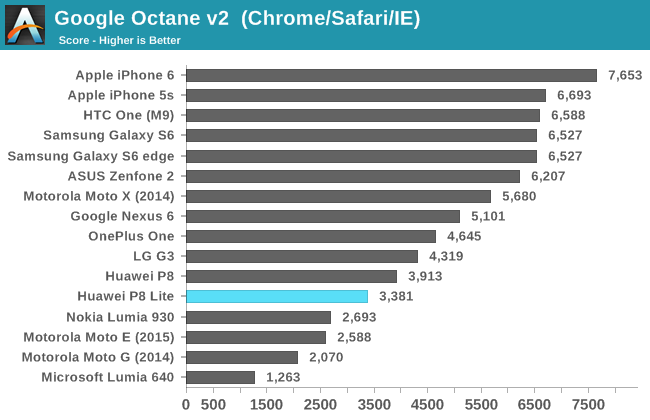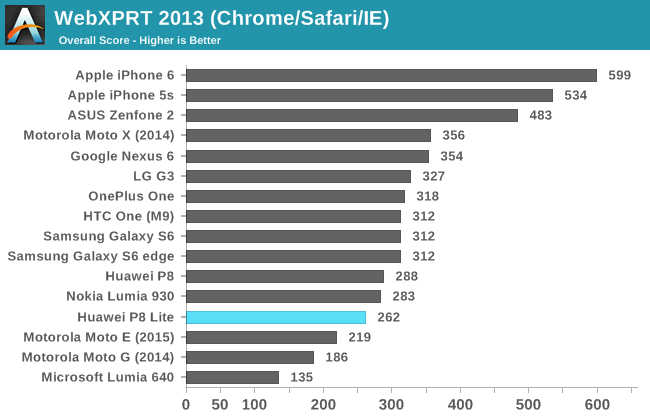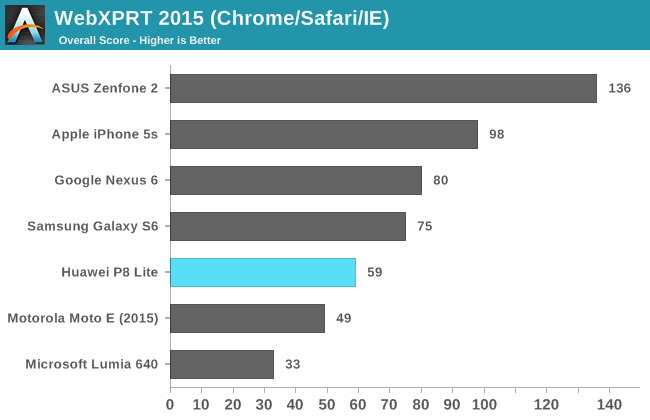 The P8 Lite shows good improvement over devices that use Qualcomm's Snapdragon 400 and 410 SoCs. In both versions of WebXPRT and in Mozilla Kraken we see improvements of about 20%, with Google Octane improving by over 30%. This is in line with what one would expect from the 25% clock speed improvement on the big cluster when compared to Snapdragon 410.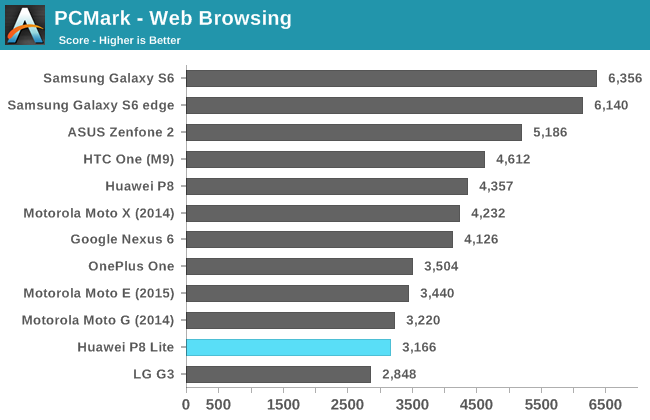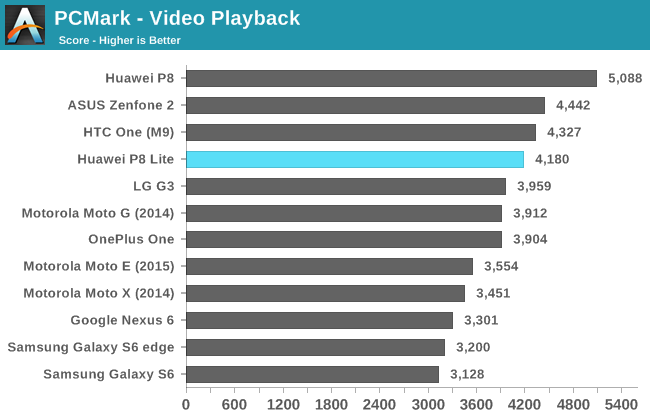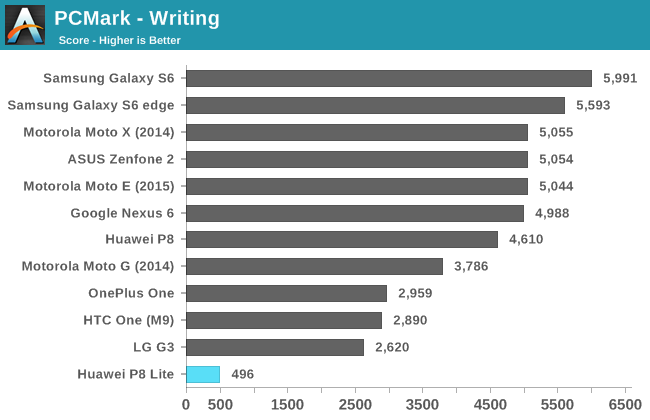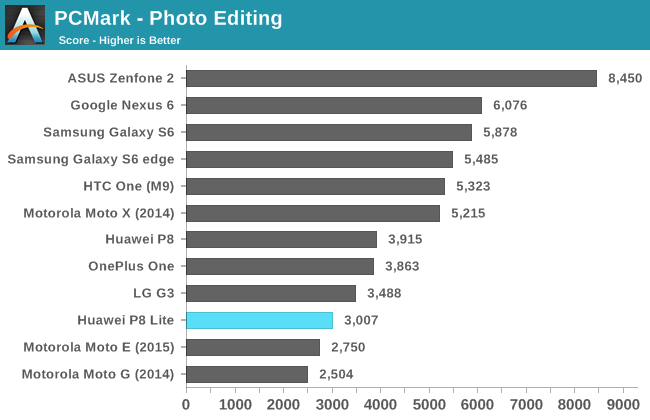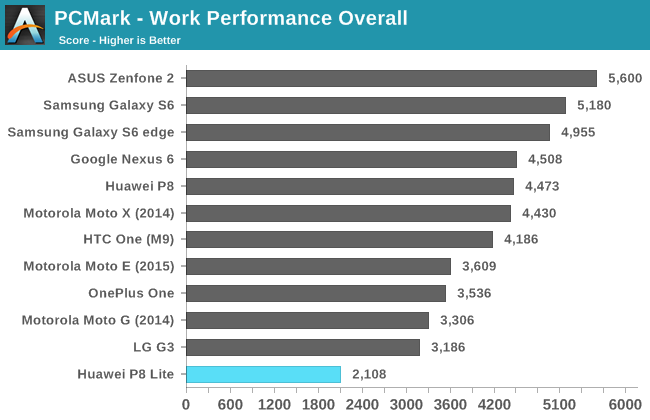 PCMark is a benchmark that focuses more on real-world scenarios where race to sleep speed is paramount, but the user workload also increases with faster CPUs. Software can also be as important to the test as hardware, and we've seen gains on devices running Android Lollipop over those running KitKat. In it we see that the Huawei P8 Lite doesn't do very well overall. The main cause of this is its score in the writing sub test. This is not a new situation for Huawei, as all of their KitKat devices score somewhere around 500 points in that test due to problems with Dalvik. If that test were to be removed, the P8 Lite would perform slightly better overall than the Moto E. Ultimately the result in PCMark is just an example of how performance is hardly software agnostic, and demonstrates why devices should not be launching with KitKat this far into 2015.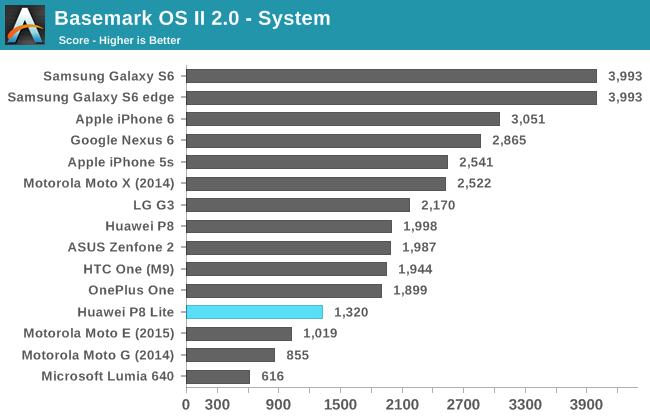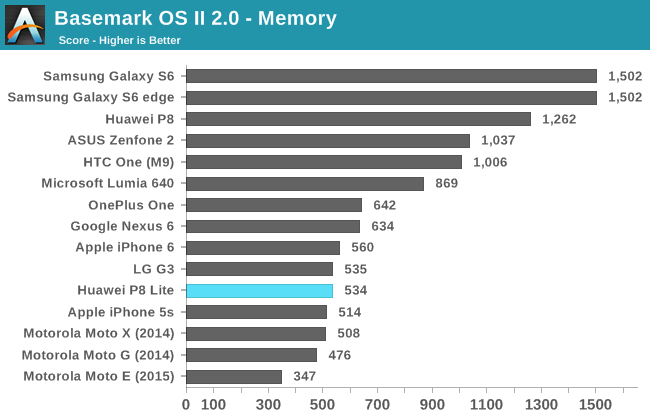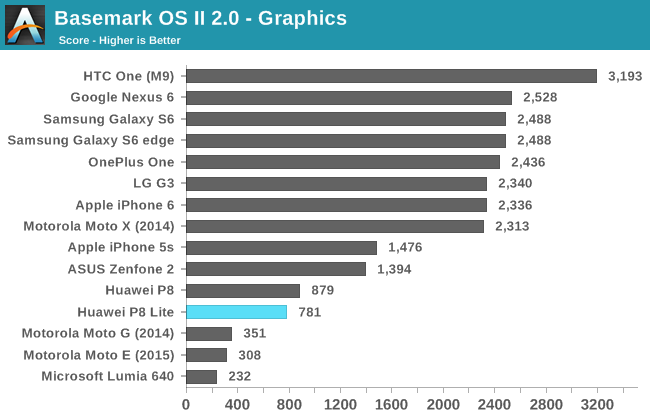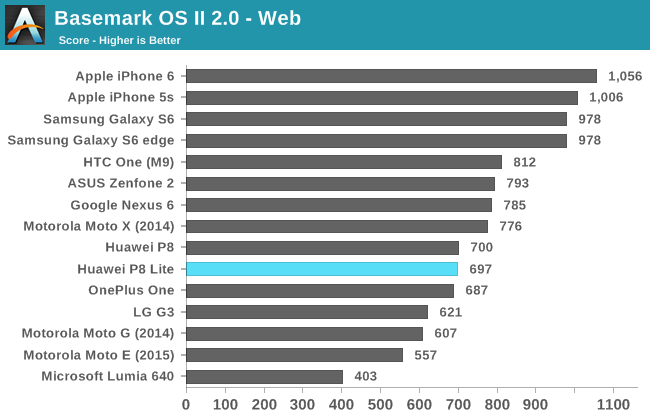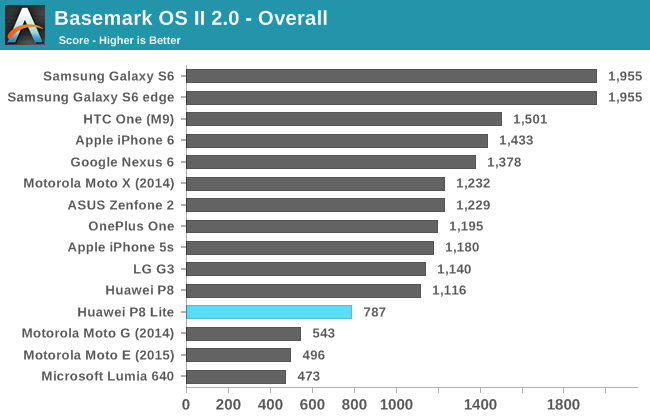 In BaseMark OS II we again see the P8 Lite holding a lead over Snapdragon 400 and 410 devices, with the largest improvement being in the graphics sub test.
Overall the P8 Lite shows significant improvements over the performance of lower end Snapdragon 400 and 410 based devices. CPU improvements are right in line with the 25% greater clock speed than Snapdragon 410 on the big cluster of Cortex A53 cores, and BaseMark OS II shows us that there are substantial GPU improvements which will be detailed on the next page.