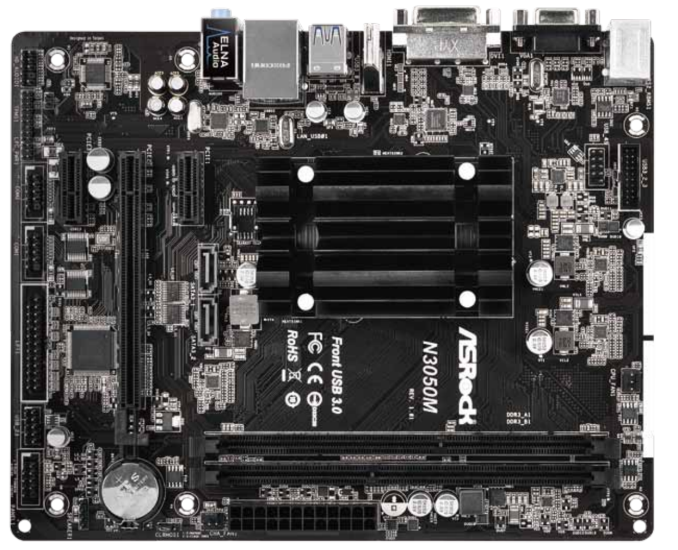 In the wake of the news regarding ASUS' listing of their Braswell motherboards, both ASRock and MSI have been quick on their heels to also list their model lines. ASRock contacted us directly, stating that they will have eight boards on offer in total, although markets for each will vary. They will also transition directly from the Bay Trail-D line, allowing for a quick drop in where required:

Where Bay Trail's three SoCs, the D1800, Q1900 and Q2900, come into play will be a direct lift into Braswell with the N3050 taking the D1800, the N3150 taking the Q1900 and the N3700 for the Q2900. Personally I preferred the D/Q naming.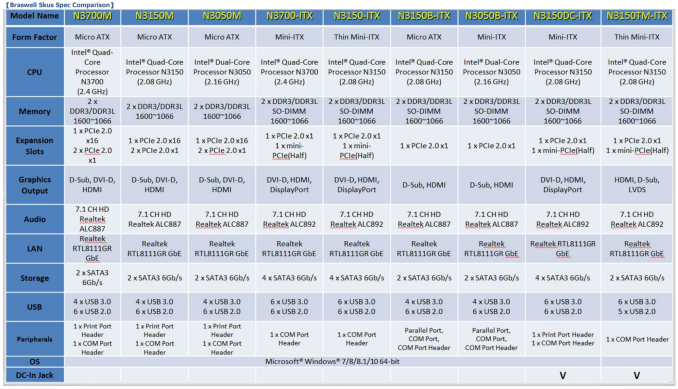 For a direct SKU-to-SKU comparison, the N3xx0M boards are microATX, featuring full length DDR3 and a full sized PCIe 2.0 x16 slot (although it will be limited in bandwidth to x1 due to the SoC). The audio codecs between the boards are split with the ALC887 on some and the ALC892 on others, although it is Realtek RTL8111GR across the board for network connectivity. Similarly all boards have SATA 6 Gbps, but some will have two and others will have four. The two SKUs at the end (N3150DC-ITX and N3150TM-ITX) are also capable of being powered by a 19V DC-In on the rear panel, with the final one also supporting LVDS.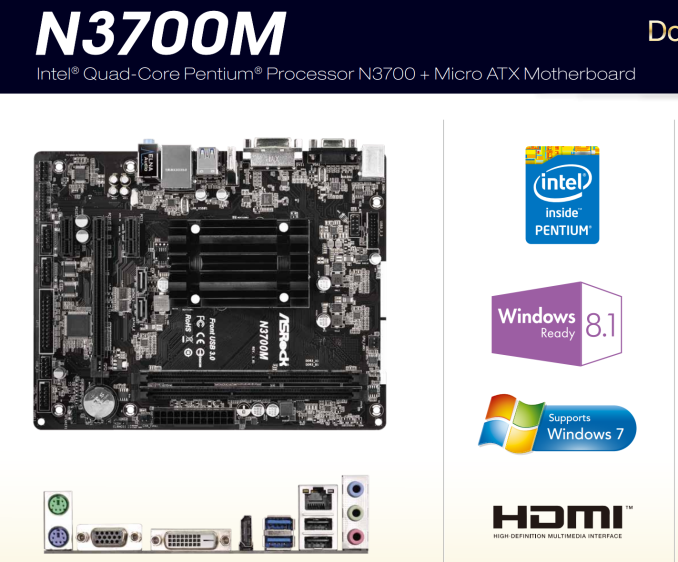 What is interesting about the Braswell system list here is the issue surrounding soldered down processors. Rather than have one micro-ATX motherboard and put in the processor you need, we get three different motherboards (N3700M, N3150M and N3050M) that look identical down to the traces on the board but can perform differently. It means that should any of the big CPU players decide to have a non-socketed architecture (remember rumors surrounding Broadwell?) then we would end up with a lot more motherboards on the shelf that look exactly the same, except the processor under the hood.
We've asked for a set of the micro-ATX sized boards (and a Q2900) to see how Braswell performs compared to our previous Bay Trail testing. Also, because I feel like sticking in a $70 to $570 discrete graphics cards into one of these and see just how far CPU scaling can go.
Launches of these motherboards will be region dependent, although I have heard from other companies that Braswell isn't necessary going to be a big launch, and potentially small volume due to the mini-PC space which is consuming more of the point-of-sale types of systems that desktop Atom used to have.
Source: ASRock