Fitting in With Core M
The staggered release of Broadwell is nothing new. Previous releases from Intel has seen them pick a particular market and aim at that first, whether it be tablet, mobile devices, ultrabooks or desktops, with the rest to follow. Core M, Intel's 4.5 W 'Broadwell-Y' part, has been in the market for over a month with designs such as the Lenovo Yoga 3 Pro, although the number of SKUs available as well as worldwide distribution has been relatively slow, with the designs featuring Core M being expensive in terms of casual computing and more premium upgrades. Broadwell-U changes this by opening up the power envelope, and as such Intel sees the market at follows: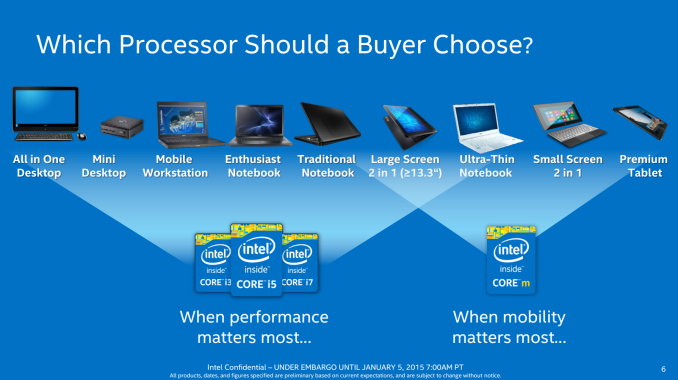 The Broadwell-U processors from Intel are aiming to give enough performance from AIO desktop systems to mini desktops, premium mobile applications all through to large 2-in-1s. There is some overlap with Core M, particularly with the 7.5W cTDP down elements of the range, but the interesting element will be pricing. The Celerons come in around $100, with the Pentium at $160, but then it gets expensive for Broadwell-U. $275 to $315 covers all the i3 and i5 parts both at 15W and 28W, ending with $393/$426 for the i7 parts. Further to my efficiency comments above, on paper at least the i5-5350U or i5-5250U would seem the most interesting processors of the bunch.
Release Dates
In our conference call with Intel, it was clear that these CPUs are shipping to their partners today. Throughout CES there will be a number of manufacturers announcing their products, and as per the norm Intel allows the partners to introduce their own products, rather than showing examples of where Broadwell-U fits in. However, because Broadwell-U is designed to be pin-compatible with Haswell-U, we might see some manufacturers purely re-releasing some of their designs with the newer CPU and a firmware update. Nevertheless, Intel is expecting OEM systems with Broadwell-U to start shipping in North America within the month. Designs with Iris graphics, or those featuring Intel based WiGig connectivity, will be more towards the end of Q1. Overall Intel is tracking 'hundreds of designs' involving Broadwell, indicating that it will be a significant push to bring 14nm to the market.