Performance, Now with Windows 8
As this is the first laptop we're testing with Windows 8, we've had to go back and revamp our testing suite a little bit. For example, PCMark Vantage simply refuses to complete under Windows 8 on the S7, and the same goes for a few other old Futuremark programs; we'll add the next versions of PCMark and 3DMark when they become available, but PCMark 7 and 3DMark 06 and 11 are the only Futuremark tests we'll be running for now.
We're also taking the opportunity to upgrade several of our older benchmarks; we've been using the x264 HD 2.x encoding benchmark for a while now, but we're going to upgrade to 5.x with Windows 8—which, incidentally, takes about 10x as long to run. We will also be adding WinZip as a benchmark, with OpenCL acceleration enabled. Another benchmark we're adding with the S7 is TouchXPRT (currently in preview release) and a similar test from the same company called WebXPRT 2013. Anand has used both on the Clover Trail/Surface reviews, so it will be interesting to see what Ivy Bridge looks like by comparison. I'm not going to spend a lot of time on the tablet comparisons in terms of performance, but I also ran most of the current suite of tablet benchmarks, which we'll look at on the next page (SunSpider, Kraken, etc.)
For the time being, that should be sufficient, but we'll be certain to add other benchmarks and tests to the mix as we deem them appropriate, so if you have any recommendations or suggestions we're happy to hear them. We will begin as usual with PCMark 7, which gives us at least some inkling of overall performance, along with our usual suite of CPU-centric tests. We shouldn't see any major surprises here, as the Acer S7 has the same components as many other Ultrabooks that we've tested. Here's the quick overview of the test components for the various laptops:
Before we get to the actual tests, I want to make note of the fact that this is bar none the fastest booting laptop or PC that I've ever used! Just how fast does the laptop boot up? How about under 10 seconds? Granted, much of that is probably Windows 8 (Dell's XPS 12 posts similar boot times), but it's still impressive nonetheless. Shutdown, hibernate, and resume are all equally fast, though if all you do is put the laptop to sleep and wake it up you won't need to worry too much about such things.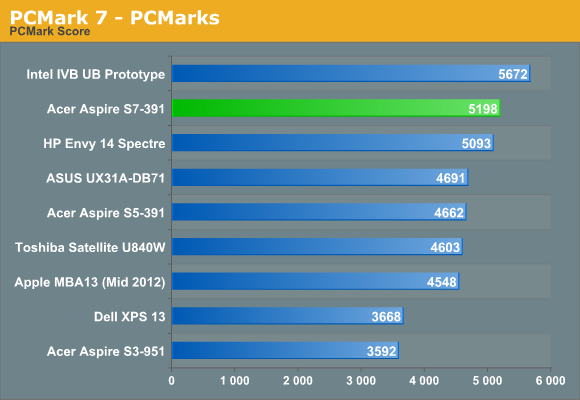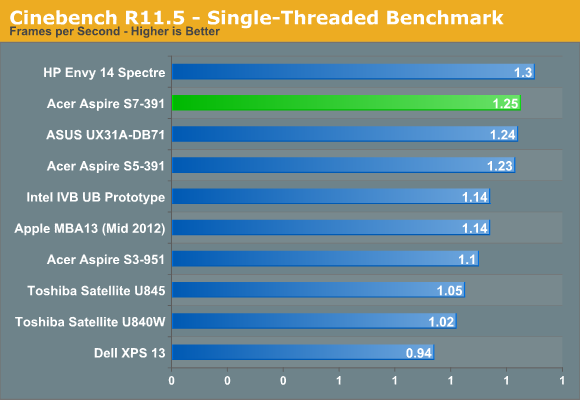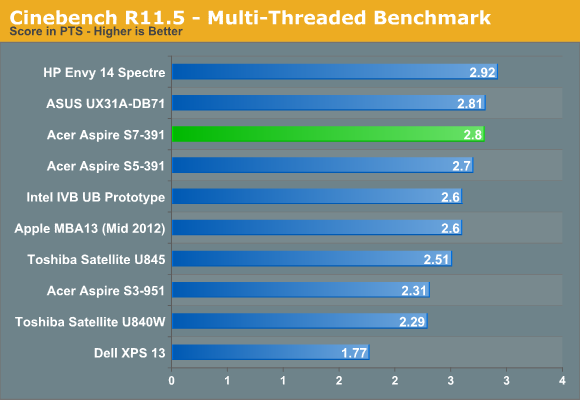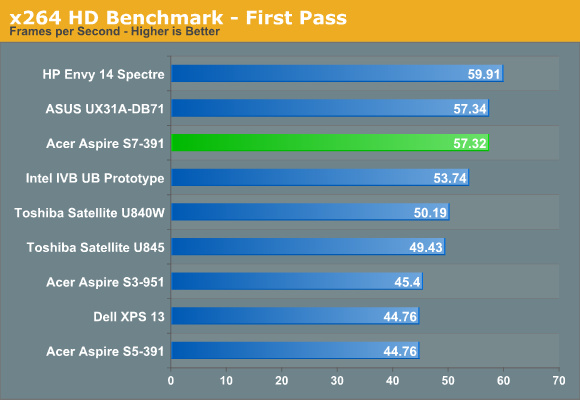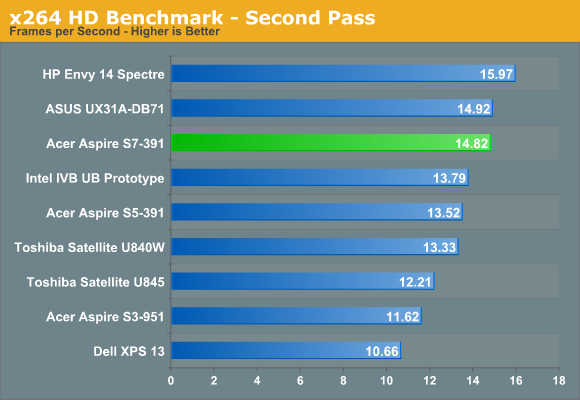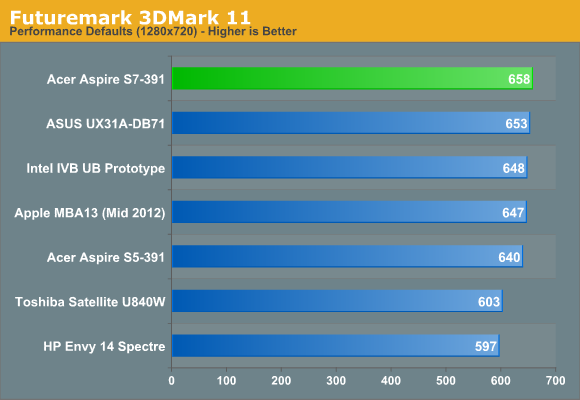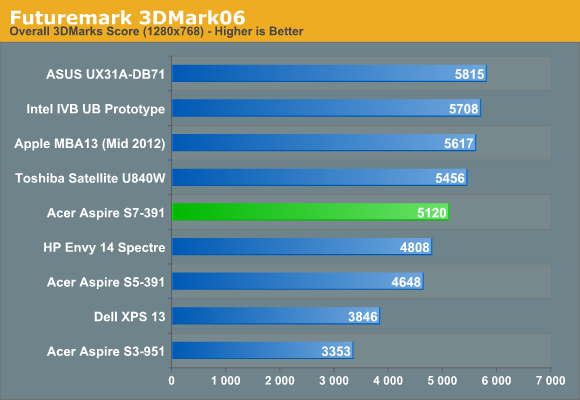 Our benchmarks start with an interesting piece of information: the Ivy Bridge prototype that Intel sent us still manages to hold onto the top spot in the overall PCMark 7 score, thanks in particular to its performance in the Creativity, Entertainment, and Computation suites—and this despite the fact that it's equipped with a Core i5-3427U compared to the i7-3517U in other systems. (We only show the overall score above, but you can see the full set of PCMark7 results in Mobile Bench.)
It's not quite clear what's holding the S7 back, but while it has the top Storage score, it falls well short in the Lightweight and Productivity suites. Possibly Windows 8 is partly to blame, or more likely the combination of components (and possibly that RAID 0 storage setup) are coming into play. Then again, PCMark7 is prone to odd variations, and depending on the drivers (Quick Sync) and storage you can see large differences between what should otherwise be similar laptops—just look at how the earlier Aspire S5 with Windows 7 stacks up to the new Aspire S7!
The other benchmark charts are more in line with what we'd expect. HP's Envy 14 Spectre snags the top spot for all of the CPU benchmarks, which makes sense considering it has the highest clocked i7-3667U processor of the bunch. The Acer S7 and ASUS UX31A are tied, which goes with their identical CPUs. 3DMark06 does show the Acer falling behind, but here again I'd look more at Windows 8 than anything specific to the S7. The march of time and/or drivers also shows a nice progression when looking at the S3, S5, and S7