Only two members of ASUS' Z77 stack feature integrated Thunderbolt support: the P8Z77-V Premium and the P8Z77-V Pro/Thunderbolt. As the interface is still fairly new and the controllers still relatively expensive, ASUS didn't want to burden the price of all of its 7-series motherboards by adding Thunderbolt across the lineup. Recognizing the value in supporting the interface however, ASUS offers a Thunderbolt upgrade path for many of its other 7-series boards.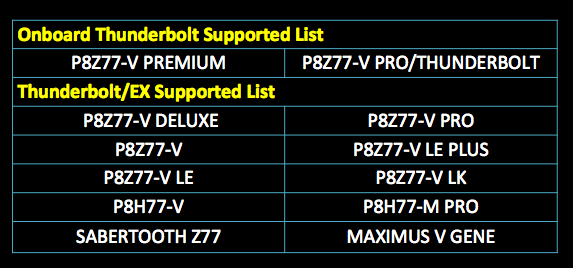 If your board is in the table above under the Thunderbolt/EX supported header, then you'll be able to find one of these TB Headers on your motherboard. ASUS will sell you a Thunderbolt EX card that plugs into a PCIe slot (it's a physical/electrical x4 device), connects to this header, and plugs into the DisplayPort output on your mothebroard. The expansion card features a single Thunderbolt port that you can use after completing the requisite steps. The card itself is home to a single port, dual-channel Cactus Ridge Thunderbolt controller. The external routing of DisplayPort is necessary to provide DP pass-through functionality via the Thunderbolt port, but it does admittedly take away from the clean single cable appeal of native Thunderbolt.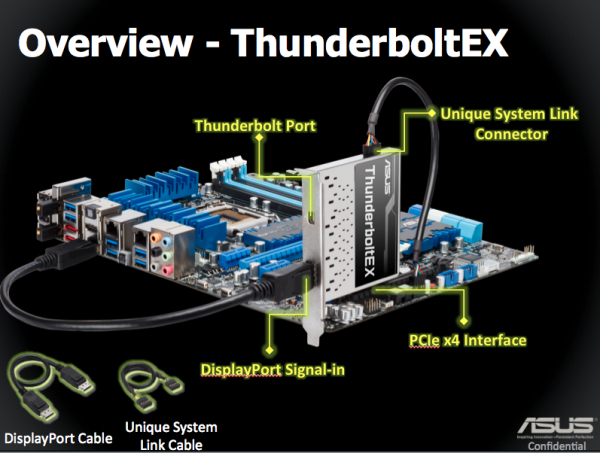 ASUS hasn't announced pricing of the upgrade yet but it gives users who really want Thunderbolt on their ASUS board a chance to have it.