In the first of our non-full-size Z77 motherboard reviews, we are today getting to grips with the Gigabyte GA-Z77MX-D3H. Currently retailing at $135, the Z77MX-D3H offers more performance in the microATX factor than some motherboards do in full-fat ATX mode. This motherboard took high-powered memory in its stride, and on the latest F10 BIOS (at time of testing) Gigabyte claim full compatibility with Xeon E3-12xx processors. The Z77MX-D3H represents a great crack at a smaller form factor combined with a dual GPU gaming machine.
Gigabyte GA-Z77MX-D3H Overview
If I had to condense the testing of the Z77MX-D3H, it would be in a word 'niiice'. For the most part, the board performed brilliantly and worked like a charm. It never missed a beat during testing and had almost no trouble dealing with what I had to throw at it.
From our previous reviews, the Gigabyte's main competition is the ASRock Z77 Extreme4, a full sized ATX board that currently retails at $140 compared to $135 for the Gigabyte. With the push for more compact form factors, while you may not get the unique styling of the ASRock for your money, Gigabyte offers better performance and the smaller size as a bonus.
Performance wise, due to the default overclock offered by Gigabyte motherboards which boosts the CPU turbo frequency under multilthreaded mode, the Gigabyte perfromes very well under multithreaded tasking on par with other Gigabyte (and ASUS) motherboards. The Gigabyte Z77MX-D3H also does well in terms of power usage under moderate work loads.
The only issues I found were that a user cannot rely on the voltage readings in the OS for overclocks, nor are the fan controls that brilliant compared to the offerings of Gigabyte's competitors. In terms of the voltage readings, Gigabyte has put in a layer between the sensors and the OS such that they can control what the sensors display while in the operating system. This means that you will constantly see the same 1.056 volts shown in the OS no matter what you choose in the BIOS, or similarly manipulated values should the BIOS change.
For your money Gigabyte offers three different processor video outputs (D-Sub, DVI-D, HDMI), support for three GPU gaming via SLI/Crossfire (if you have single slot cards, dual GPU gaming only if they are bigger), and that TPM header which features prominently across the Gigabyte range.
Visual Inspection
While still a Z77 product, capable of dual GPU setups, we have a motherboard aimed at the cheaper end of the spectrum. The Z77MX-D3H comes with generic Gigabyte styling, and the power delivery sports relatively small sized heatsinks. We are limited in terms of fan headers (three), and rear panel USB 3.0 ports (only two) compared to the Z77X-UD3H bigger brother.
The socket itself is clean with little obstructions – fan headers are found below the VRM heatsink, where we have two of the 4-pin variety. The other fan header on board can be found at the bottom next to the TPM.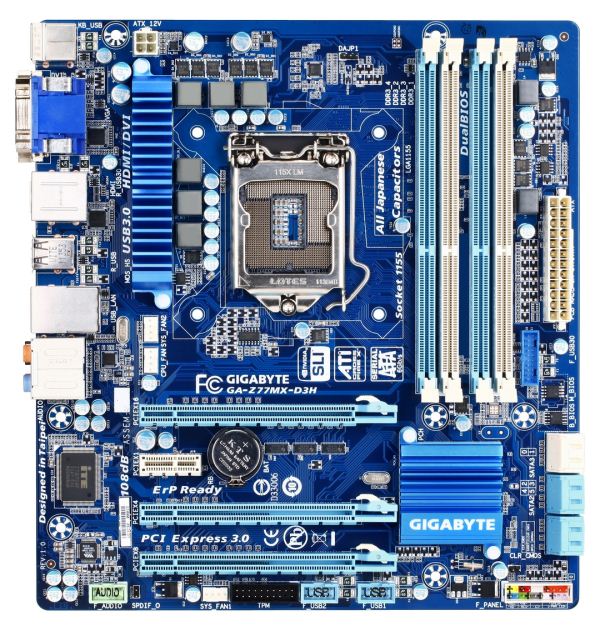 Despite being a cheaper small motherboard, we still have typical Gigabyte features, such as dual BIOSes next to the USB 3.0 header underneath the 24-pin ATX power connector. Due to the size of the board, we only the SATA ports from the chipset specification - this means two SATA 6 Gbps (white) and three SATA 3 Gbps (blue). The chipset heatsink is also small but has enough surface area to keep Gigabyte confident of its functionality.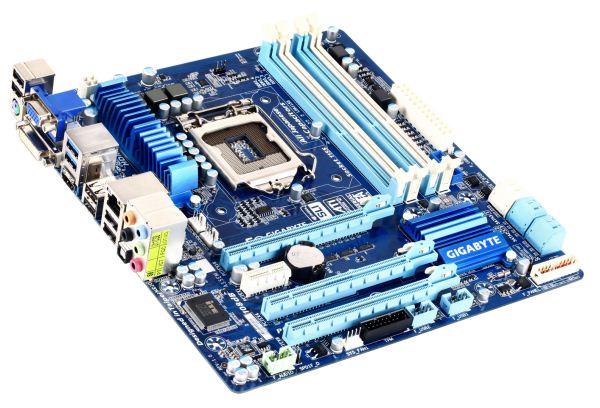 The south side of the board is relatively naked, with a front panel audio, fan header, TPM and two USB 2.0 headers. Given the look of the board and that it does not display many potential features (presumably to fit into a price bracket), I was not expecting anything elaborate such as power/reset buttons.
Gigabyte has aimed the PCIe at users wanting dual GPUs or users needing an extra PCIe device alongside their GPU. The PCIe layout becomes x16 (x8 on dual GPU), x1, x4, x8, with this the x4 having only PCIe 2.0 connectivity.

The rear IO panel is more substantial than I assumed, which can only be a good thing. From left to right we have a pair of USB 2.0 (black), a combination PS/2 port, D-Sub, DVI, two USB 3.0 (blue), HDMI, four more USB 2.0 (black), gigabit Ethernet, and standard audio jacks with a combination optical SPDIF output.
Board Features
Gigabyte GA-Z77MX-D3H
Price
Link
Size
mATX
CPU Interface
LGA-1155
Chipset
Intel Z77
Memory Slots
Four DDR3 DIMM slots supporting up to 32 GB
Up to Dual Channel, 1066-1600 MHz
Video Outputs
HDMI, DVI-D, D-Sub
Onboard LAN
Atheros
Onboard Audio
Via VT2021
Expansion Slots
2 x PCIe x16 Gen3 (x16, x8/8)
1 x PCIe x16 Gen2 (x4)
1 x PCIe x1 Gen2
Onboard SATA/RAID
2 x SATA 6 Gbps (PCH), Support for RAID 0, 1, 5, 10
4 x SATA 3 Gbps (PCH), Support for RAID 0, 1, 5, 10
USB
4 USB 3.0 ports (2 back panel, 2 from headers)
10 USB 2.0 ports (6 back panel, 4 from headers)
Onboard
4 x SATA 3 Gbps
2 x SATA 6 Gbps
3 x Fan Headers
1 x Front Panel Header
1 x Front Audio Header
1 x SPDIF Output Header
1 x USB 3.0 Header
2 x USB 2.0 Headers
1 x TPM
Power Connectors
1 x 24-pin ATX connector
1 x 8-pin 12V connector
Fan Headers
1 x CPU Fan Header (4-pin)
2 x SYS Fan Headers (4-pin)
IO Panel
1 x PS/2 Combo Port
1 x D-Sub
1 x DVI-D
1 x HDMI
2 x USB 3.0
6 x USB 2.0
1 x Gigabit Ethernet
1 x Optical SPDIF
Audio Jacks
Warranty Period
3 Years
Product Page
Link
Gigabyte is continuing with a trend of using audio and NIC different to almost every other manufacturer - with the Z77MX-D3H this means a Via VT2021 audio solution and an Atheros NIC. The PCIe layout is also odd - the 2nd main PCIe slot for GPUs is actually the one at the bottom. This has implications for dual width GPUs which will encroach on the front panel header, as shown in my test bed:

There are some upsides to this - there is now a space between the PCIe slots for GPUs to breathe, it also means the Z77MX-D3H will be one of a few micro ATX boards that will support dual GPU setups where the GPUs are triple width. In my testing, I accidentally assumed the middle x4 PCIe 2.0 slot was the second GPU slot, however the board still applied a CrossFireX profile to it. This would tend to suggest that the motherboard would accept 3-way GPU setups if all the cards would fit in, or two GPUs in SLI with a single width card for PhysX.