Now that Panther Point is in full swing, and perhaps Sandy Bridge processor stocks may start to dwindle in favor of Ivy Bridge, market segmentation of motherboards is all too critical. We have gamers (budget and enthusiast), casual users, audio enthusiasts, HTPC users, storage users, power users, enthusiasts, modders, silent users, overclockers, extreme users or perhaps a combination of many. Therefore, when it comes to designing a range of boards, a motherboard manufacturer has priority targets. They can design either a product to go for one target, or a product to cover several. ASUS have a minimum of 13 boards in their current Z77 lineup (not covering H77), with a few more still to be released. One of those 13 is the P8Z77-V Deluxe, a high end product focused on power users who want extremes of functionality and the best of most worlds - an Intel NIC (+Realtek), more SATA, dual band WiFi, fan control, provision for Thunderbolt as well as regular ASUS features such as BIOS Flashback, Q-LED, the BIOS itself and AI Suite software. Even with all of this, it also transpires that the Deluxe is quite good at throughput and IO as well.
ASUS P8Z77-V Deluxe Overview
Building a system comes with many constraints - the main one in my experience as a recent student is usually price. However, at a recent UK iSeries LAN event, you could have fooled me - for many people present, money was seemingly no object. This was the enthusiast market, so showing off that custom water loop in an appropriate case was vital. However, one common theme was present throughout the day - even enthusiasts have an update cycle. It was obvious as I was walking around and talking to enthusiasts that when you have a water locked system running dual GTX 480s, the impetus for some of them was to spend big every now and again, rather than crawl for upgrades. There were some Sandy Bridge systems, a number of Lynnfield/Clarkdale systems, some Phenom II, as well as Nehalem knocking about, with users looking at potential routes to last them another 3-4 years.
With this in mind, there are current two obvious answers when coming from systems a few years old and if you want to go Intel - jump to Sandy Bridge-E, or venture into Ivy Bridge. For a solid system, there needs to be a motherboard underneath which will work, perform, and if possible, revolutionize the system as a whole. ASUS believe they have done this with the P8Z77-V Deluxe.
The P8Z77-V Deluxe thus comes at a very high-enthusiast Z77 price bracket, around the $275 mark. This knocks heavily on the door on low-to-mid range X79 solutions. But rather than getting a low-to-mid range X79, we have the cream of enthusiast Z77. This means the Deluxe comes with most of the features that users want on a high-end product - dual band WiFi, dual NIC (one Intel), fan control, more SATA, debug tools, and additional USB 3.0. This is on top of what ASUS features across most of their channel range - USB 3.0 Boost, AI Suite, Fan Xpert II, Q-LED, dual intelligent processors, DTS UltraPC II + DTS Connect, SSD caching, control for 3-pin and 4-pin fan headers, and digital power delivery for the CPU, iGPU and DRAM. Realistically the only things missing are a PCIe expanding PLX chip (up to another $30 expense) for more than 2-way GPU, a more premium audio solution (again, would be another ~$30), integrated Thunderbolt (yet another ~$30, but the Thunderbolt header on board connects to a to-be-released ASUS TB add-in card) or perhaps mSATA (even though not really an enthusiast end requirement).
The Deluxe takes center stage in terms of performance in each of our 2D benchmarks - thanks to a combination of design and MultiCore Enhancement, the Deluxe comes top out of our Z77 testing often by a noticeable margin. In many areas it parallels the P8Z77-V Pro we have already tested, either performing the same as or better than the Pro.
Visual Inspection
In the next notch up above the Pro in the channel board segregation, ASUS sell the Deluxe. This will be the first ASUS Deluxe board we have reviewed at AnandTech since the Llano mini-ITX F1A75-I Deluxe last year. In comparison to the P8Z77-V Pro, the Deluxe features several upgrades in terms of functionality and comfort.
The first to note is the increased power delivery to the CPU over the Pro – this time in the form of a 16 + 4 phase power delivery. As a result, the VRM heatsinks to the left of the CPU are directly connected via a heatpipe to another heatsink below the socket. Also on board are the enthusiast power/reset buttons and two-digit debug, a Thunderbolt header, Q-LED Debug lighting, and the use of dual NICs on the I/O, in the form of an Intel 82579V and a Realtek 8111F.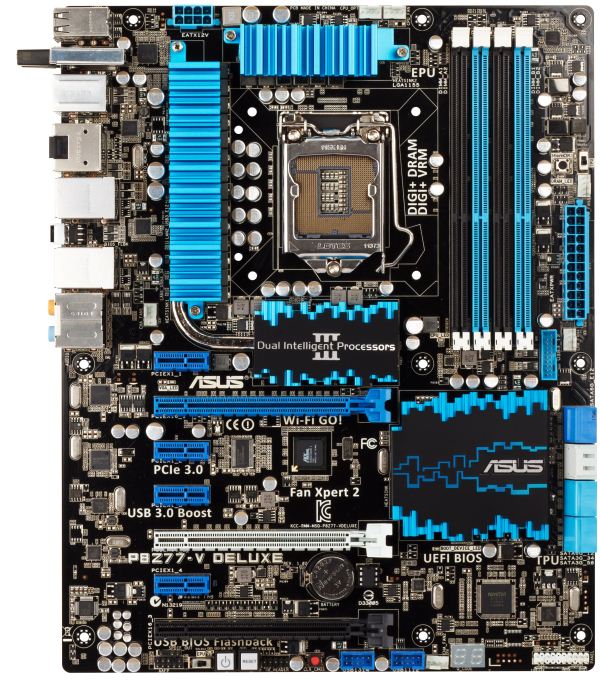 Due to the positioning of the heatsinks on the Deluxe compared to the Pro, the socket area seems a bit smaller (for example, the left hand heatsink is moved further in towards the socket). It is possible that big air coolers would perhaps have a tougher time if they do not fit into Intel's socket specification, but in order to help, ASUS have made the heatsinks short to alleviate this issue a touch. Around the socket itself, we still have access to five fan headers – two 4-pin on the top of the board, one 4-pin to the bottom left of the main VRM heatsink, and one 4-pin either side of the 24-pin ATX power connector. A sixth fan header on board is found at the bottom next to the two-digit debug output. All the fan headers are controllable through the BIOS and OS software, and the chassis headers can control 3-pin fans as well.
Above the main power connector on the right hand side are the MemOK button and the TPU switch (for a fast automatic overclock). Below it is a USB 3.0 header, and a set of eight SATA ports. Similar to the ASUS Pro, we have four SATA 3 Gbps from the PCH, two SATA 6 Gbps also from the PCH, and two SATA 3 Gbps from a different controller – the Marvell 9128. This allows RAID 0/1 on these two SATA 6 Gbps ports as well as ASUS SSD Caching.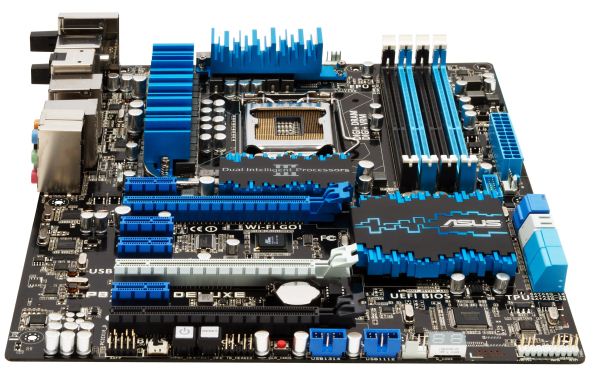 The south side of the board still contains front panel headers and USB 2.0 ports, but also comes with the aforementioned power/reset buttons and two-digit debug display. We also find a ClearCMOS button on board, useful for overclockers, and a Thunderbolt header, for use with a future ASUS Thunderbolt add-in card. In terms of the PCIe, we have a little bit of potential confusion for users and reviewers - in the middle between the PCIe is a PLX chip. This is not the PLX PXE 8747 chip that increases the PCIe lane count - this one on the Deluxe is present to provide extra data transfer access for the various controllers on the motherboard. This means that the third full length PCIe in black is like many other Z77 boards in that this is a PCIe 2.0 x4, non-GPU port. From the top, we have a PCIe x1, x16 (x8 in Multi-GPU), x1, x1, x8, x1, x4. As a result, there is no PCIe to PCI bridge chip on this high-end model for PCI slots.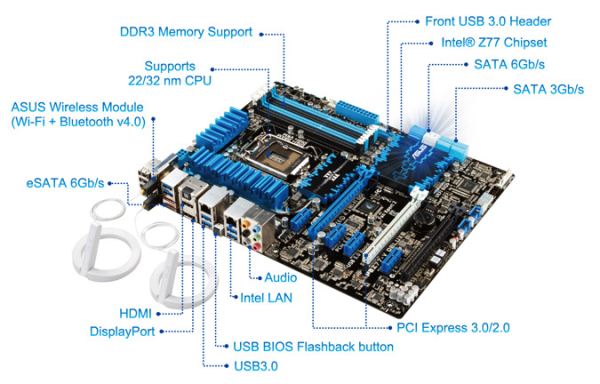 For the back panel, ASUS have done a juggling act deciding what to include. On the far left is a set of four USB 2.0 ports (black), a mini-PCIe dual band WiFi + Bluetooth module, two USB 3.0 (blue), two eSATA, optical SPDIF output, HDMI output, DisplayPort, dual gigabit Ethernet, another four USB 3.0 ports (blue), a BIOS flashback button, and audio outputs. So in the name of a double NIC and 10 total USB ports on the back panel, we have lost D-Sub, DVI, IEEE 1394 and a ClearCMOS button (ClearCMOS is now on the board at the bottom).
Board Features
ASUS P8Z77-V Deluxe
Price
Link
Size
ATX
CPU Interface
LGA-1155
Chipset
Intel Z77
Memory Slots
Four DDR3 DIMM slots supporting up to 32 GB
Up to Dual Channel
Video Outputs
DisplayPort, HDMI
Onboard LAN
Intel 82579V
Realtek 8111F
Onboard Audio
Realtek ALC898
Supporting DTS UltraPC II and DTS Connect
Expansion Slots
2 x PCIe x16 Gen3 (x16, x8/8)
1 x PCIe x16 Gen2 (x4)
4 x PCIe x1 Gen2
Onboard SATA/RAID
2 x SATA 6 Gbps (PCH), Support for RAID 0, 1, 5, 10
2 x SATA 6 Gbps (Marvell PCIe 9128), RAID 0, 1
4 x SATA 3 Gbps (PCH), Support for RAID 0, 1, 5, 10
2 x eSATA 6 Gbps (ASMedia)
USB
Four USB 3.0 at rear (2 PCH, 2 ASMedia)
Two USB 3.0 headers on board (PCH, ASMedia)
Eight USB 2.0 (4 back panel, 4 on board)
Onboard
4 x SATA 6 Gbps
4 x SATA 3 Gbps
1 x USB 3.0 Headers
2 x USB 2.0 Headers
6 x Fan Headers
1 x SPDIF Header
1 x Front Panel Audio Header
1 x Thunderbolt Header
MemOK! Button
TPU/EPU Switches
USB Flashback Button
Power/Reset Buttons
Power Connectors
1 x 24-pin ATX connector
1 x 8-pin 12V connector
Fan Headers
1 x CPU Fan Header
4 x CHA Fan Headers
1 x OPT Fan Header
IO Panel
2 x eSATA 6 Gbps
1 x DisplayPort
1 x HDMI 1.4a
2 x Gigabit Ethernet
6 x USB 3.0
4 x USB 2.0
1 x Optical SPDIF
Audio Outputs
Bluetooth V4.0
Dual-band Wifi
USB Flashback
Warranty Period
3 Years, APS in NA
Product Page
Link
The dual band WiFi is a welcome addition to a board in this price bracket, as well as both the NICs. As stated above, the fan headers offer superior control compared to competitors offerings. The combination of Debug LED and Q-LED is also welcome, as well as ASUS BIOS Flashback. ASUS Premium Service (APS) is available for this board for users in the United States and Canada.