Introducing the SilverStone GD07
The last time we reviewed one of SilverStone's Grandia enclosures, it was the GD04, and it was a review that launched the first major revamp of how we test cases. Since then SilverStone has kept the Grandia series relatively staid, but at CES they were showing off the new GD07 and GD08, and today we have the GD07 in house.
SilverStone has turned the GD07 into an enclosure designed to cram as much computer into as small a space as possible within reason, and the horizontal orientation seems to make it ideal for use as a media center enclosure. However, inside it also has a tremendous amount of storage capacity that suggests it could also be used as a media server. The GD04 was a fine case once you tweaked it and added a fan controller; is the GD07 ideal on the first go?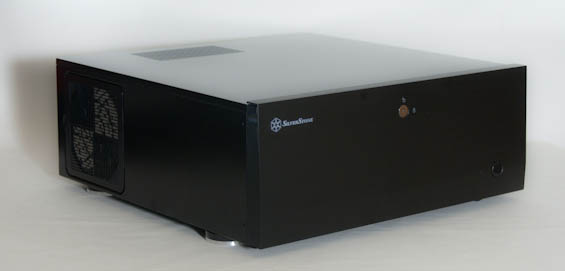 It's pretty impressive at first glance, with four external 5.25" drive bays. You're going to find that's something indicative of the rest of the enclosure, as the GD07 is rife with storage options. But we also had the chance to meet with SilverStone at CES 2012 and get a proper tour of the GD07, and so as this review goes on I'll talk a little more about the decisions that went into designing this major update to the Grandia series. Suffice to say it's an excellent update that may be just what you're looking for if you want to build a combination media center/file server (similar to what I use at home), but there are definite drawbacks compared to the previous GD04 and GD05.
SilverStone Grandia GD07 Specifications
Motherboard Form Factor
ATX, Micro-ATX, Mini-ITX
Drive Bays
External
4x 5.25"
Internal
2x 2.5" and 5x 3.5"
Cooling
Front
-
Rear
2x 80mm fan mount
Top
-
Side
1x 120mm intake fan and 1x 120mm fan mount
Bottom
2x 120mm intake fans
Expansion Slots
7+1
I/O Port
2x USB 3.0, 1x Headphone, 1x Mic
Power Supply Size
Standard ATX
Clearances
HSF
138 mm
PSU
220 mm
GPU
13.5" / 343mm
Weight
15.4 lbs.
7 kg
Dimensions
6.9" x 17.3" x 17.1"
175mm x 440mm x 435mm
Special Features
Large removable drive cage
Locking hinged front panel
Extra horizontally mounted expansion slot
USB 3.0 via internal header
Price
Online starting at $140
The GD07 is larger in pretty much every way than its predecessor, the GD04, which means it doesn't necessarily obsolete that model so much as exist alongside it. In exchange for the extra real estate, SilverStone bumps the number of drive bays up substantially as well as allowing for a full ATX motherboard instead of just Micro-ATX or Mini-ITX. We also get front panel USB 3.0 connectivity through an included internal header.
Just like the GD04 was a sibling model with the GD05, differing in front panel layout, so the GD07 and GD08 are similar. The GD07 has more exposed expansion and a locking front door that hinges downward, while the GD08 has just two exposed 5.25" bays and no door. I personally prefer the door; the power button is still exposed, you don't have to lock the door, it offers a cleaner finish, and it hides the optical drive activity LED. If you prefer the alternate configuration, however, the GD08 will retail for $145 and is currently available for pre-order at some retailers.