Unlike the ASRock Core 100 / Vision 3D, the Zino 410 HD ships with a wireless keyboard and mouse. The packaging is, therefore, appropriately bigger. Apart from the main Zino 410 unit, the package also contains:
90W AC / DC Adapter
Wireless keyboard and mouse with batteries
USB RF receiver for the wireless keyboard / mouse
Media Center remote
Black lid (to replace the silver lid present on top of the unit by default)
Support CD and warranty information booklet
Of all the SFF HTPCs I have seen, the Dell Zino 410 HD HTPC has the best industrial design. The contours are quite pleasing and the unit blends in quite nicely with the rest of the AV equipment.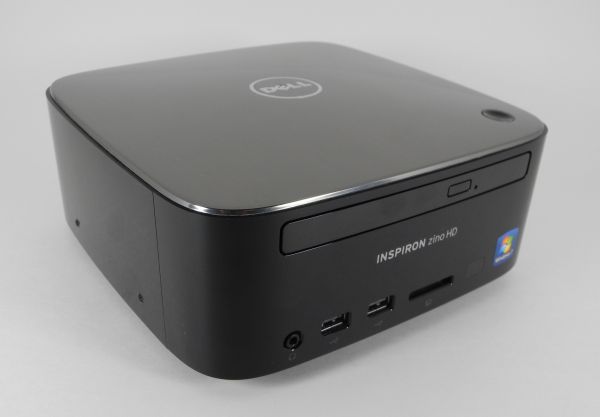 The front panel is taken up by a tray loading Blu-Ray drive on top and a headphone jack, couple of USB 2.0 ports, SD card reader and the IR receiver at the bottom. The power switch is on the top panel.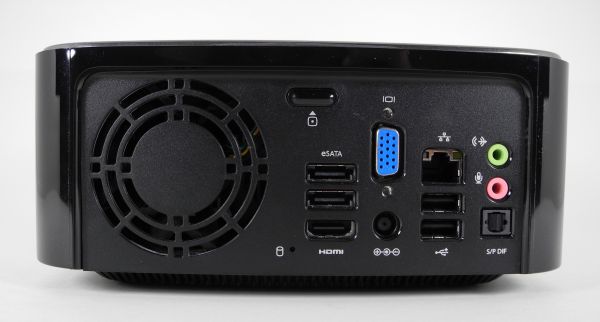 The left half of the rear panel is taken up by the cooling fan. A press switch to displace the lid is provided at the top and a hard drive activity light is at the bottom. Other ports on the rear panel include 2 eSATA, 1 HDMI 1.3a, 1 VGA, 1 Gigabit Ethernet jack, 2 USB 2.0, a mic/headphone jack, optical SPDIF and the power adaptor connector.
The Zino 410 HD is raised with rubber bushes, and also has ventilation slots on all four sides, as can be seen in the picture above.

Just like a notebook, this unit also supports simultaneous display on two monitors. Testing was done mostly with the HDMI output connected to a Toshiba REGZA 37" 1080p TV through an Onkyo TX-SR 606. For non-media playing related testing, the VGA port was connected to an Acer H243H 1080p monitor.
Our review unit shipped with Windows 7 x64 Home Premium and a OEM version of Cyberlink PowerDVD for Blu-Ray playback.

We will conclude this section with a table to summarize the data and A/V connectivity options for the Zino 410 HD HTPC.
A/V Connectivity Options for the Zino 410

| Option | Status |
| --- | --- |
| | |
| HDMI | Yes [v1.3] |
| Component | No |
| Composite | No |
| VGA | Yes |
| SPDIF | Yes [Optical] |
| Stereo | Yes |
Data Connectivity Options for the Vision 3D

| Option | Status |
| --- | --- |
| | |
| Optical Disk Drive | Yes [Blu-Ray / DVD-RW] |
| USB | Yes [4 x v2.0] |
| eSATA | Yes [2x] |
| LAN | Yes [ 1000 Mbps GbE ] |
| Internal HDD | Yes [ 750 GB ] |
| WiFi | Yes [ 300 Mbps 802.11n ] |
| Card Reader | Yes |