When I
first reviewed the iPhone
I talked about its battery life as being borderline for the business traveler. Whenever I travel with the phone, it always needs a charge by the time my first dinner meeting rolls around. Steve Jobs originally proclaimed that
battery life and chip size
were both reasons that the first iPhone didn't have 3G support, the question is does the new iPhone offer 3G performance without the battery life penalty?
Unfortunately, as Apple doesn't design any of the chips or battery technology that goes into the iPhone, it doesn't really have much control over things like 3G battery life. And thus, the iPhone 3G suffers like any other smartphone when operating on a 3G network.
The test below is the same one I ran in the original iPhone review, in fact that iPhone and Blackjack data is taken straight from that review - the new data is obviously the iPhone 3G, operating in 3G mode. The battery life is expressed in minutes and the results are expectedly not very good: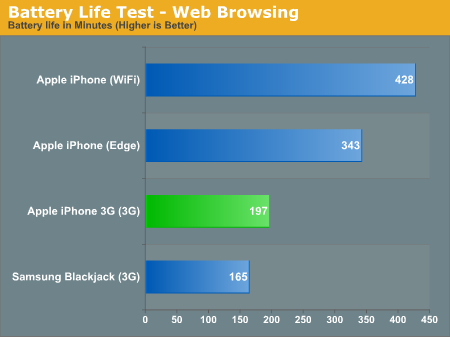 At 197 minutes, the iPhone 3G can keep you browsing for a little over 3 hours before completing dying. That's with no additional phone calls or anything else going on in the background, just constant surfing. The problem is that this is a very realistic scenario for many users. If you're out of the house and stuck somewhere without a laptop, you'll want the speed of 3G but the battery life will mean that your surfing experience is almost half as long as it would be on Edge. Granted, you can load pages faster in the same amount of time, but you'd have to load pages around twice as fast on average to equal the same productivity.
In our
3G performance test from earlier this afternoon
we found that while 3G can easily be up to 10x faster than Edge, the real world browsing performance will generally be significantly slower than that. Only our AnandTech loading test was able to perform at the required 2x speed to make the iPhone 3G, in 3G mode, more energy efficient than running it in Edge. The Facebook and Digg tests both weren't fast enough to balance out the additional power draw.
We'll be running more tests on the iPhone over the weekend, so stay tuned for more updates...