Testing the KB940105 Hotfix
Unfortunately the fix is not all roses at this time. Microsoft classifies this as a hotfix which may still be undergoing further testing, which means they aren't recommending that most users install this fix, nor are they even making the fix easy to get. Microsoft's official recommendation is that users not severely affected wait until the fix is delivered as part of a service pack, which would mean that it will not be normally distributed until Vista SP1 in late 2007 or early 2008, and it certainly won't be part of the next "Patch Tuesday".
Right now the only official way to acquire the hotfix is to directly call Microsoft and ask them for the hotfix, which they will supply for free. On August 23rd, Microsoft will publish the fix on the KB article page for anyone who wants to download it ahead SP1's release. For those not wanting to wait until the 23rd, we have seen the hotfix for download on various websites; however, we'd advise an extra level of caution if downloading the hotfix from an unofficial site due to the popularity of fake Microsoft patches loaded with Trojan horses.
The patch is officially supported by Microsoft, so we do not believe there are any serious problems with it, and in our testing we did not encounter any issues. We have however heard from one source that this fix is dependent on some changes that also need to happen at the video driver level. We can't substantiate this, but all the same we would recommend not installing this patch without first installing the most recent drivers for your video card.
To get an idea of how much the hotfix can reduce virtual address space usage, and if this comes with any kind of performance tradeoff, we once again ran our battery of games that have extreme virtual address space usage against Vista with and without the hotfix, and against XP as a baseline.
Software Test Bed
Processor
Intel Core 2 Quad QX6850
(3.00GHz/1333MHz)
RAM
G.Skill DDR2-800 (2x2GB)
Motherboard
Gigabyte GA-P35-DR3R (Intel P35)
System Platform Drivers
Intel 8.1.1.1012
Hard Drive
Maxtor MaXLine Pro 500GB SATA
Video Cards
1 x GeForce 8800GTX
Video Drivers
NV ForceWare 163.11
Power Supply
OCZ GameXStream 700W
Desktop Resolution
1600x1200
Operating Systems
Windows Vista Ultimate 32-Bit
Windows XP SP2
.
We'll start with Company of Heroes mission 6, which as we saw in part 2 had the biggest difference in virtual address space usage of all the games in comparing Vista and XP.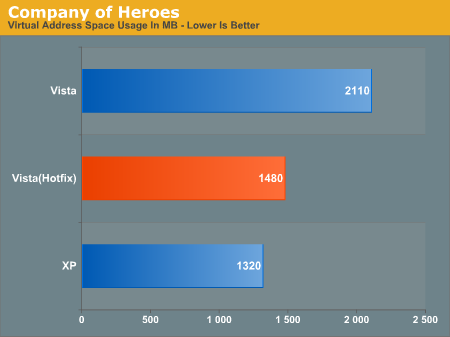 Whereas Company of Heroes would surpass the 2GB barrier under Vista just loading this mission without the hotfix, the game is safely under the 2GB barrier with the hotfix applied. Under Vista the game is still using an additional 160MB of virtual address space compared to XP, but this is far better than the gap being the entire size of the video memory on our 8800GTX prior to the hotfix.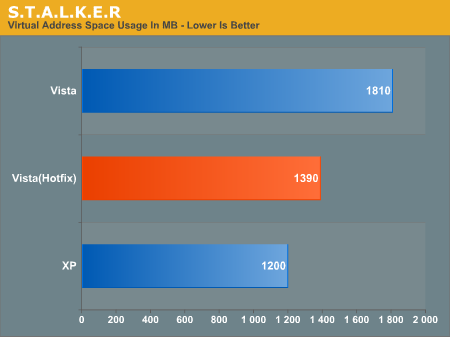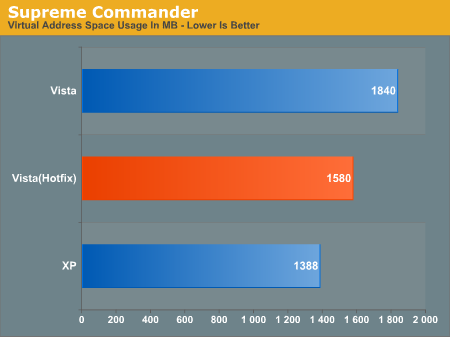 Both STALKER and Supreme Commander show similar, albeit not as great improvements, shaving off 420MB and 260MB respectively. This shows that not all games benefit from the hotfix to the exact same degree, although from our limited sample we can extrapolate that every game should be reduced to near its optimal situation, as Vista is consistently using around 160-200MB more virtual address space than XP with the hotfix installed.
However, we also need to ask: Does the hotfix incur any performance penalty compared to not using the hotfix?
Overall Vista Game Performance

Company of Heroes

S.T.A.LK.E.R

Supreme Commander

Vista

110.2fps

58.1fps

4:15

Vista(Hotfix)

110.2fps

58.1fps

4:15

.
With performance numbers literally the same with and without the hotfix, we can safely say that there is not a performance penalty for using this hotfix.