Yesterday's WWDC keynote
started like many other of Steve Jobs' keynotes, with an update on the iPod, Apple stores and Mac sales. But then came the turning point. After Steve was done talking about iPod, iTunes, OS X Tiger and the rest of Apple's product line, he said the magic words: "now, let's talk about transitions."
And so it began, the minute that the word "transitions" was put up on the projection screen, you could hear the silence in the packed keynote hall. No one could believe it, despite how strong the rumors seemed to be, despite the slide that was staring everyone in the face, it hadn't even begun to sink in.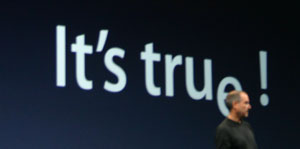 Then came the "it's true" slide, and all possibilities of doubt, theories of Intel making PowerPC chips, Apple using Itanium, all of that went out the window. The two words said more than any two words ever have in the entire PC industry. From that one slide, we all knew that Apple would be switching to Intel processors, and it would be none other than Intel's x86 line of CPUs.
Some of you have asked if the crowd boo'd - they did not. You could hear gasps and even feel the looks of disbelief on many faces, but there wasn't a single boo in the audience. What's interesting about the Apple crowd is that they really trust this guy, they truly believe in Steve Jobs and in Apple. We've never been to a keynote by any major industry leader and seen the same sort of support; many will call it a reality distortion field, but regardless of what causes it, it is still a lot of support. It is the type of support that a company needs to be able to complete an entire architectural change in less than two years; it is the type of support that only Apple seems to have. Whether that support will always be there, should Apple grow in size, remains to be seen, but it's there now and Apple needs it.
Many are worried about the negative impact that yesterday's announcements will have on Apple's present-day sales. Apple will begin shipping Intel based Macs starting around the middle of 2006, so why would you ever want to be stuck with a PowerPC based Mac that you just bought less than a year prior?
Apple does seem committed to offering PowerPC support for as long as it takes, meaning that OS X 10.5 (Leopard) will most likely be offered for both PPC and Intel based Macs, not to mention all of the applications that will definitely transition to a universal binary system. We honestly don't expect sales to suffer that much. Those who can wait will obviously do so until next year; those who cannot will still enjoy the same compatibility (most likely better at first) later on when the Intel Macs begin shipping.

Apple is doing their best, however, to control excitement about the switch to Intel. Unlike previous major announcements, this one isn't plastered all over the front page of Apple.com. The G5 product pages still showcase how a 2.0GHz G5 is still significantly "faster" than a 3.6GHz Pentium 4; interestingly enough, the very CPU that Apple appears to be supplying in their development kits. Not putting much marketing muscle behind the switch makes sense at this point - the real work that's needed is on the developer side. That being the case, Apple also released their Universal Binary Programming Guidelines yesterday to aid developers in making sure that their applications work on both PPC and Intel based Macs.

Based on Apple's guidelines, we can also conclude a few things about Apple's x86 implementation.

The default compiler for Apple's x86 line will continue to be GCC. Another very blunt statement from the documentation is that "Macintosh computers using Intel microprocessors do not use Open Firmware."

Rosetta, Apple's PPC to x86 binary translation software, also has some limitations:
"Rosetta is designed to translate currently shipping applications that run on a PowerPC with a G3 processor and that are built for Mac OS X.

Rosetta does not run the following:

Applications built for Mac OS 8 or 9
Code written specifically for AltiVec
Code that inserts preferences in the System Preferences pane
Applications that require a G4 or G5 processor
Applications that depend on one or more kernel extensions
Kernel extensions
Bundled Java applications or Java applications with JNI libraries that can't be translated."
Apple has confirmed that their Intel based Macs should be able to run Windows, but you will not be able to run the x86 version of OS X on any hardware platform that you choose. Obviously with the switch to Intel's architecture, it is going to be much more difficult for Apple to prevent users from circumventing any protection that they may have implemented to run the x86 OS on their own hardware. Even if Apple's protection is cracked, you can expect driver support to be extremely limited for configurations outside of what Apple will be shipping.