Introduction
Day 3 of Computex came and went; the relentless near-100% humidity, minor earthquakes, smoke-filled rooms and continuous wailing of international businessmen intimidates all but the most seasoned show goers. Even though we have been in Taipei for almost a week, new technology is still everywhere and never ceases to amaze us. The crowds are a little smalller than other years, but fortunately for us, it seems that the majority of the attendees are actual vendors, buyers and manufacturers (unlike previous years when a strong majority of local inquisitors composed the bulk of the audience).
Albatron
Albatron had several new items on display, although most of them are not terribly new. Albatron product managers emphasized their new BIOS solutions for both graphics cards and motherboards.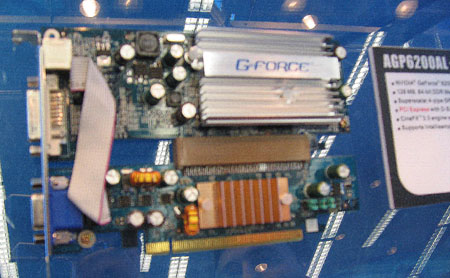 However, the show stealer for Albatron was clearly the "ATOP" AGP to PCI-E converter cards. ATOP allows a user to plug an NVIDIA AGP video card into a PCI-E riser – allowing a user to upgrade to an nForce4 board without getting rid of their old card. While the implications are nice, the practicality of the card is still being tested and there are also issues of clearance that have not been addressed yet. The ATOP bundle pictured below consists of an AGP GeForce 6200 video card piggy-backed onto the ATOP adaptor.