Introduction
The second day of WinHEC was a bit slower paced than the first. The lack of a large keynote and the fact that the Expo Hall was only open at lunchtime gave us the feeling one gets when realizing class is getting out early. Well, perhaps that's a bit harsh. We've been attending sessions all day and have gleaned quite a bit more interesting information.
Yesterday was so jam packed that we skipped covering the Windows Hardware Showcase, as well as some of the other presentations that we attended. We'll be covering these areas today, along with a nostalgic trip down Microsoft's memory lane. Also on the agenda for Day 2 is a closer look at the hybrid hard drive demo, some auxiliary display concepts and thoughts, updated driver signatures for Longhorn, the future of the PC as a multimedia device, and some spicy coverage on digital rights management.
A hot button topic around WinHEC seems to be digital rights management. Of course, everyone has strong feelings about the current debates over digital media content protection, and the attendees of WinHEC are no exception. As an industry event, Microsoft has had several presentations on the advancements of content protection in Longhorn with no one really wanting to address the underlying end user vs. content provider issues.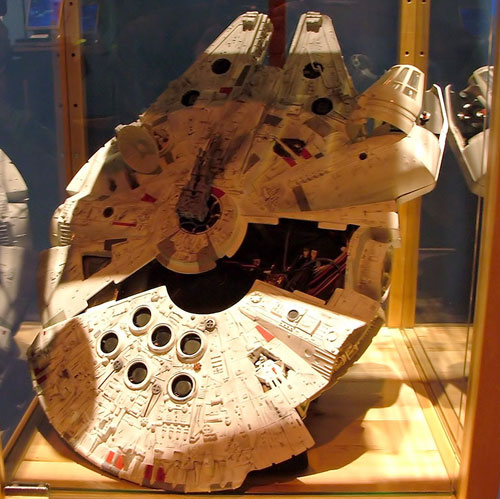 The new MFF: Millenium Falcon Factor
Without further ado, we bring you our Day 2 coverage of WinHEC 2005.