System Performance
System performance of the Honor View20 shouldn't bring any big surprises because it contains the same Kirin 980 chipset as we've reviewed in the Huawei Mate 20 and Mate 20 Pro. The chip performed excellently in those devices, and there isn't any reason for the View20 to perform any different.
Honor employs the same kind of "Performance" mode in the View20 as we saw in the recent Huawei flagships. This performance mode is found in the battery settings of the device. The mode is a bit confusing for new users as it represents a new setting that previously wasn't present on Huawei devices. Following our articles about Huawei/Honor cheating in benchmarks last year, the company had decided to implement this new "full intended performance" mode, while by default the phones would come in a more limited state.
The difference between the normal mode and the performance mode, as far as I have been able to tell, is the scheduler and DVFS ramping behaviour, as well as possibly thermal limits. The performance mode is in technical terms very much similar in behaviour and scaling speed as recent Qualcomm Snapdragon SoCs in competing devices, while the normal mode is a more conservative mode which is about twice as slow in its ramp up speed.
What I did note was new in the View20 is there's actually a battery warning in performance mode. I'm not sure exactly why this was implemented as we'll see in the battery life results page, it's absolutely not something to worry about.
In general, I recommend performance conscious users to have performance mode turned on, while people who are less sensitive and do not notice the difference it might be worth to stay in normal mode and enjoy the slightly better battery efficiency.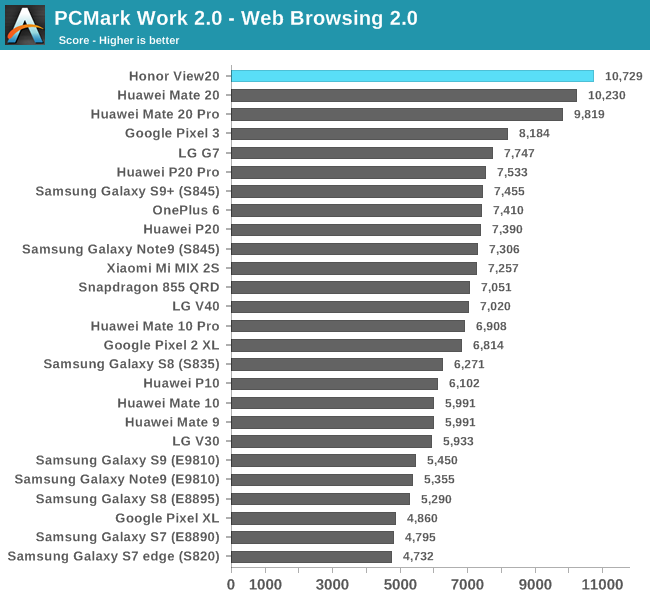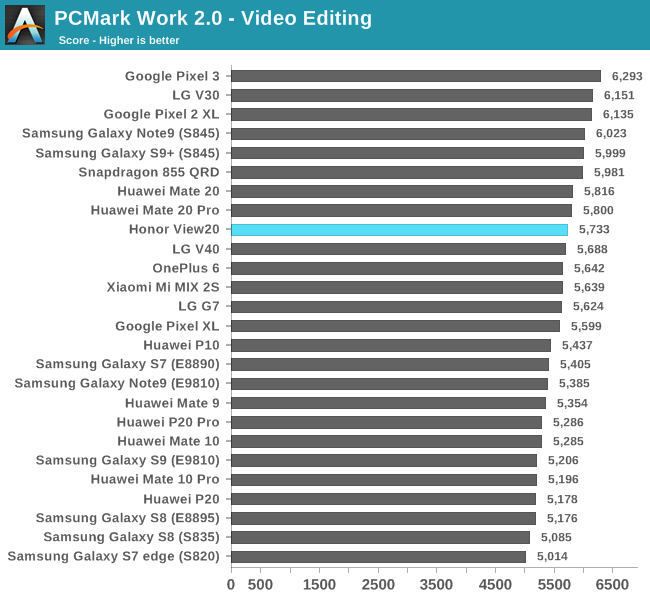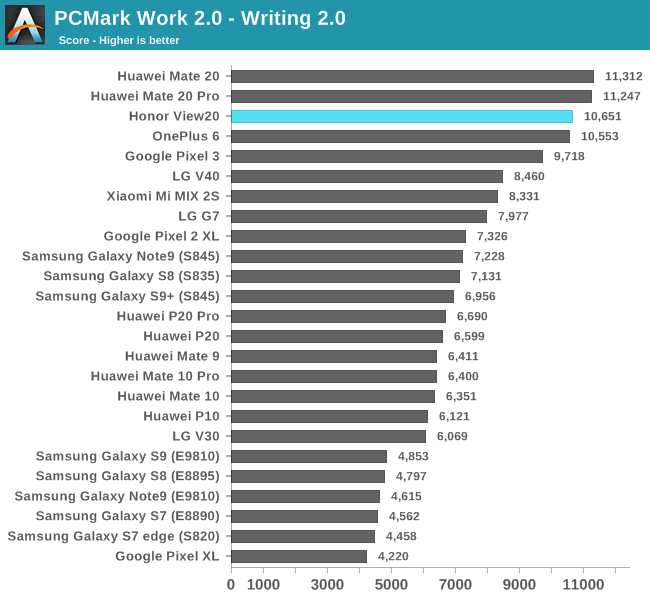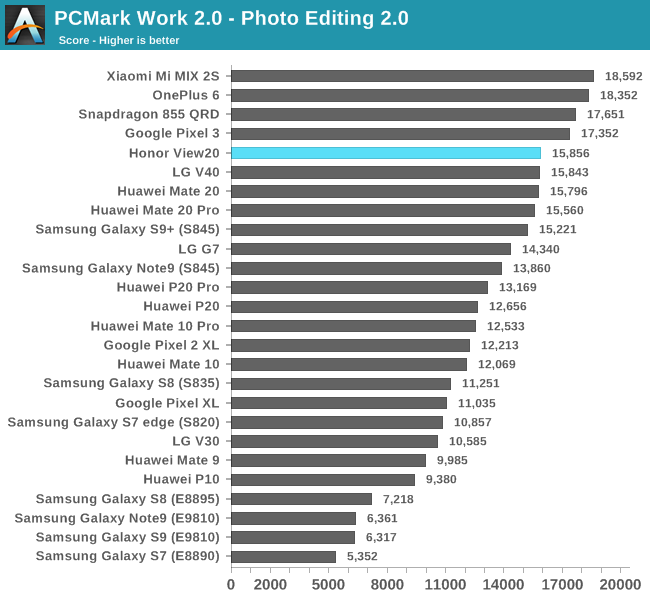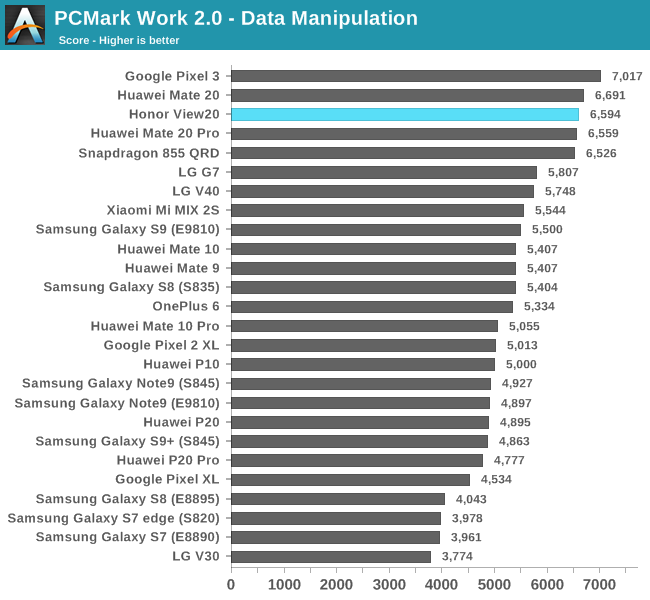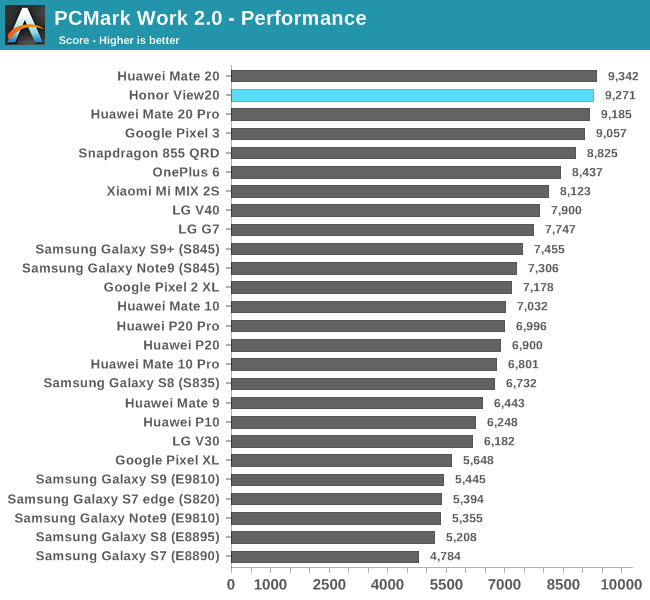 In PCMark, the View20 performs within margins of error the same as the Mate 20's – which again was to be expected.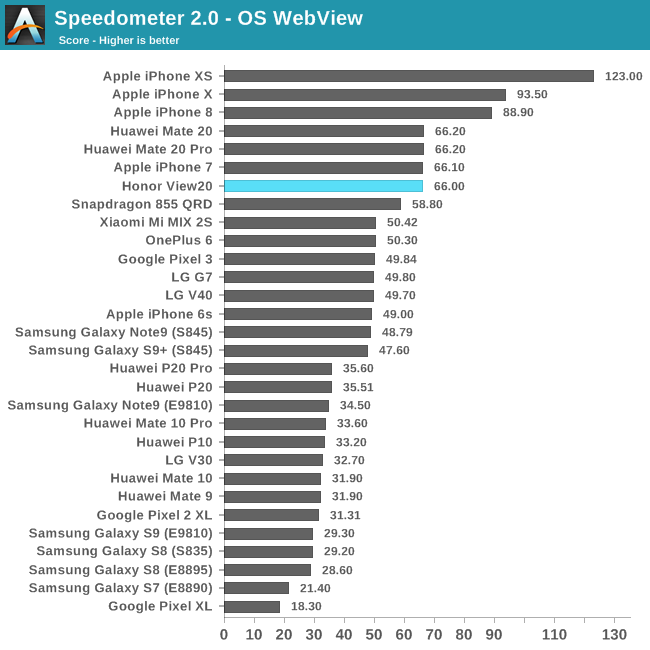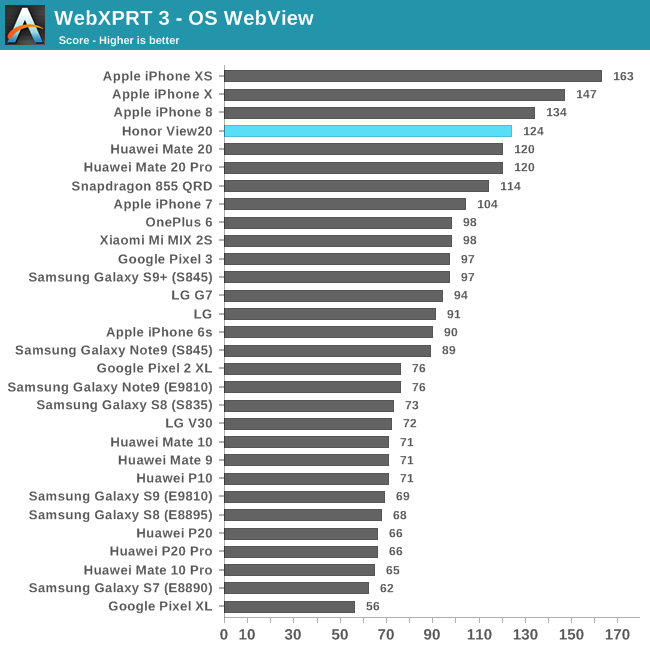 In the web benchmarks, the View20 performs either equally well as the Mate 20's, or in WebXPRT, actually slightly beats the Huawei flagships by a small amount.
Overall the performance of the View20 is very much at a flagship level and is at the very best of what you can get out of an Android device nowadays. Since our review of the Mate 20's, we have been able to get preview performance figures of the new Snapdragon 855, and in terms of system performance, the Kirin 980 chipset devices are more than able to compete with Qualcomm's new flagship. This means that for the rest of 2019, it looks like devices such as the Mate 20 and in this case the View20 will be among the top performing devices that you can get, which does bode extremely well for longevity of the phones.