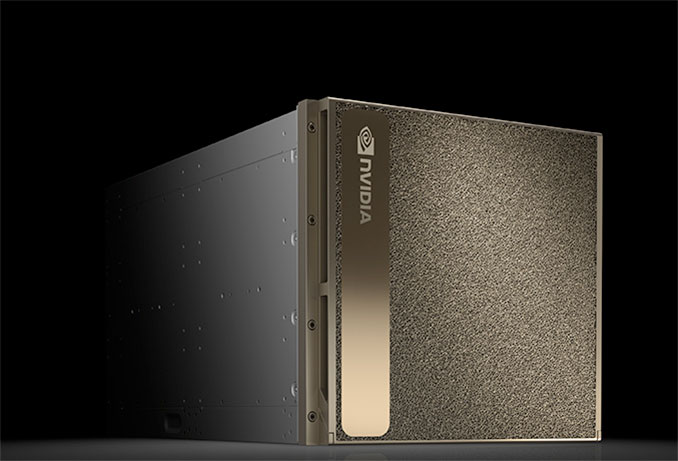 NVIDIA has introduced a new version of its DGX-2 server that is outfitted with higher-performing CPUs and GPUs. The DGX-2H server is powered by 16 Tesla V100 GPUs that run at higher clocks and feature a 450 W TDP each. The whole system consumes up to 12 kW of power and delivers 2.1 PetaFLOPS of compute horsepower.
NVIDIA's DGX-2H is an updated version of the DGX-2 machine the company introduced earlier this year. The new system is based on Intel's two 24-core Intel Xeon Platinum 8174 processor accompanied by 1.5 TB of DDR4 memory, as well as 30 TB of NVMe storage. The key improvements of the new server versus the previous one are faster NVIDIA Tesla V100 GPUs featuring 512 GB of HBM2 memory in total. Meanwhile, the new DGX-2H similar networking capabilities: 10/25/40/50/100 GbE.

UPDATE 11/29: NVIDIA has reached out to clarify a number of data points regarding the DGX servers, so the story has been updated.
NVIDIA DGX Series (with Volta)
DGX-2H
DGX-2
DGX-1
CPUs
2 x Intel Xeon
Platinum 8174
2 x Intel Xeon
Platinum 8168
2 x Intel Xeon
E5-2600 v4
GPUs
16 x NVIDIA Tesla V100
32GB HBM2 (450 W)
16 x NVIDIA Tesla V100
32GB HBM2 (350 W)
8 x NVIDIA Tesla V100
32 GB HBM2
System Memory
Up to 1.5 TB DDR4
Up to 0.5 TB DDR4
GPU Memory
512 GB HBM2
(16 x 32 GB)
256 GB HBM
(8 x 32 GB)
Storage
30 TB NVMe
Up to 60 TB
4 x 1.92 TB NVMe
Networking
8 x Infiniband
or
Dual 100 GbE
8 x Infiniband
or
Dual 100 GbE
4 x IB +
2 x 10 GbE
Power
12 kW
10 kW
3.5 kW
Size
360 lbs
360 lbs
134 lbs
GPU Throughput
Tensor: 2100 TFLOPs
FP16: ? TFLOPs
FP32: ? TFLOPs
FP64: ? TFLOPs
Tensor: 1920 TFLOPs
FP16: 480 TFLOPs
FP32: 240 TFLOPs
FP64: 120 TFLOPs
Tensor: 960 TFLOPs
FP16: 240 TFLOPs
FP32: 120 TFLOPs
FP64: 60 TFLOPs
Cost
?
$399,000
$149,000
Thanks to faster graphics processors with a 450 W TDP each, the system now can deliver 2.1 PFLOPS of compute performance, up from 2 PFLOPS before. Meanwhile, in a bid to increase power, it looks like NVIDIA had to switch to a new cooling method. ServeTheHome believes that NVIDIA also uses a new cooling subsystem as the DGX-2H weighs 20 pounds more than its predecessor (360 pounds vs. 340 pounds), though the company has not confirmed this. Along with performance improvements NVIDIA had to decrease maximum operating temperature of the DGX-2H from 35C to 25C.
NVIDIA has not disclosed pricing of the DGX-2H, though it is likely that it will cost more than $399,000, the price of the DGX-2. What remains to be seen is whether NVIDIA customers find the DGX-2H performance good enough for extra 2 kW of power consumption.
Related Reading:
Sources: NVIDIA, ServeTheHome