Meet The GeForce RTX 2070 Founders Edition Card
Touching quickly on the card itself, there's little we haven't already seen with the RTX 2080 Ti and 2080 Founders Editions. The biggest change is, of course, a new open air cooler design. Along with the Founders Edition specification changes of +10W TDP and +90 MHz boost clockspeed, the cards might be considered 'reference' in that they remain a first-party video card sold direct by NVIDIA, but strictly-speaking they are not because they no longer carry reference specifications.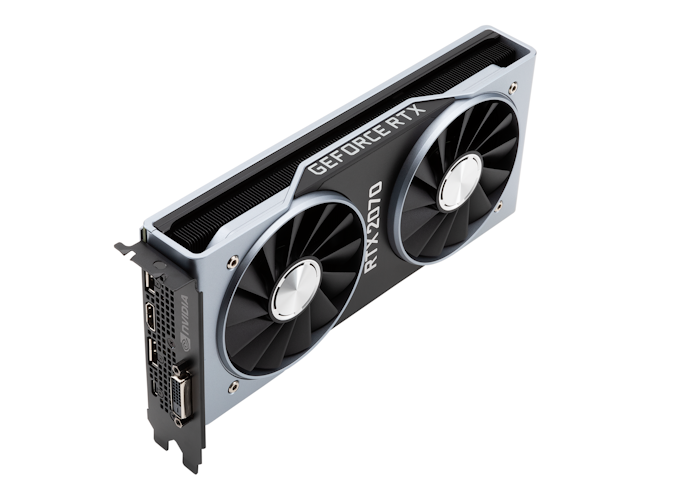 Wrapped in the flattened industrial design introduced by the other RTX cards, the RTX 2070 Founders Edition looks essentially the same, save a few exceptions. The single 8-pin power connector is at the front of the card, while the NVLink SLI connectors are absent as the RTX 2070 does not support SLI. Internally, the dual 13-blade fans accompany a vapor chamber, while a 6-phase system provides the power for the 185W TDP RTX 2070 Founders Edition.

So while the single 8-pin configuration, suitable for up to 225W total draw, has remained the same from the GTX 1070, the TDP has not. The RTX 2070 Founders Edition brings 185W, with reference specification at 175W, compared to the 150W GTX 1070 and 145W GTX 970, following the trend of the 2080 Ti and 2080 pushing up the watts.

As for I/O, there is one difference between the 2070 and its older siblings. The RTX 2070 Founders Edition drops the isolated DisplayPort for a DVI port, matching the GTX 1070's outputs. This is in addition to DisplayPort 1.4 and DSC support, the latter of which is part of the DP1.4 spec, as well as the VR-centric USB-C VirtualLink port, which also carries an associated 30W not included in the overall TDP. While the past few years have seen DVI excised from the top-end cards, it's more of a matter of practicality for mid-range cards (inasmuch as $500 is a midrange price) that are often paired with budget DVI monitors, particularly as a drop-in upgrade for an aging video card.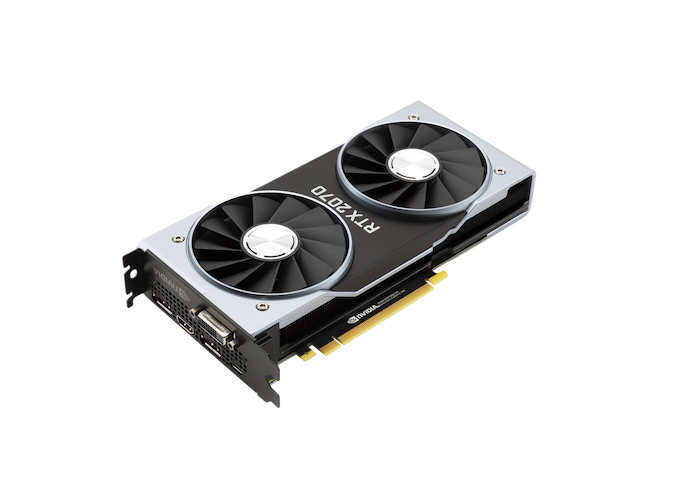 As mentioned in the RTX 2080 Ti and 2080 launch article, something to note is the potential impact on OEM sales with this reference design change. The RTX 2070 also arrives as an open air design and so can no longer guarantee self-cooling independent of chassis airflow. In addition to the price and lower volume nature of these GPU parts, these aspects make the RTX reference cards less suitable for large OEMs.