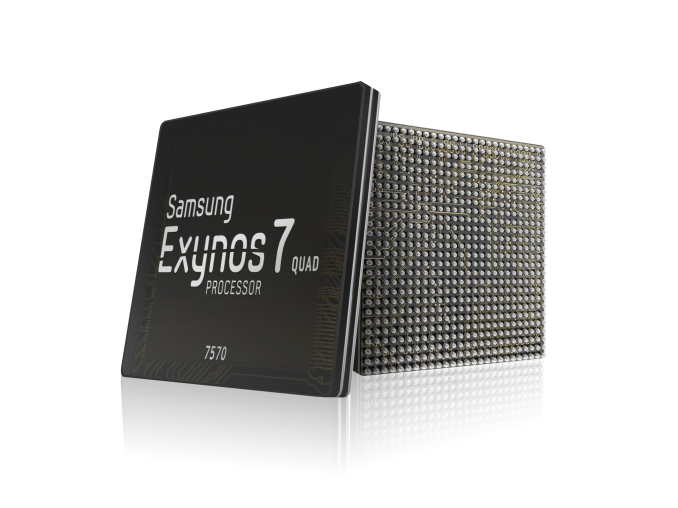 Today Samsung LSI launches a new 14nm SoC oriented at the budget and IoT segments. The new Exynos 7570 seems to be a a successor to the Exynos 3470 and Exynos 3475 found in a few of Samsung's budget lineups such as the Galaxy S5 Mini. The chip is a quad-core A53 setup which is said to improve performance by 70% and power efficiency by 30% over its predecessor, although exact clocks weren't publicized. Equally not specified was the GPU, although because of the advertised maximum 1280x800 resolution capabilities of the display pipeline, I wouldn't expect anything more than a very small implementation of a low-end Mali series.
The more interesting aspects of this new SoC is its connectivity features as not only does it feature an integrated UE Category 4 modem with 2x carrier aggregation capabilities, but it also as far as I know for the first time for S.LSI integrates WiFi, Bluetooth, FM and GNSS capabilities, features that have traditionally been left in the charge of dedicated solutions such as Broadcom WiFi SoCs (Which following the acquisition by Avago have exited that business segment).
SoC
Exynos 7570
Exynos 7580
Exynos 7870
CPU
4x A53 @ ?GHz
8x A53 @ 1.6GHz
8x A53 @ 1.6GHz
GPU
?
Mali T720MP3
@ 600MHz
Mali T830MP2
@ 700MHz
Encode/
Decode
1080p60
H.264
Camera/ISP
Dual ISP
21MP / (13+8)
Dual ISP
16MP / (8+8)
Dual ISP
16MP / (8+8)
Integrated
Modem
Cat. 4
150Mbps DL

2x20MHz C.A.
Cat. 6
300Mbps DL

2x20MHz C.A.
Cat. 6
300Mbps DL

2x20MHz C.A.
Connectivity
WiFi, BT, FM,
GNSS
N/A
Mfc. Process
14nm
28nm HKMG
14nm
Earlier this year we were surprised to see Samsung announce a 14nm mid-range product as we weren't expecting the economics of the new FinFET manufacturing processes to work out for anything other than flagships SoCs, but soon after Qualcomm followed suit with their own 14nm mid-range SoC. Today's announcement seems to further dispell the doom & gloom over FinFET manufacturing cost as the Exynos 7570's stictly low-end and IoT orientation makes it the first budget SoC on the new process and something as I see as a positive development as the industry continues to shift to full FinFET lineups.
Source: Samsung Newsroom